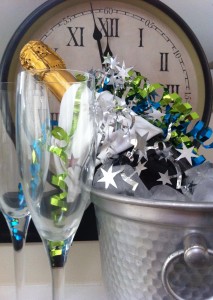 North Americans revel in Christmas celebrations and for us New Years is more of an after thought, one last party before getting back to business.  In Scotland however, Christmas is a low key celebration with a build up to New Years, called Hogmanay, the biggest party of the year.  This year's Edinburgh celebration will attract 1 billion viewers, just as many as Americans who will watch the ball drop in Times Square. Chalk one up for Cousin Shrimpie.
Our final dish of the year is Lovely Little Mince Pies, a traditional dish served at Hogmanay a recipe from my book, Abbey Cooks Entertain.  Next week we will be diving into S4E1 as we move from darkness into light with the Crawleys.
About Hogmanay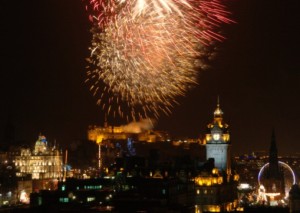 In the late 1500s, the Scottish Reformation abolished Christmas, which lasted for 400 hundred years. Most Scots had to work on Christmas Day until the 1960s. In the early 1600s, they changed the date of New Year's from March 25 to January 1, and began celebrating Hogmanay. Christmas is still celebrated with family as a low key affair, but then the Scots pull out all the stops for a two day holiday.
Throughout Scotland Hogmanay is filled with all kinds of festivals, parties, bonfires and, more recently, fireworks. Edinburgh's Hogmanay Festival lasts for days and includes one of the most spectacular fireworks displays in the world. This year Edinburgh will be seen by 1 billion people around Scotland.  
Some of the Scottish traditions have become part of our own New Year's Eve celebrations. We sing Auld Lang Syne at midnight and make New Year's resolutions, both invented by the Scots.   Some traditional toasts:
Lang may yer lum reek (long may your chimney smoke) wishing wealth to keep enough coal burning in your fireplace to keep warm, and the home fires burning.
A guid New Year to ane an' a' and mony may ye see, a wish for a good New Year to one and all.
The Great Fruitcake Debate Continues
If you missed it, CBC Radio featured a fun story on the Great Fruitcake Debate.  I spoke about the history of the great cake, and how commercial production has led to the loss of quality in the product.  I did enjoy one listener who wrote in to say who wants to buy a fruitcake from Sears?  I wondered about  the price of fruitcake vs. the cost of a new yoga block.
Thank you to all of you who wrote in with your comments about your family traditions which included cake.  I was particularly touched by Carol a reader who wrote at length about her family connection with fruitcake. So Carol received a free download of my book.
The CBC put me in touch with David D., a listener in Manitoba who has a fruitcake receipt (they were called "receipts", not "recipes" back in those days) dating back to the 1600s. They put me in touch and I shall take on his challenge to try it out.
Downton Dish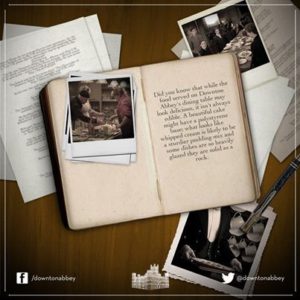 It was a very Merry Christmas for UK Downton fans as the 2 hour finale was broadcast.  Lord D was spellbound by the number of sub plots. I will keep mum and say that as always the Tesco commercials on ITV did not disappoint. Everything sold with an accent is so much more appealing.
If you are a fan of PBS, you will have been in heaven with the S3 marathon in anticipation of Season 4 which will finally be arriving on January 5th on PBS in the US and Canada.
Each week I share Downton news, but if you haven't seen all seasons (1-4) beware of spoilers below:
Lovely Little Mincemeat Pies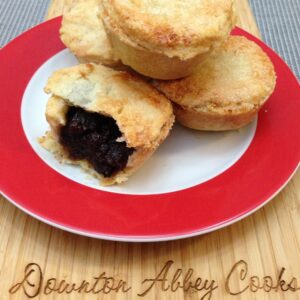 Lovely Little Mincemeat Pies
Nothing says British Christmas like mincemeat. Served since the 11th century, it was the Victorians who started to make mince without meat, but the tradition of suet remains. You can substitute shortening to get a similar result. While mincemeat tarts is a standard way to serve mincemeat, your guests will enjoy these adorable little pies.
Ingredients
1

batch

Pie Pastry or puff pastry

1/3

cup

Flour

4

cups

Mincemeat

check out my recipe

1

egg white

2

tbsp.

caster sugar

1/4

cup

Granulated sugar
Instructions
Preheat oven to 400°F and lightly grease a 12 hole muffin tin.

Roll out your pastry to ¼" inch thick and cut 12 circles 4 inches round, and 12 circles which measure 2 inches.

Press the larger circles into the muffin tins, ensuring that the pastry slightly extends beyond the lip of the tin. Fill each cup with mincemeat.

Moisten the edges of the smaller discs and place on top of each little pie. Crimp the edges of the pastry to ensure a good seal, preventing the mincemeat from boiling out.

Whisk the egg white with the caster sugar, and brush the pies with the mixture. Sprinkle granulated sugar on each pie and make a little air vent in each to let air escape.

Bake for 10 minutes or until well browned on top, then reduce the heat to 325°F and bake for another 25 minutes, or until the golden brown.

Let the pan cool on a wire rack for a few minutes, and while still warm carefully remove from each tin, running a knife around the edge to loosen if you need to.

Let completely cool on a wire rack before storing.
Your Downton S4 Survival Guide
You bought these for others, now stock up on the staples for yourself.   Click on the icons to take you to Amazon to order in time for the holidays.