It was a great night for American Downton Abbey fans. We had prepared ourselves to watch another great episode of Season 5, but were so thrilled to share in the joy of Joanne Froggatt's win at the Golden Globes. She won for best supporting actress in a TV series. In her powerful acceptance speech she addressed her controversial storyline in Season 4.  "After this storyline aired I received a small number of letters from survivors of rape and one woman summed up the thoughts of many by saying she wasn't sure why she'd written, but she just felt in some way she wanted to be heard," she said. Her acceptance speech can be viewed here.
This week's Downton Dish is pudding. In this week's episode, the Downton kitchen prepared a Charlotte Russe for the Crawley family, so we will be making a Chocolate Charlotte Russe. A french dessert, it is my small act of solidarity with the French people in light of the terrorist attacks in Paris last week. On a lighter note, why not serve this dish to your Valentine this year.  Lord D loves anything chocolate.
Downton Dish
Season 5 of Downton Abbey has finally arrived in North America, broadcast on PBS, Sunday nights at 9 PM. Some appetizing articles to whet your appetite while we wait for the next course of Downton.
What happened in S05E2
A quick recap of what went down and upstairs this past week:
When I watch Downton I listen for a notable dish to share with you. This week Mrs. Patmore gives a pudding to Moseley to take up to the dining room.
Edith and Mr. Drewe attempt to sell Mrs. Drewe on a scheme to allow more access to Marigold.
Anna finds a photo of a child under Edith's pillow and promptly passes on the evidence to Mrs. Hughes. Don't ask, don't tell.
Jimmy says goodbye to Thomas, which means Ed Speeler's career has taken off so you will be seeing more of him in other projects.
Mary decides to accept Tony's proposal to spend some quality time together, sending poor Anna off to buy contraceptives.
Rose takes an interest in the plight of Russian refugees
Still in hot pursuit, Lord Merton invites Isobel and Violet to his home for tea.
Charles Blake arrives at Downton to declare himself a good loser, with historian Simon Bricker (Richard E. Grant) in tow.
Simon is interested in the Crawley owned Piero Della Francesca (1415-1492) painting. He also expresses interest in other members of the household.
Lady Rose finally succeeds in her campaign to bring a wireless to Downton.  The household gather to listen to the King's Speech.
Daisy gains a tutor to help with her studies. Ms. Bunting is a downstairs hero, but continues to antagonize the family upstairs.
My Favorite Quote:  Lord Grantham to Cora (referring to Simon Bricker):
Abbey Cooks Entertain: 2nd Edition Now Here To Help Plan Your Viewing Parties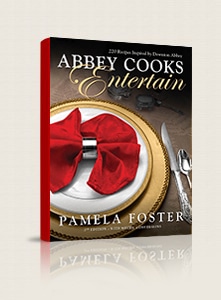 A new season means viewing parties. Whether you are hosting 2 or 20, this book has lots of ideas. Containing 220+ traditional Downton era recipes with a modern twist, this is a great book to create some simple or complex dishes for your Mary or Anna.
This 448 page ebook has been updated to include both metric and imperial measurements and now includes famous Downton dishes from Season 1-5.  Book sales help offset my costs in food, equipment and time to provide you new recipes on a regular basis.
You can download a book in minutes here.
Print Version: The full book is 450 pages and will contain famous Downton recipes from Seasons 1-5. Order from Amazon
The
English

Love Their Puddings

The English love their puddings and lay claim to having invented them.  Certainly they are closely tied to English cuisine. Medieval puddings were still mostly meat-based. 17th century English puddings were either savory (meat-based) or sweet (flour, nuts & sugar) and were typically boiled in special pudding bags.  By the latter half 18th century traditional English puddings no longer included meat. 19th century puddings were still boiled but the finished product was more like cake, plum pudding, for example.

There are other types of dishes called puddings, but as they are egg based, are actually custards.  Either way, they are all delightful and we have made some of both here.
Chocolate Charlotte Russe
Charlotte Russe is a French chilled dessert made with ladyfingers, filled with a fruit flavored cream filling set by gelatin, a favorite cooking ingredient of the Edwardians.  This version is less cream heavy with the help of egg whites.  Typically you name your Charlotte after the flavoring you include.
Credit for the Charlotte Russe is given to French Chef Marie Antoine Careme (1784-1833), who named it in honor of his Russian employer, Czar Alexander I. The word "russe" means Russian in French. Charlotte is the Czar's sister in law, Queen Charlotte, married to George III.
It really is not a terribly difficult dessert to make.  You may recall in S3 cooking novice Ethel made a lovely Strawberry Charlotte Russe for the Crawley ladies at lunch after Sybil's passing.
Luscious Chocolate Russe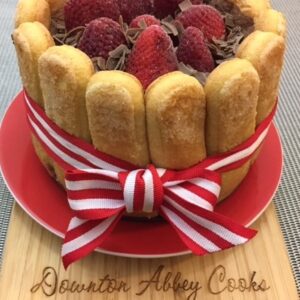 Luscious Chocolate Charlotte Russe
Ingredients
40-50

lady fingers

(see notes on how to make your own)

1

package

unflavored gelatin

1/2

cup

Kirsch

8

ounces (255 g)

quality dark chocolate

1/4

cup (59 ml) 

milk

4

Tbsp. (60 ml)

butter

4

eggs

(at room temperature)

1/4

cup (59 ml)

icing sugar

1

cup (236 ml)

whipping cream
Instructions
You will need an 8″ spring form pan, or you can make individual versions if you like. If you use a larger pan, you might want trim the lady fingers to the height of the pan as you will have a more shallow russe, or fill the gap with lots of fruits and whipped cream (greek yoghurt is healthier).

Add the kirsch to 1/2 cup of water in a shallow dish. Quickly roll one lady finger at a time in the alcohol and then stand up against the wall of your springform pan(s) with the rounded side facing outwards.  Break the fingers into smaller pieces to place in the bottom to make the base (see photo). prepping your pans

Separate the eggs, placing the whites in a clean mixing bowl to whip, and the yolks in a small dish which will be added to the chocolate mixture.

Dissolve the gelatin in 2 tablespoons of water.

Heat the chocolate and milk in a double boiler (on place a large shallow metal bowl on top of pot with simmering water.  Melt until smooth but carefully watch so you don't get the chocolate too hot as it will scorch.

Using a wooden spoon, add the butter, one tablespoon at a time, blending until smooth after each addition. Next, add the egg yolks, one a time, blending well after each.  Beat the mixture for several minutes with the wooden spoon until smooth and glossy. Add the gelatin and remove from the heat.

Beat the egg whites in a clean metal bowl until stiff and then beat in the powdered sugar.

Using a chilled large metal bowl, whip the chilled cream until it forms soft peaks.

Fold the chocolate mixture into the whipped cream, and then fold in the egg whites.  Work gently and quickly to ensure you don't lose too much volume.

Pour the mousse into the prepared pans, ensuring it fills all the gaps.

Cover with plastic wrap and place in your refrigerator over night.

To serve, simply remove the plastic wrap.

Decorate with berries, whipped cream (or greek yoghurt), shaved chocolate. For presentation you can tie a decorative ribbon around the base.
Tools of the Trade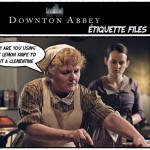 Cooks, like other professionals, have their tools and as Mrs. Patmore says "it is a poor workman who blames his tools".  You can  make do with the basics, but as you gain confidence and love for cooking, you should start to recognize items to help you cook.  Mrs. Patmore didn't electronic gadgets to cook with so be assured you can make do without the expensive gizmos.  This section helps you identify some equipment that I use. Amazon has an amazing inventory of kitchen gadgets to add your own touch.
Mini heart shaped springform pans for your Valentine