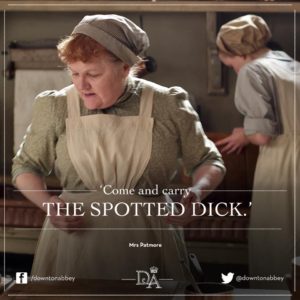 It's Blue Monday, apparently the most depressing day of the year.  It is a British thing.  While Americans celebrate the life and legacy of Martin Luther King on the third Monday of January, a 2005 promotional campaign for Sky Travel decided we needed to be reminded just how long and bleak winter can feel after the holidays are over, the credit card bills have come in and Spring is far off. It has been scientifically disproven as nonsense, but still lingers.  When I lived in Atlanta I was at ground zero for Martin Luther Day, but I should think we should all spend our time today focussing on how we can influence positive outcomes that Dr. King was so passionate about.
And to add more levity to your day, I suppose Julian Fellowes couldn't hold out any longer. It was finally time to bring out the spotted dick, a classic English pudding served this week on S5E3.  Mrs. Patmore delivered the line so quickly there wasn't much time for snickering.  Considering how this episode opens (with Mary in bed with Tony) a little sexual innuendo is not out of place.
Downton Dish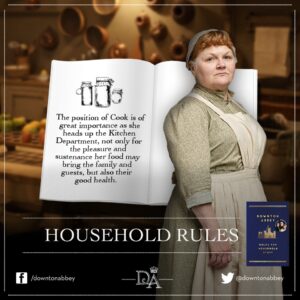 Season 5 of Downton Abbey has finally arrived in North America, broadcast on PBS, Sunday nights at 9 PM. Some appetizing articles to whet your appetite while we wait for the next course of Downton.
What happened in S5E3
Mary and Tony enjoyed some "quality" time together playing house, careful to be discrete, but is spotted by Violet's butler Spratt as they leave the hotel.

Spratt reports what he saw to Violet who covers for the couple and then has words with Mary.
Daisy continues with her lessons and is encouraged with her progress.
Tony, not to be put off, shows up uninvited to plead his case for Mary's hand.
Edith goes overboard as usual and is banned by Mrs. Drewe from seeing Marigold.
Simon Bricker invites the Crawleys to the National Gallery, but Cora is the only one to accept. It becomes apparent that it is not Isis he has eyes for. Robert is not kind when he comes to surprise her for dinner and she arrives home late.
Baxter tells the rest of the story.  As you might have guessed it was a boy who led her astray.
Russian refugees are invited to Downton for Russian tea (lemon, we need more lemon) and a old acquaintance of the Dowager suddenly appears. Granny has a past.
Mrs. Patmore pleads her case to add her nephew Archie's name to the war memorial.
Thomas appears to be hatching another scheme, asking for time off to visit his "dying" father.
Sergeant Willis comes to inquire about Mr. Green's visit to Downton, hearing stories that he had been in a quarrel with someone in the house. Mr. Bates has to account for his whereabouts.  But what about the ticket to London?)
Abbey Cooks Entertain: 2nd Edition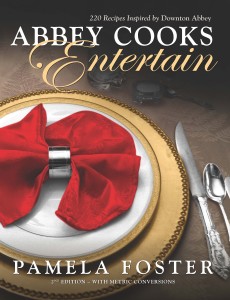 A new season means viewing parties. Whether you are hosting 2 or 20, this book has lots of ideas. Containing 220+ traditional Downton era recipes with a modern twist, this is a great book to create some simple or complex dishes for your Mary or Anna.
This 448 page ebook has been updated to include both metric and imperial measurements and now includes famous Downton dishes. Book sales help offset my costs in food, equipment and time to provide you new recipes on a regular basis. Get your signed electronic copy here.
Print Version: The 2nd Edition is available to order from Amazon.
For Your Downton Abbey Collection
Marvelous additions to your Downton Collection.
Sumptuous Spotted Dick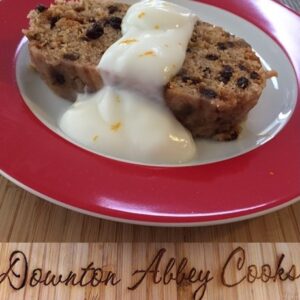 Sumptuous Spotted Dick
Ingredients
2

cups (250 g)

all-purpose flour

4

tsp. (20 ml)

baking powder

Pinch salt

¼

tsp. (1 ml)

each clove powder,

allspice and mace powder

4½

oz. (125g)

shredded suet* 

(make sure it is cold)

1½

cups

(180 g currants) (include a little chopped candied orange or lemon peel if you prefer)

1?3

cup (80 g)

caster sugar

1

Fine zest of lemon

1

small

Fine zest of orange

2 ?3

cup (150 ml)

whole milk, plus 2–3 tbsp. (30–45 ml)

Custard or non fat greek yoghurt to serve
Instructions
Put the flour, baking powder and salt in a bowl. Add the suet, currants, sugar, lemon and orange zest and spices. Mix well.

Add the milk (except the 2–3 tbsp.) and mix to a firm but moist dough, adding the extra milk if necessary.

Shape into a fat roll about 8 inches (20 cm) long. Place on a large rectangle of baking parchment. Wrap loosely to allow for the pudding to rise and tie the ends with string like a Christmas cracker. Alternatively, you can wrap the log in muslin as it will let in the steam. Tie it loosely so it can expand as it cooks.

Stove method: Place a steamer over a large pan of boiling water, add the pudding to the steamer, cover and steam for 1½ hours. Top up the pan with water from time to time.

Oven method: Use a large fish poacher or similar large pan with a lid, placing the pudding on a rack in the pan with enough space for water underneath. Pour in boiling water just short of the rack, cover with the lid and put in oven for about 1 hour. Check until pudding is done, making sure the pan is never dry.

Remove from the steamer and allow to cool slightly before unwrapping and slicing.

Serve with Light Custard Sauce, Sweet Sauce or non fat greek yoghurt.

You can also flambé the pudding with brandy like you would with a plum pudding.