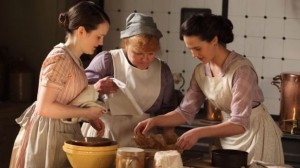 It is Thanksgiving weekend in Canada.  The Dowager might very well have asked her American nemesis Martha Levinson "What is Thanksgiving?" The British do not celebrate a one-day feast; instead, there is the month of Harvest Festival events.
The Canadian Thanksgiving holiday was officially proclaimed by  Parliament in 1879 and draws upon three traditions: European harvest celebrations; the first North American Thanksgiving (1578) observed by Martin Frobisher in the Arctic Circle; and the Pilgrims' 1621 first celebration in Massachusetts.  In 1957, the date was set for Second Monday in October, and of course, Americans know that US Thanksgiving is held on the 4th Thursday in November.
In light of the harvest which leads to the holiday season, this week features an easy turkey gravy, the pièce de résistance of the turkey dinner. "It's all gravy" is an English idiom, one of many we will explore over the coming weeks to share at the dining table.
What's Cooking Bracebridge: Oct. 3-5th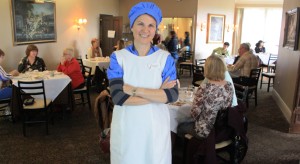 I had a fabulous time at What's Cooking Bracebridge, an event that attracted some big names in the Canadian cookbook world: Rose Reisman, Anna Olson, Stefano Faita, Janet Podleski were in attendance.  Lord D and I had a wonderful time exploring this lovely little community, showcased by the changing leaves.   While we weren't able to take part in all the events, we were entertained by Stefano's fresh pasta demonstration at the Saturday night Italian gala.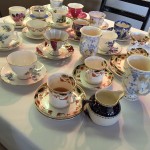 I hosted Afternoon Tea and talk on Sunday at Inn at the Falls, a lovely century-old inn, overlooking the Muskoka River.  The room was overflowing with locals who invited friends from Toronto, many of them history buffs, but all who loved tea and great scones. I am flattered that I inspired the Inn to decide to host their own afternoon tea on a regular basis. My work here is done.
Many thanks to the event sponsors, organizers, volunteers for the invitation, and for the hospitality of the innkeeper and chef at the Inn.
Fun with Food Idioms
Lord D has recently developed a fascination with the origins of common phrases which put me to mind of those English phrases which focus on food, including "it's all gravy."  Enjoy these few:
As keen as mustard:  mustard was an essential ingredient to roast beef, a favorite meal for centuries.  It was also used as a cure for colds.  So keen as mustard is a really good thing.  The phrase dates back to 1672, much before Keen's Mustard was formed in 1742.
Baker's Dozen:  Medieval English bakers sold their goods by weight not quantity, so they made an extra loaf to avoid being penalized for selling short weight.
It's all gravy:  This phrase originated from an Old English saying. Life, it explained, is meat and potatoes, and the luxuries are gravy. So essentially when you say "it's all gravy," you're saying "it" is all the awesome, saucy goodness in the world. And that's what gravy is all about!
Turkey Giblet Broth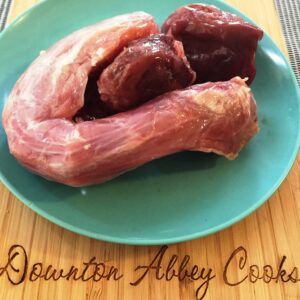 Turkey Giblet Broth Makes Better Gravy
Ever wonder what you can do with the giblets you pull out from your raw turkey?  A thrifty Abbey Cook makes use of all parts of the turkey, so make a broth that will give a flavour boost for your Turkey Pan Gravy.
Ingredients
1

Turkey parts

neck,gizzard, tail, and heart

1

tbsp.

EVOO

(extra virgin olive oil)

1

large

onion

roughly chopped

1

pinch

kosher salt

1

large

carrot

roughly chopped

2

large

celery

ribs, roughly chopped

1

dried

bay leaf

2

sprigs

fresh thyme and flat-leaf parsley

1

tbsp.

peppercorns
Instructions
Roughly chop the turkey neck into large pieces, cut the gizzard in half. Heat oil on a large saucepan over medium-low heat. Add the turkey parts, along with onion and salt. Cook gently for 20minutes, stirring occasionally.

Add 4 cups cold water along with the carrot, celery, bay leaf, thyme, parsley, and peppercorns. Bring to a boil over medium-high heat, cover, and reduce the heat to maintain a gentle simmer. Simmer until the broth is flavorful, 30 to 40minutes.
Life Saver Turkey Pan Gravy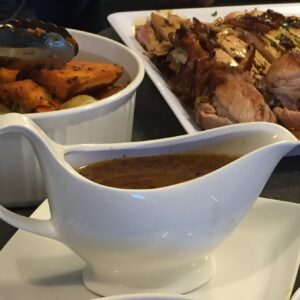 Lifesaver Turkey Pan Gravy
Preparing a holiday dinner can be quick stressful so getting the last-minute elements together quickly is a lifesaver. Turkey gravy is quite easy to make and far tastier than store-bought gravy products.
Ingredients
3

cups

Turkey Giblet Broth or Chicken Stock

see below

Turkey pan juices

6

tbsp.

unbleached all purpose flour

Keto version: use 1-2 tsp. xantham gum as thickener

1-2

pinches

Kosher salt and freshly ground black pepper

2

sprigs

thyme

removed from the stem
Instructions
After you have removed your turkey from the roasting pan, pour the drippings into a large measuring cup or a gravy separator which separates the fat from the juices. You will only need 3 tablespoons of fat which you will put back in the roasting pan.

Discard the remaining fat, and add the remaining juices with the giblet broth. If necessary, add chicken stock until you have a total of 4 cups of liquid.

Place the roasting pan on a medium heat on the stove, sprinkle the flour into the pan, whisking into the fat to make a roux. If you are making a keto version, skip this step.

Slowly pour ½ cup of the broth mixture into the pan quickly whisking to incorporate it evenly with the roux, slowly continue to add the broth until the gravy starts looking more like a smooth sauce. Whisk in the remaining broth and let the gravy simmer.

For keto version, sprinkle the xantham gum over the heated sauce and wisk in quickly to avoid lumps.

Add the thyme sprigs and simmer for about 5 minutes, and test a small spoonful to check for seasoning, adding salt and freshly ground pepper to suit taste.

You should have avoided any lumps, but you can strain the gravy through a medium mesh and no one will be the wiser.