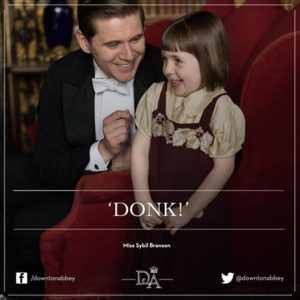 It is time to celebrate. Scotland is still part of the UK (apologies to those who wished to separate,  but we would have really missed you), and ITV has begun broadcasting Season 5 of Downton in the UK.  I won't comment on E1 other than to say that Season 5 starts off like a wonderful stew set on simmer, which is key to blending flavours, and that "donk" is my new favourite word.
It is also my 200th post here. I still wonder where my passion for this show and its food comes from. So many stories, glimpses into food history, and wonderful Downton inspired dishes. Some of them and many others are perfectly packaged in my online cookbook Abbey Cooks Entertain, always at the ready on your smartphone or tablet.
I can't believe I haven't already shared this recipe from my cookbook, but I can't think of any better recipe to celebrate than Lord D's Pork Roast.  
Downton Dish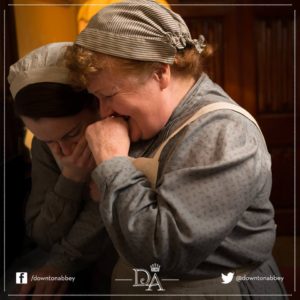 Season 5 has started in the UK on ITV, but North America will have to wait until Jan. 4 for the release on PBS.
Here is the latest dish on Downton:
What's Cooking Bracebridge: Oct. 3-5th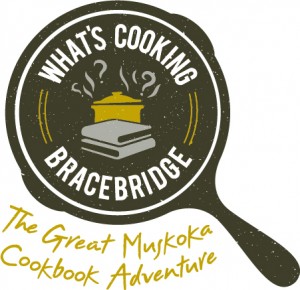 Visitors and celebrities alike flock to Muskoka region each year. While cottage season has ended, there is a great reason return for a weekend.  What's Cooking Bracebridge has attracted some big names in the cookbook world: Rose Reisman, Anna Olson, Stefano Faita, Janet Podleski will all be in attendance.
I will be hosting an Afternoon Tea and talk at Inn at the Falls on Sunday.  Drive up to see the fall colors and enjoy scones and those lovely crustless sandwiches. Who can resist?
LINKS:  For more information and to buy tickets. 
Have Yourself A Very Downton Christmas: Dec. 11-16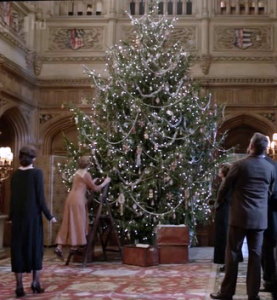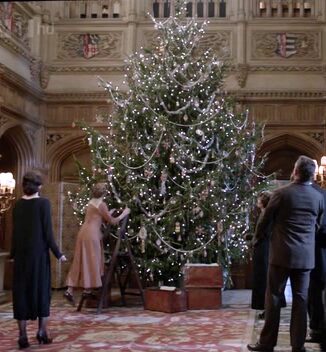 There are a number of tours to Highclere Castle, and I have been approached by a number of companies offering tours. This one caught my imagination, particularly since Highclere is now closed to the public for the season.
Friendly Planet Travel has a put together a lovely tour package around the holidays: a Gala Christmas Ball at Highclere Castle plus 4 nights in London and Paris optional day excursion.  From their brochure:  "London positively comes alive at Christmas time. Beautiful lights, decorations galore, music everywhere and plenty of opportunities for downing pints in pubs throughout the city await the lucky visitor. Even more exciting, a highlight of the holiday celebration awaits you at the exclusive Downton Abbey annual Christmas Ball. Officially known as Highclere Castle, the Earl and Countess of Carnarvon will open their home, one of England's most beautiful Victorian castles, welcoming you to enjoy a classic British Christmas evening in the setting of the hit PBS television series.  You'll dress in elegant attire for this special evening and enjoy a lavish 3-course dinner complete with Christmas Carols sung by a celebrated local choir."
For more information about this trip with an optional excursion to Paris, visit Friendly Planet Travel's website.
Abbey Cooks Entertain
Time to start planning your Downton Viewing parties. With 220 traditional Downton era recipes with a modern twist, this is a great book to create some simple or complex dishes for your Mary or Anna.  Book sales help offset my costs in food, equipment and time to keep bringing you new dishes each week.
While the book is available on Amazon, you can only get a signed copy here on my site.
If you don't have an eReader I would suggest the PDF version which allows you to print recipes as you go, if you wish. Buy one for yourself, a gift to another.  All you have to do is email the download link to your loved ones.
My Lord D's Roast Pork Dinner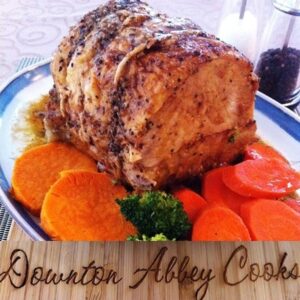 My Lord D's Roast Pork Dinner
Ingredients
3–4

pounds

boneless pork shoulder butt,

rolled and tied

1

large

onion

peeled and quartered

3

cloves

garlic

minced

¼

cup

vegetable oil

¾

cup

port

¼

cup

fresh sage,

chopped

1

pinch

freshly ground pepper

2

large

carrots

cut into thick slices

3

large

potatoes

cut into large cubes

1

large

sweet potato,

cut into thick slices

1

tsp.

butter

3

cups

chicken stock

5

small

onions

1

tbsp.

unbleached all purpose flour
Instructions
Mash together the onion, garlic, oil, ¼ cup port, sage, and pepper. Place the roast in a large shallow container, pouring the mixture over pork, turning to coat. Cover and refrigerate for 24 hours, turning occasionally.

Remove the roast from the refrigerator and bring to room temperature.

Preheat oven to 325°F. Prepare a heavy roasting pan with lid.

Melt the butter in a large skillet and brown the pork on all sides. Place the roast in the bottom of the roasting pan with the marinated juices and spread the vegetables around the base. Pour ½ cup of the chicken stock over the pork and surround with onions. Cover with the lid and gently shake so all the vegetables are covered.

Bake for one hour, then add another ½ cup of chicken stock to the pan, covering again and give the pan another shake. Cook for another hour, or until a meat thermometer reads 160–165°F or until the juices run clear.

Remove the roast and tent with tinfoil to rest for 15 minutes or longer which will help retain the juices. Remove the vegetables and tent in a heated serving dish so they stay warm.
Make the Sauce
Place the roasting pan over medium heat and sprinkle with flour, stirring for one minute. Pour in the remaining stock and ½ cup of port. Bring to a boil and cook until thickened. Strain and season with salt and pepper to taste.

Slice the roast and plate with the sauce and roasted vegetables.
Notes
Use what veggies you have on hand. Sometimes we will add parsnips or broccoli. Broccoli would need to be added after one hour so they don't get too mushy.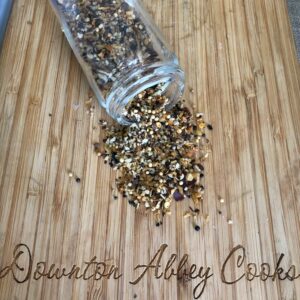 Make your Own Spice Rub
If you have run out of your grilling spice, it is super easy to make your own from pantry ingredients
Ingredients
2

tbsp.

kosher salt

2

tbsp.

black pepper corns

2

tbsp.

garlic powder

1

tbsp.

smoked paprika

1

tbsp.

onion powder

2

tsp.

dill seed

dried

2

tsp.

other spices

make your own secret recipe
Instructions
Combine all ingredients for steak seasoning in a mortar and pestle and mash together so the peppercorns are roughly cracked but you can make it to your liking. You can also blitz in a coffee grinder.

Use on beef steaks, and any roasts before grilling, searing, or roasting.

Store in an airtight bottle or jar.