Downton Abbey, like most grand country homes had their own orchards so fruit was plentiful.
Apples could be used in the Downto famous apple charlotte, crumbles or pies. Try this great recipe for pie pastry which will make multiple pies from all those apples.
What Mrs. Patmore would do with bruised apples is to make applesauce which can be stored for long periods.  Use applesauce to replace oil or butter in your baking to make desserts heart healthy.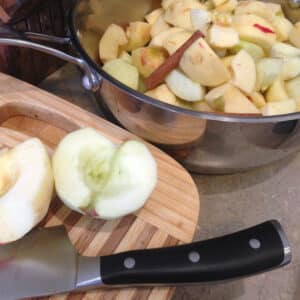 Easy Peasy UnSweetened Apple Sauce
Don't buy applesauce when you can easily make your own unsweetened version which you can easily freeze. Shopping for discounted bruised apples at your grocer makes this a very economical solution. Use applesauce to replace oil and butter in your baking to make desserts heart healthy.
Ingredients
3

pounds

apples

2

large

cinnamon sticks

1

medium

lemon juiced

(optional)

1/4

cup

water
Instructions
Peel, core and chop all the apples.Put the apples into a large stock pot or dutch oven. Add about a 1/4 cup of water into the pot to prevent burning. Add the cinnamon sticks, lemon juice.

Use low-medium heat on your stove and reduce the apples down to what looks like applesauce. It should take about an hour.

Mrs. Patmore would have used a potato masher to finish the sauce to break up any large lumps. Today you are permitted to the modern day version called an an immersion blender or to put the sauce through a blender.

I keep one container in the fridge and freeze the excess in Ziploc containers. It will keep in the fridge for a couple months, in the freezer up to a year.