Fresh chestnuts are available September through February and hence are a fall, winter, and holiday favourite. Nat King Cole sealed the deal for a couple of generations with the holiday classic song where "chestnuts are roasting on an open fire."  Do note that when roasting chestnuts "over an open fire," be sure to use a covered pan with a long handle.
Sadly, most of us have retired their grills this time of year so the next best thing is to bake them in the oven.  If you have tried and having challenges opening the nuts once roasted, try this method from Epicurious.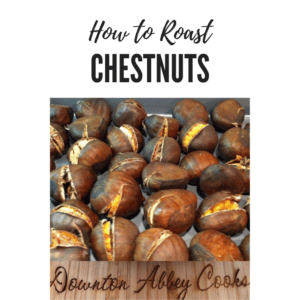 Foolproof Way to Roast Chestnuts
Roasting chestnuts at Christmas has become an annual tradition in some households since Nat King Coles song "The Christmas Song". If you have had challenges trying this yourself try steaming first to help the chestnuts to open once baked.
Ingredients
2

lbs.

chestnuts

fresh unshelled

2-3

sprigs

rosemary

1/2

cup

unsalted butter

melted

2

tsp.

kosher salt

1

pinch

nutmeg

freshly grated

1

pinch

black pepper

ground
Instructions
Preheat oven to 425°F. Place a large sheet of foil on a rimmed baking sheet. Place chestnuts, flat side down, on a work surface. Using a utility knife or a sharp paring knife, carefully cut through the shell on the rounded side of each chestnut to score a slit or X. If not punctured in some way, the build-up of steam pressure within the shell will cause the nut to explode with considerable noise, force and mess.

Soak in a bowl of hot water for 1 minute (this helps them steam while roasting); drain chestnuts and pat dry.

Place in a medium bowl. Add rosemary, butter, salt, and nutmeg. Season with pepper and toss to thoroughly coat.

Arrange chestnuts in a single layer in the center of foil (a few might overlap) and gather up edges of foil around chestnuts, leaving a large opening on top.

Roast until the peel begins to curl up and chestnuts are cooked through, 30-45 minutes, depending on size and age of nuts.

Transfer chestnuts to a platter, using a spatula to scrape in any butter and spices with them, and toss to coat. Season with more salt, if desired. Serve hot or warm.
Notes
Shopping for Chestnuts
Chestnuts are rather perishable and care should be taken when choosing them.
They should be shiny, and brown exterior and firm without any blemishes.
Keep them refrigerated until use.