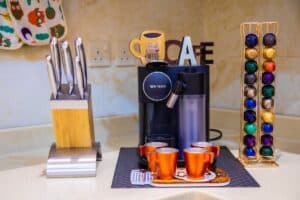 A Nespresso® coffee machine makes it possible to prepare espresso and other coffee variants from single-dose coffee capsules inserted into them. The machine pierces the capsule and pushes the water through the capsule with a specific water pressure into the cup to extract all the aroma and heat with only the necessary amount of water.
Nespresso coffee is for all those who love coffee and are willing to pay a little more for a cup of coffee, which will be adapted to their tastes and preferences.
There are many capsules or pods for espresso machines or Nespresso coffee makers. Some of them are not compatible with all Nespresso machines, even though they are all common brand products. In addition, each coffee capsule has its taste and quality. Through the wide range of Nespresso capsules, this selection guide will be handy for you in finding coffee pods that are compatible with a Nespresso machine.
Selection Criteria for Nespresso Coffee Pods
You must consider certain points when choosing Nespresso capsules. These are the capsule, roast, strength, grind, origin, grades and price of the coffee.
Capsules
Choose the capsules compatible with your Nespresso machine. You can ask the seller which capsules are compatible with your espresso machine.
Normally, coffee capsules are made of aluminum, plastic and vegetable fiber. The latter turns out to be the best, due to its material. In addition, the vegetable fiber coffee capsules are ecological and healthy.
Coffee Strength
Each range of Nespresso capsules often has an intensity scale allowing you to know the strength of the coffee. See the following example:
1 out of 5: a light coffee;

3 out of 5: a medium strength coffee;

5 out of 5: strong coffee.
The scale can vary between 1 and 10 or 1 and 7. This is the intensity level of each coffee capsule. So choose the coffee strength according to your preferences.
Coffee Roasting
There are four coffee roast levels:
Light roast 

Medium roast 

Medium-dark roast or semi-dark roasting

Dark roast 
Light Roasting
These coffee pods are often light in color or light orange. They offer an aroma devoid of bitterness and fruity or floral notes. The light roast coffee pods are compatible with Nespresso filter coffee makers.
The Medium Roast
Medium coffee beans offer more flavor than light roast coffee and develop a certain roundness, sweetness and minimal acidity. They are compatible with any Nespresso or espresso machine or filter coffee maker.
The Medium-Dark Roast
Medium-Dark Roast is dark brown and has more powerful aromas than a medium roast with a hint of bitterness. Coffee lovers who prefer a strong taste can use these pods with a Nespresso or espresso machine.
The Dark Roast
These are black coffees with a greasy surface. They have pronounced bitter aromas and a unique aftertaste. This type of roast is ideal for espresso consumption-a strong coffee with a strong aroma, advice to coffee lovers. Coffee capsules of this type are compatible with Nespresso machines.
Coffee Grind
The coffee grind in the pods is often indicated on the box. If you choose the wrong grind, your machine may under-extract or over-extract the coffee.
Each pod contains different coffee grinds. In the case of fine ground coffee, the water flows too slowly, and your coffee will be overloaded with aroma. In the case of thickened ground coffee, the water flows out too quickly and will not have time to soak up the aromas of the coffee. So, take into account the coffee grind compatible with your Nespresso machine.
Origin of Coffee
It is important to know the origin of the coffee to choose the right compatible coffee pods for your Nespresso machine. Each coffee from a different country has its particularities. Some are less ground, others overcooked. So, you have to know the origin of the coffee contained in the pod. The best quality coffees available are Arabica, Robusta, Mocha, Colombian coffee beans, etc.
Coffee Notes
Choose the coffee notes that suit you. Coffee capsules or pods all have caffeine ratings; notes expressing the quality of each coffee.
There are four main families of coffee notes that must be taken into account when buying coffee capsules:
Gourmands;

Fruity;

Floral;

Spicy.
These flavor notes are different because of the flavors added. According to the region from which the coffee was grown, these are the taste specificities linked to coffee.
Coffees from Brazil and Colombia offer more gourmet notes reminiscent of cocoa, caramel and dried fruits. The one from Ethiopia gives you more floral and fruity notes. As for Indian coffee, it offers spicier and slightly pungent notes. And Arabica coffees for slightly complex aromas accompanied by more subtle notes.
The Price
It is often difficult to determine the quality of a product by its price. If the products are of better brands, they are also better quality and price. However, each person has their preferences when it comes to coffee.
The flavours of the coffee in each capsule or pod are differentiated by brands, strength, roast, notes, grind and capsules. The compatibility with the Nespresso machine also depends on it.
Down with the False Myths
Someone who plans to buy a Nespresso coffee machine is likely to read this right now and evaluate its long-term cost. And surely also compare it with other brands such as Dolce Gusto (another trademark of the giant Nestlé, just like Nespresso).
On the Internet, you might have read that Dolce Gusto capsules are compatible with Nespresso coffee machines. Well, the answer is 'No.'
Capsules compatible with Nespresso are smaller than Dolce Gusto capsules. If you insert a Nespresso capsule into a Dolce Gusto coffee machine, the machine will not even be able to pierce it to inject the water under pressure and can damage your coffee maker as well.
Conclusion!
If you like to savour the flavour of a good coffee, enjoy a wide range of pods, each with a specific aroma and character, with or without milk. Know that the quality of these coffee pods tends to be less intense, with little body and little creaminess. You have to use the pods compatible with your machine; otherwise, they will damage your coffee maker.