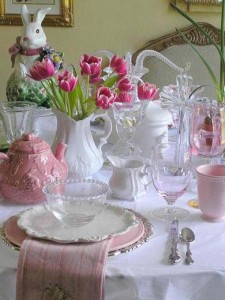 This coming week Christians around the world are celebrating Easter.  A moveable feast, Easter occurs the First Sunday after the Full Moon following the Vernal Equinox in the Northern Hemisphere.  It is late this year, just like Spring.
Marking the end of Lent, Holy Week leads to Good Friday which commemorates the crucifixion and death of Jesus Christ who died for our sins on the cross.  On Easter Sunday we celebrate His resurrection.  Easter is also linked to the Jewish Passover by symbolism and where it falls on the calendar.  Easter customs vary across the Christian world, but decorating Easter eggs is a common motif.
In the Western world, Easter takes on secular customs, such as egg hunts and the Easter Bunny.  The English tradition of wearing new clothes at Easter would have been gleefully followed by the women of Downton Abbey, although I am not so sure about the Dowager.  The Easter Bonnet, made famous by Judy Garland in Irving Berlin's Easter Parade is the part of this tradition, which was to keep in harmony with the renewal of the year and the promise of spiritual renewal and redemption.  Any excuse to shop.
Below we look hot cross buns and my Granny's recipe for sweet buns and my favorite hot cross buns.
Abbey Cooks Entertain has Easter Recipes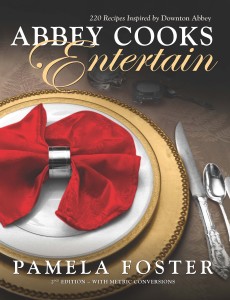 With 220 traditional Downton era recipes with a modern twist, this is a great book to create some simple or complex dishes for your Mary or Anna.   Book sales help offset my costs in food, equipment and time to keep bringing you new dishes each week.
My Easter recipes include:
While the book is available on Amazon, you can only get a signed copy here on my site.
If you don't have an eReader I would suggest the PDF version which allows you to print recipes as you go, if you wish. Buy one for yourself, gift to another.  All you have to do is email the download link to your loved ones.
Why Do we Eat Hot Cross Buns at Easter?  A History
Hot cross buns have come a long way since its humble beginning. Many cultures such as the Egyptians, Greeks and Romans used to make sweet and spiced breads during the onset of spring to celebrate the end of winter and the start of a new season. However, it is said that the Anglo-Saxons were the ones to create cross buns as an offering to their goddess Eostre (the term 'Easter' is believed to be originated from 'Eostre') so that the year would be bestowed with fertility. The cross was made to indicate the four phases of the moon and also the four seasons in the year. The Egyptians and Greeks also marked the buns with the symbol of ox horns, which over the course of time transformed into a cross. Many regions across Europe too started making cross buns. In Sue Ellen Thompson's book called Holiday Symbols and Customs, it is mentioned, "When archaeologists excavated the ancient city of Herculaneum in southwestern Italy, which had been buried under volcanic ash and lava since 79 C.E., they found two small loaves, each with a cross on it, among the ruins."
According to some, the festival of spring and fertility was also celebrated by the ancient Jews and it was called Pascha, the Hebrew word for Passover. Much later it came to be known as Easter, from the pagans. With the rise of Christianity, many pagan customs and practices were reinterpreted to give them a new meaning, such as the cross on the buns began to symbolise the crucifixion of Christ, and the old association of fertility and rebirth became a part of the Christian's Easter celebrations as the rebirth of Christ.
According to another theory, the origin of hot cross buns dates back to the 12th century, when an Anglican monk named Father Thomas Rocliffe made small spiced cakes stamped with the cross to honour the 'day of the cross.'
from http://food.ndtv.com
My Granny's Hot Cross Buns
Servings

Prep Time

Cook Time

48

buns

30-45

minutes

12

minutes
Servings

Prep Time

48

buns

30-45

minutes
Follow My Granny's Sweet Bun recipe, adding the spices, and fruit after you mix in the cream so that the ingredients are all incorporated before you let the dough rise.

Turn out the risen dough onto a floured surface. Shape into two 12 inch long logs about 3 inches thick. Cut the dough into equal pieces. You should have 24. If you have more, blame my Granny, she was always making more than she needed for unexpected company.

Work each piece of dough into smooth, seamless balls. Place buns on two greased baking sheets leaving inches between each bun. Cover with a clean tea towel and let rest for 30–45 minutes in a draft free place, or in your oven.

Preheat oven to 400°F.

Mix the egg with caster sugar to make an egg glaze. Brush buns with the egg glaze. Score a cross Roll out the pastry dough to 1/8 inch thick. Cut into thin strips about 1/8 inch wide. Arrange 2 pastry strips over the center of each bun to form a cross, tucking in the ends at the bottom of the bun. You can skip this step and score a cross in the bun and then finish after baking with thick icing to pipe a cross onto each bun after the buns have been baked and cooled.

Bake buns in upper and lower thirds of oven, switching position of sheets halfway through baking, until golden, about 12minutes. Transfer buns to a rack to cool slightly.

Hot cross buns can easily be made in advance of Easter, frozen and thawed before serving. You can eat these at room temperature, heated in the oven, or toasted.
My Granny's Sweet Buns
Servings

Prep Time

Passive Time

4-5

dozen buns

20

minutes

2

hours
Servings

Prep Time

4-5

dozen buns

20

minutes
Pour ¼ cup warm water into a one cup glass measuring cup or small glass. Add 1 tsp. of sugar, but don't stir.

Slowly sprinkle 1 tablespoon of yeast, and again, don't stir. Wait 10minutes until the yeast becomes thick and foamy.

In a bread bowl, mix the 3 cups water, 1/3 cup sugar, ¼ cup cream, 2 eggs, ½ cup corn oil and salt. When the yeast is foamy, add to the bread bowl and mix. Add 1 cup of flour to coat the bread.

Add the rest of the flour one cup at a time, working it in after each addition with your hands. You should have a soft pliable dough.

Turn out the dough on a floured surface and knead until smooth and elastic. Kneading involves using the palms of your hands pressing down across the dough, picking up and repeating for at least 10minutes which is about the same time you have worked off all the pent up frustration you have been carrying around allday.

Wash your bread bowl, dry and lightly grease with vegetable oil. Place your dough in the bowl and flip over so the top will be oiled. The dough is ready to rise. If your oven is not in use, the best place to let dough rise is in your oven. Place a skillet on the bottom rack and fill with boiling water. Place the bread bowl on the rack above and close the door. You will need to let the dough rise for twohours or until doubled in size.

Punch down the dough and place on a floured surface to roll out. Portion the dough with a dough cutter (or knife) to make a variety of traditionalEnglishsweet buns. An Abbey Cook is very skilled at multi-purposing her dough.
Use Granny's recipe to make