This is a Downton Abbey dish which would be served on a special occasion in the Servant's Hall.  Daisy and Mrs. Patmore would be able to use up leftovers from the Upstairs dinner, mixed in with day old bread. Our family serves this each Christmas morning, but it comes out at Easter or whenever we have guests staying over and want to spend more time catching up and less time in the kitchen.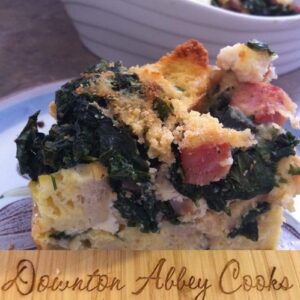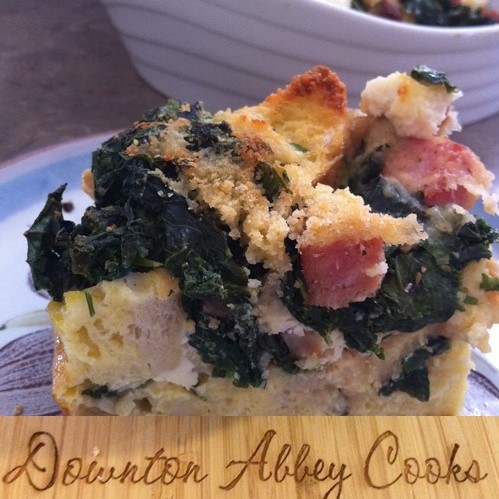 Make Ahead Breakfast Pudding
This is a great dish to make when you have company staying over on the holidays and you want to spend time with them and not so much in the kitchen. Kitchen parties are great but it can be hard to concentrate on both cooking and conversation so early in the morning. Just throw it in the oven. I typically serve with a spicy tomato sauce.
Ingredients
6

large

eggs

1

loaf

whole wheat bread

cut into cubes

2

cups

skim milk

2

tbsp

your favorite fresh herbs, minced

1

pound

left over ham, cut into cubes

1

bunch

green leafy vegetable: kale, spinach, torn into pieces

spinach, torn into large pieces

2

tbsp

olive oil

8

ounces

fresh mushrooms, chopped

1 3/4

cups

melting cheese, grated

grated (cheddar, swiss)
Instructions
Night Before
Mix together eggs, milk and spices. Set aside.

Heat olive oil over medium-high heat, then throw in your green leafy vegetable Cook for 2 minutes, or until slightly wilted. Remove from heat and set aside.

Fry the mushrooms

Grease a large casserole dish (9" x 12") and layer half the bread, half the spinach, half the mushrooms, and half the cheese.

Repeat with the other half of all the ingredients, ending with the cheese. Slowly pour egg mixture all over the top.

Cover with plastic wrap and refrigerate overnight, minimum. This allows the egg and milk to be fully absorbed into the bread.
Next Morning
To bake, remove from fridge 20-30 minutes before baking. Remove the plastic wrap and cover the dish with foil.

Preheat the oven to 350 degrees F.

Bake for 30 to 40 minutes. Remove foil and continue baking until top is golden brown and slightly crisp.