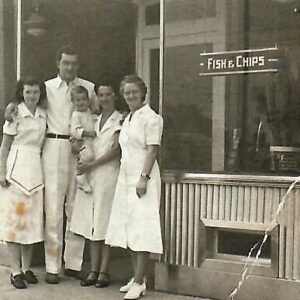 Fried fish was first introduced to London by Jewish immigrants from Portugal and Spain probably as far back as the 17th Century. Fish and chips were first served together as a complete dish around 1860 – the Malin family of London and the Lee's of Mossley, near Manchester, both claim to be the first.
Lord D's family operated a Fish & Chips restaurant for many years, hiring security to manage the long lines around the block on Fridays. Sadly the secret recipe died with Lord D's father (the tall man in the photo), but this version is the closest we have come to the original recipe. Lord D is the toddler in the photo and when he was older his job in the restaurant was to cut all the chips.
You don't need a deep fryer, but it is helpful to have a cooking thermometer to accurately gauge the temperature of the oil.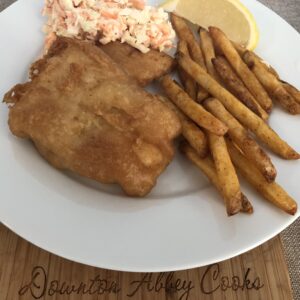 Easy Fish & Chips
You don't need a deep fryer to make your own fish & chips.
Ingredients
Fish
1 3/4

cups

all-purpose flour

put in freezer at least 15 minutes before using

1

tbsp.

baking powder

2 1/4

cups

beer

ice cold

1

cup

all-purpose flour

for dredging

4

oz

white fish fillets

halibut, paddock, cod,
Deep Frying
1-2

quarts

vegetable oil

for frying
Instructions
Make the Chips
Scrub, peel and cut the potatoes into strips or wedges. Place the potatoes in a large bowl, and cover the potatoes with cold water and let soak for an hour. Drain and thoroughly dry.

BLANCH: Prepare a wire rack over a baking sheet and have a metal slotted spoon handy. In a large deep saucepan, pour in four inches of vegetable oil and heat the oil to 330F. The first step is to blanch the chips, deep frying in batches for 5 minutes to make them more tender. Use a slotted spoon, transfer the potatoes to the rack to drain.

DEEP FRY: Preheat oven to 350F Increase the heat of the oil to 375F. Deep fry the chips in batches until crisp and golden. Return to the rack to drain. Keep warm in your oven while you fry the fish.
Fry the Fish
In a large bowl combine the chilled flour with the baking powder. Slowly whisk in enough cold beer to make the consistency of smooth pancake batter. We prefer a thinner coating so our batter is slightly funnier. The batter should be in a shallow bowl.

Pat your fish pieces dry with paper towels and season with salt and pepper. Your oil should still be heated to 375F.

Place the extra flour in a shallow bowl Bread the fish first in the flour and then dip in the batter, coating well. Gently place the fish in the oil.

Fry 1 or 2 max at a time. Wait 4 minutes, turn once and your fish should be golden brown. Cook for another 4 minutes, then drain on a rack, then transfer to the pan in the oven with the chips.

Serve with lemon wedges, malt vinegar, tartar sauce, and coleslaw. Brits love to eat with mushy peas.
Notes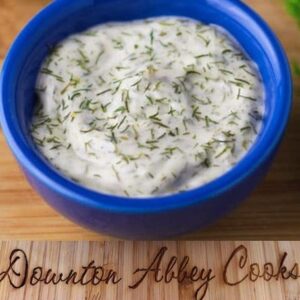 Easy Tartar Sauce
Tartar sauce is easy to make with a just few pantry ingredients.
Ingredients
1/2

cup

mayonnaise

try homemade mayonnaise

3

tbsp.

dill pickle

finely chopped

1-2

tbsp.

lemon juice

1

tbsp.

capers

chopped

1

tbsp.

fresh dill, chopped

sub: 1 tsp. dry dill

1

tsp.

Worcestershire sauce

1/2

tsp.

Dijon mustard

1

pinch

salt

1

pinch

pepper

freshly ground
Instructions
Combine all the ingredients in a small bowl and mix.

Season with salt and pepper, and add additional lemon juice to taste.

Let sit for at least 30 minutes before serving and store in your fridge for a week.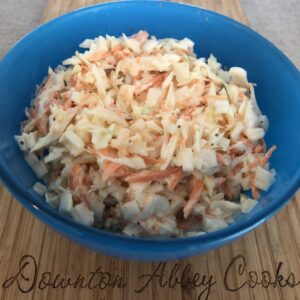 Easy Creamy Coleslaw