Up your Easter entertaining by creating individual carrot cakes for dessert, soaked in syrup and topped with candied carrots.
You can make the cakes and candied carrots a day or so ahead and do the final assembly the day of.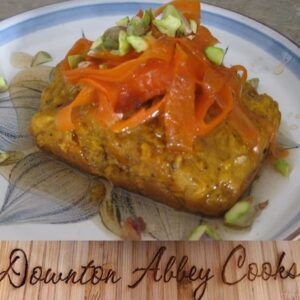 Individual Spiced Carrot Cakes
Up your Easter entertaining by creating individual carrot cakes for dessert, soaked in syrup and topped with candied carrots.
Ingredients
For the Cakes
2

cups

carrot juice

Make your own

1 1/2

inch

fresh ginger

peeled and finely grated

6

tbsp.

unsalted butter

softened

1 1/2

cups

unbleached all purpose flour

1-1/2

tsp.

ground allspice

1

tsp.

ground cinnamon

1/2

tsp.

ground star anise

sub: anise, fennel

1/2

tsp.

baking soda

1/4

tsp.

kosher salt

1/4

cup

light brown sugar

2

large

eggs

1/4

cup

pistachios

chopped (for garnish
Candied Carrots
2

large

carrots

peeled and cut into long julienne strands to yield 1 cup

2

cups

sugar

1

medium

cinnamon stick

1

whole

whole star anise

subs: anise, fennel seeds
Instructions
Make a carrot reduction
Combine the carrot juice and ginger in a medium saucepan and bring to a boil over medium heat. Boil until reduced to 3/4 cup, about 25 minutes. Let cool to room temperature.
Make the cakes
Position a rack in the center of the oven and heat the oven to 325°F. Butter and flour a 8 individual mini loaf pan or 12 muffin tins.

In a medium bowl, whisk the flour, allspice, cinnamon, star anise, baking soda, and salt. In a large bowl with a hand mixer or in a stand mixer fitted with the paddle attachment, cream the butter and brown sugar on medium speed until light and fluffy, 1 to 2 minutes.

On medium-low speed, add the eggs one at a time. On low speed, alternate adding the flour mixture and the carrot reduction in two additions each. Mix each addition until just combined.

Spoon the batter into the prepared moulds. Bake the cakes until a cake tester inserted into the centers comes out clean, 20 to 22 minutes.

Cool the cakes on a rack for 10 minutes and then carefully invert to remove from the molds. Cool the cakes upright on the rack. The cakes may be served warm or at room temperature.
Make the Candied Carrots
Bring the sugar and 2 cups of water to a boil in a medium saucepan over high heat. Add the carrots, cinnamon stick, and star anise.

Reduce the heat to maintain a simmer; simmer gently, stirring occasionally, until the carrots are translucent, soft, and slightly sticky to the touch, about 30 minutes. Discard the cinnamon and star anise. Remove the carrots with a slotted spoon and set aside. Reserve the syrup to soak the cakes.
Serve
To serve, soak the cakes in the syrup for up to 15 minutes. Plate and garnish with the candied carrots and pistachios.
Notes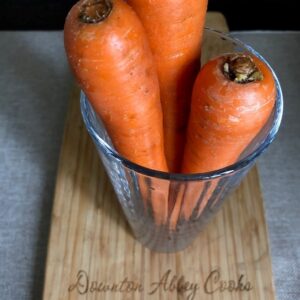 Make Carrot Juice without a Juicer
You don't need a juicer to make carrot juice, just carrots, water, a blender and a sieve.
Ingredients
2-3

large

carrots

1/2

cup

water

2

cups

water

boiled
Instructions
Wash and chop the carrot into 1/2 to 1-inch slices. Add them to your blender. Add enough water to come up halfway up the sides of the blender.

Use the puree setting until the ingredients are well pulverized.

Add 2 cups of the boiled water and mix until well blended.

Place a large fine sieve over a bowl or large wide-mouth jar and pour the mixture through, pressing to release more juice. You can retain the pulp to add to other recipes.
Tools You Can Use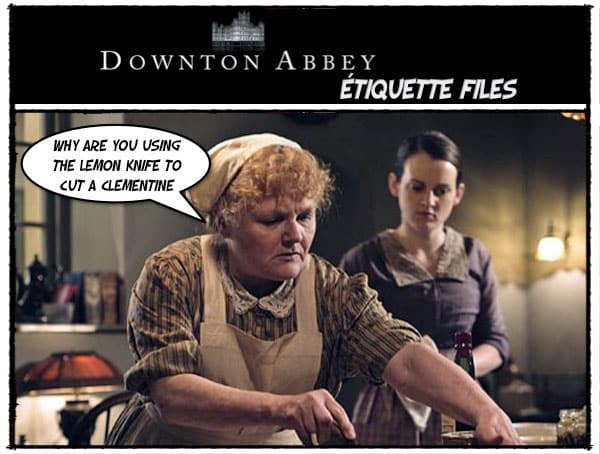 As Mrs. Patmore says, "a poor workman blames his tools". If you want to invest the time in learning to cook you should fortify yourself with proper cooking tools.
I do love the hunt in my local cooking stores, but you can order items directly through Amazon, so you have more time to watch Downton.
Mini Loaf Pan