This delicious soup was the 1st course served in 2nd Class on the Titanic.  It is made from the same savoury beef consummé that formed the base of Consummé Olga which was served in 1st Class.
This recipe comes from Last Dinner on the Titanic.  The fashion for serving tapioca pudding in clarified broth has given way to the better-known custom of floating decoratively cut pieces of Royale custard or noodles in a clear soup.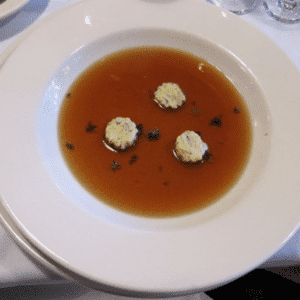 Titanic's Consummé Tapioca
This delicious soup was served in 2nd Class on the Titanic
Ingredients
6

cups

clarified beef consummé

2

large

egg yolks

1/2

cup

milk

1/4

tsp.

each salt and pepper

1

tbsp.

quick-cooking tapioca

2

tbsp.

finely chopped parsley
Instructions
To make garnish, whisk together egg yolks, milk, salt and pepper. Stir in tapioca and let stand 5 minutes. Cook tapioca mixture over medium-high heat for 3 to 5 minutes or until mixture thickens enough to hold its shape. Stir in parsley and spread onto greased baking sheet; chill.

Cut tapioca garnish into decorative shapes using aspic cutters or sharp knife. Carefully place in individual bowls of hot or cold consomme.