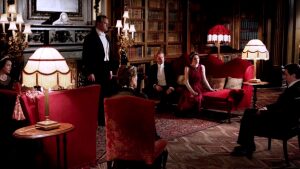 America is settling in nicely to Season 3 of Downton Abbey. I freely admit that I am an avid Downton fan, and even during the frantic stress of finishing my cookbook, the opening theme for the show never, ever ceases to give me peace and calm. Thank you John Lunn for your brilliant contribution to TV soundtracks. I could actually manage to play "Damaged", but generally love listening to the music. I am not sure I can get used to the theme song with lyrics, but buy it and judge for yourself. I haven't gone so far as to download the Downton Abbey ring tone- I am afraid I would jump for a TV remote and not my cell phone.
A Little Burnt Around the Edges
While Mary and Matthew have been successfully been married off in E1, the mood has dampened a bit as Edith was left at the altar at E3, and there appears to be a "fire" theme this week (S3E4 if you are an ITV purist, or E3 by PBS calculation) as many of the characters in this episode have been "burned":
Branson gets himself into trouble through affiliation with Irish radicals who set fire to the home of "friends" of the Crawleys, and is now banned from Irish soil.
Mrs. Hughes ruffles Carson's feathers as she brings a new fangled electric toaster to Downton, particularly when she starts experimenting with it and sends smoke down the servants corridor.
As Edith struggles to find a new life for herself, her Granny tells her to find something to do; when she tries her hand at writing, her family is less than supportive.
Edith also has to contend with having to dress for breakfast as only married women were allowed the privilege of breakfast in bed.
Ethel makes the painful decision to give up her beloved little son Charlie.
Now that Matthew has saved the Estate, he discovers that the affairs are not being properly managed and his Father-in-Law is reluctant to discuss changes.
Anna and Bates are temporarily denied contact from one another due to the sche

min

g of a fellow prison mate and a guard on the take.
Just as Daisy finally gets the blessing from her Father-in-Law, and the courage to tell Alfred she cares for him, she is interrupted by Mrs. Patmore who introduces her to Ivy, the new kitchen maid. Of course, Alfred fancies Ivy. Scorch!
Handsome new footman Jimmy brightens the maids'

day

but seems to have set up a power struggle between Team O'Brien and Team Jimmy, led by Thomas.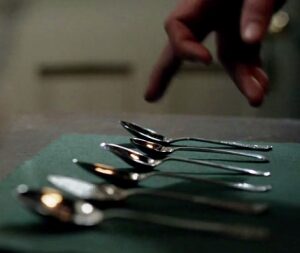 Alfred almost nails his "spoons" quiz: The correct answers were tea spoon, egg spoon, melon spoon, grapefruit spoon, jam spoon….and boullion spoon. Boullion is a light soup which is typically reserved for luncheon since it is too light for a dinner, particularly when it is a heavy meal and much wine is served.
Finally, let's not forget The Dowager having to part with a whole Guinea for a bottle of perfume. "Did he have a mask and a gun?"
A Brief History of the Electric Toaster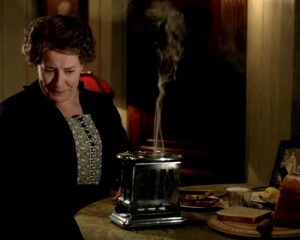 A British company, Crompton & Company invented the electric toaster, named the Eclipse, in 1893. It had some design flaws as it only toasted bread on one side so you had to manually flip the bread. Electricity was not widely distributed in those days and those homes that did have it only used it at night for lighting. So I imagine the toaster would have been great for late owls or early risers. Did I mentioned it was prone to cause fires? It was an American working for General Electric, who patented what is considered the first successful electric toaster in 1909.
World War I played a part in the next advance in toaster technology. Tired of burnt toast in the cafeteria at the plant where he worked in Stiillwater, Minnosota, Charles Strite invented the first pop-up toaster in 1919 with a timer so bread did not need to be supervised while browning. I am still waiting for the next great toaster invention: toast which will pop up while being watched.
Stuffed Pork Tenderloins
With all the commotion there was not much time to show the food this episode, but we do know that Alfred made a fuss about Jimmy carrying the pork upstairs, so pork it is today.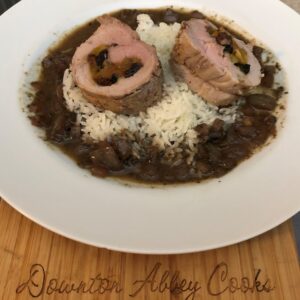 Elegant Stuffed Pork Tenderloins
Pork tenderloin is a great lean meat which is quick to cook.  This upstairs dish is one of my favourite ways to serve pork when we have guests.
Ingredients
2

large

pork tenderloins

1/2

cup

dried apricots

finely chopped

1/2

cup

prunes

pitted and chopped

1

medium

orange

juiced

1

pinch

cinnamon

1

cup

sherry

1

small

onion

1

pinch

sugar

½

cup

chicken stock

2

tbsp.

parsley

fresh, finely chopped (optional)
Instructions
Preheat oven to 375°F.

Put chopped fruit in a small pot, add the orange juice and cook until the mixture is soft, but not sloppy. Allow to cool.

Remove the silver from the tenderloins and butterfly*, so you have a large rectangle to fill.

Spread the fruit mixture on the tenderloins, roll and secure with kitchen twine.

Heat oil in an oven proof skillet and brown the tenderloins on all sides.

Place the pan in the oven and cook for 20–30 minutes or until a meat thermometer reads 165°F.

Remove the meat from the pan, cover with tinfoil and let rest.

Add a little oil to the pan and sauté the onions until translucent on medium heat.

Add the sherry, sugar and stock and season to taste. Simmer for 10 minutes or until the sauce has thickened slightly.

Remove the kitchen twine and cut the tenderloin into 1–2 inch slices

I like to serve over rice, sprinkling chopped parsley just before serving.
Notes
How to butterfly a pork tenderloin
Hold a sharp chef's knife blade flat, so that it's parallel to your cutting board, and make a lengthwise cut into the center of the tenderloin, stopping short of the opposite edge so that the flaps remain attached.
Open the tenderloin like a book.
Cover with plastic wrap. Pound the meat with a mallet, with a bottom of a pan to your desired thickness.
Nutrition
Serving:
75
g
Calories:
1266
kcal
Carbohydrates:
33
g
Protein:
190
g
Fat:
33
g
Saturated Fat:
11
g
Polyunsaturated Fat:
5
g
Monounsaturated Fat:
13
g
Trans Fat:
1
g
Cholesterol:
590
mg
Sodium:
524
mg
Potassium:
4113
mg
Fiber:
4
g
Sugar:
22
g
Vitamin A:
1471
IU
Vitamin C:
29
mg
Calcium:
107
mg
Iron:
10
mg
For the Downton Abbey Collector