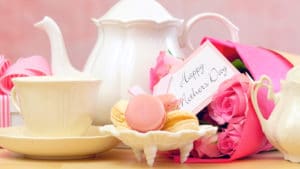 Mother's Day is on the horizon and often poses a challenge when you are searching for unique ways to share time with mom. You could take mom to a tea room, but if you are on a budget or just want to take it one step further you can host your one tea party.  Moms generally appreciate any meal they don't have to cook, particularly if sweets are involved.  If you have siblings with little girls, you can gather the whole troop together, and let the kids experience a fun version of tea.
Anatomy of a Tea Party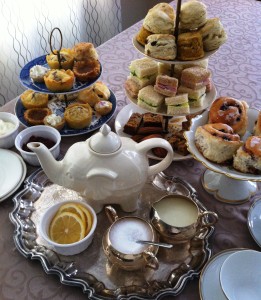 You don't have to invest a great deal of money or effort in putting together a memorable tea for Mom.  Sadly, if you have not already made a reservation at the best tea houses by the end of April, you aren't likely to get one. But they can be busy, rushed and not at all relaxing.  I think the secret to Mother's Day is to remember that moms generally  just want to spend some time with you and the family.
Cream Tea
Tea for Mum can be as simple as cream tea which is simply scones, served with clotted cream and tea.  A nice table cloth, mismatched tea cups, plates and a nice pot of tea.  My Abbey Cooks Magic Scone recipe will have fresh scones on the table in 30 minutes, and the recipe can be adapted in a number of ways.
Afternoon Tea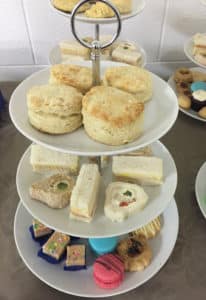 If you think you would like to attempt an afternoon tea, start with the scones, and try adding a few other recipes to build a tea tray.  You can serve the tea meal on separate plates, but the tradition of the stacked tray still remains.
The stacked tea tray is a trilogy of savouries, scones and sweets, and is generally organized in this manner:
Top Level: The smaller top level holds the Scones.
Middle level should hold the sweets and fruits.
Bottom level holds the savouries and finger sandwiches
The order in which you eat from the tray is the order in which you normally eat your meal: savouries first, scones next and sweets last…UNLESS there are hot scones, and then the order changes to scones, savouries, then sweets.
You can likely manage the sandwiches easily enough, and if pressed can fill in the sweets level of the tea tray with your mom's favorite sweets from your local bakery.  The key is to ensure  bite sized pieces.
Where to Find Tea Supplies
I seem to have accumulated a hodge podge of tea cups, little plates and tea pots over the years, but if you have been inspired by the idea of tea for Mom, but don't have the necessary cups or plates, don't despair, help could be as close as your local Goodwill or other charity store.  Great bargains and you are helping a great cause.  Check out this clip.
Relaxing Over Afternoon Tea
If there is one great contribution that the English have made to entertaining, it has to be the invention of Afternoon Tea. No longer just for grannies and tourists, young ladies and many busy professionals are now making time to relax with a cup of tea, lovely treats and quiet conversation.
This book contains traditional afternoon tea recipes, tea etiquette, and checklist for hosting a tea party. You can download in minutes from the SHOP page.
How to Make Tea
Don't get too stressed about making tea, particularly since tea is now conveniently sold in tea bags. To distinguish yourself as a tea aficionado, just follow the time-honoured tradition of first warming the tea pot. Add a bit of boiling water to the pot, give it a swirl and pour it out before adding your tea. Then add the boiling water, and steep tea for 3 or 4 minutes and don't let the tea steep too long or it will become bitter.
If you go with loose tea, the general guideline is to allow for 1 tsp per person, 1 tsp for the pot, and allow 10 ounces per person. Use a tea strainer and pour into cups. You may wish to fill your tea pot with tap water, pour into a measuring cup to determine how many cups your pot will hold.