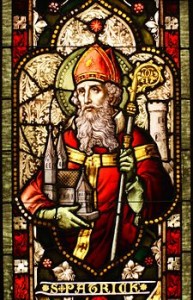 Yesterday, March 17, was Saint Patrick's Day (aka St. Patrick's Day, St. Paddy's Day, St. Patty's Day), a cultural and religious holiday which celebrates the life of Saint Patrick, who died on that date way back in the fifth century.  Patrick has endured as the most commonly recognized patron saint of Ireland, credited for bringing Christianity to Ireland.
Saint Patrick's Day was made an official feast day in the early seventeenth century and continues to have religious significance.  It has also gradually become a secular celebration of Irish culture, where people line up for hours for the privilege of cramming into a pub to drink green beer or Guinness.  I still ensure that I wear lots of green on St. Patrick's day since I never recovered from the childhood trauma of vicious classmates pinching those who did not wear green that day.  They weren't even Irish.
The big day now past and the green food coloring put away for the season.  Traditionalists would have made UK favorites such as my recipes for Irish Stew, colcannon, mince & tatties, and barmbrack for tea. Leftover potatoes are made over into today's dish, potato farls.  Quick and easy breakfast dish, comforting carbs to help your system deal with the morning after.
Downton Dish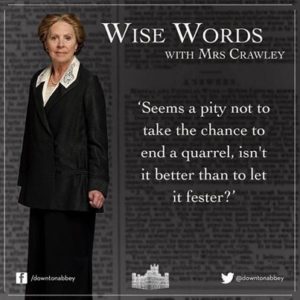 We will have to get used to Downton Downtime.  We do know that Season 5 is coming eventually (Sept on ITV,  Jan on PBS), so we will see press about new casting, and perhaps a plot spoiler or two in the next 8 months.  However, the popularity of the show does provide us with ways to connect with the show in other ways:
Paddy Trivia
It is not too late to teach the kids about Paddy Day Trivia:
Shamrocks-according to Irish folklore, Patrick used the three-leafed shamrock to explain the Holy Trinity (Father, Son, and Holy Spirit) to the pagan Irish.  His followers adopted the custom of wearing a shamrock on his feast

day

.  Add another leaf and you end up with the four-leaf clover, referring to the luck of the Irish.  It also explains the green.
Public Holi

day

in Ireland–In 1903, Saint Patrick's

Day

became an official public holi

day

in Ireland.  Another law quickly followed to close pubs/bars on March 17 after drinking got out of hand; it was later repealed in the 1970s.

American

Traditions–Boston held the first parade in the United States in 1731, followed by New York's famous 5th Avenue parade 20 years later. Chicago has been dying their river green for the past 40 years.
Video Trivia- this clip from the History Channel provides a brief history of Patrick's life and traditions, like why drinking beer became so popular that they had to close the bars (it has to do with a break from Lent)
When Downton Costumes came to Toronto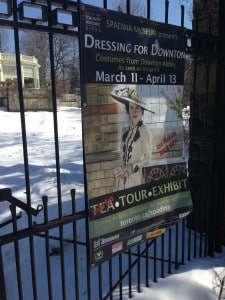 With the bleary weather, we have been experiencing this winter in Toronto, the opening of the special Downton Abbey costume exhibit is a breath of fresh air. The show was held at the Spadina House.  This is a century-old home, perfect to house the twenty costumes that will be the only stop in Canada.
I was privileged to have been invited to the advanced press briefing to be one of the first to see the costumes up close and to explore the grand rooms of the Spadina House.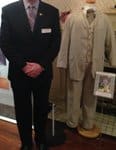 Once you have seen the lovely pieces, you get a better appreciation for just how diminutive the actors are.  I don't think I could ever fit into any of the lovely dresses (well maybe Dowager and Martha).  As one reporter quipped, "I could fit this costume as far as my arm!"  The same goes for the men as well.  Lord D posed next to his favorite Robert outfit from the Garden Party at the end of Season 1, as well as a classic Matthew ensemble.  I always said actors have to be tiny to fit into those small screens!
When we finished viewing the exhibit,  Lord D and I found our way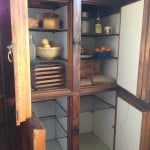 down to the kitchens in the Spadina House.  My guess is that they might have had a Mrs. Patmore running their kitchen as they continued to use their huge icebox until the 1940's after ice delivery was no longer a viable business.
All in all, I give this two Carson eyebrows up for Downton fans.  Perhaps not the same as a day by the beach, but worth the travel back in history.  The exhibit will not be available anywhere else in Canada, and only one other spot in the US, so you shouldn't miss this opportunity.
Abbey Cooks Entertain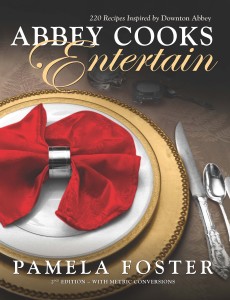 Just because S4 is over, that doesn't mean you can't continue to share the love of this period of history in food with family and friends.  With 220 traditional Downton era recipes with a modern twist, this is a great book to create some simple or complex dishes for your Mary or Anna.  Book sales help offset my costs in food, equipment and time to keep bringing you new dishes each week. While the book is available on Amazon, you can only get a signed copy here on my site.
If you don't have an eReader I would suggest the PDF version which allows you to print recipes as you go, if you wish. Buy one for yourself, a gift to another.  All you have to do is email the download link to your loved ones.
Potato Farls
Potato Farls
Ingredients
2

cups

mashed potatoes

½

cup

unbleached all purpose flour

½

tsp.

salt

1

tbsp.

unsalted melted butter
Instructions
Mix the ingredients, turn out onto a floured surface and knead lightly. Use a floured rolling pin to flatten into circle 8 inch x ½ inch thick. Use a floured knife to cut into quarters, and dust lightly with flour.

Heat a heavy griddle with some vegetable oil or butter, and cook farls over amedium-high heat, about three minutes a side until evenly browned.

Season with a little salt and serve.
Downton Essentials

[wpurp-searchable-recipe]Potato Farls, a Great Post St. Patrick's Day Dish – – , ; – – Scottish – *About the Show – Season 4 – [/wpurp-searchable-recipe]