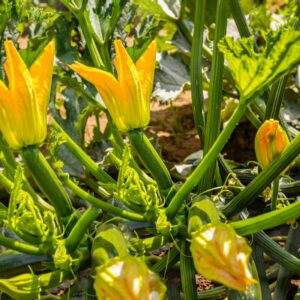 In the ongoing quest to find ways of using up my zucchini harvest, this is easily the quickest way to serve.
All you need to do is slice into planks and sear at high heat. The thickness ensures your zucchini doesn't go mushy.
While you could easily just grill, I like to pan sear and then enhance with butter and a few herbs and spices.
This dish is keto, gluten free, and vegetarian.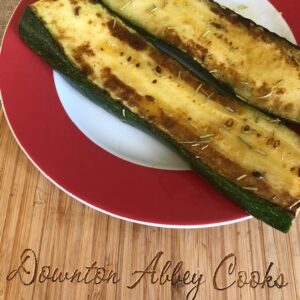 Quick Zucchini Planks
A quick sear of thickly cut zucchini can produce a wonderful side dish.
Ingredients
3

small

zucchini

6 to 8 inches each

1

tbsp.

vegetable oil

1

pinch

Kosher salt and black pepper

1 ½

tbsp.

unsalted butter

plus more to taste

1

clove

clove

peeled and smashed

1

sprig

rosemary

or 1/4 teaspoon dried rosemary

1

pinch

Coarse sea salt

for serving

1

pinch

Lemon zest

for serving

1

tsp.

Red-pepper flakes

for serving
Instructions
Trim the zucchini lengthwise on two opposite sides to create flat edges.

Reserve the scraps for your other zucchini dishes. Cut the zucchini in half lengthwise into two planks that are about ½-inch thick.

Pat them dry with a paper towel, pressing gently but firmly on both sides to absorb any moisture.

Heat a large (12-inch) skillet over medium-high. Add the oil and heat until it's almost smoking. Add the zucchini.

Season with salt and pepppe, cooking for about 3 minutes or until nicely charred on the bottom.

Lower the heat to medium, flip the zucchini, and season with salt and pepper again. Cook for 2 to 3 more minutes, until charred.

Turn the heat to low and add the butter, garlic and rosemary. Carefully tilt the pan, letting the garlic and rosemary cook in the butter for 30 seconds to 1 minute, until the butter has begun to brown. Spoon the butter over the zucchini, and cook for another minute, flipping them a few times to coat both sides with the butter.

Transfer the zucchini to a serving platter, along with the garlic and rosemary, and spoon any butter that's left in the pan on top. Top with coarse sea salt, lemon zest and red-pepper flakes, and serve hot.