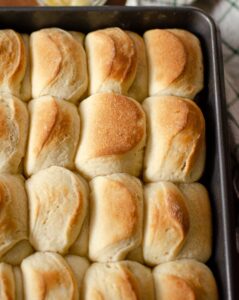 Parker House rolls have regained their place at the dinner table in recent years.  There is nothing more white and delicious than these "pocketbook rolls", and when you are breaking your low carb regime for a treat, these are the best.
The name comes from The Parker House, founded in 1855, one of Boston's oldest and most distinguished hotels. The rolls became popular all throughout New England, going by pocketbook rolls.
One of the hotel's first guests was a lady from London who misplaced her diamonds and accused the chambermaid of theft.  The pastry cook heard the commotion and was so angry that his beloved was falsely accused that he picked up pieces of dough in his fists and slammed them into the oven. The buns came out with dents in the middle and as there was no time to make another batch they had to be served in the dining room as is. As with most kitchen mishaps turned famous, the buns were a hit.  They came out crisp on the outside and soft in the middle and so a new tradition was born.  The lady had found her diamonds, by the way.
Fannie Farmer is the grand dame of American cooking.  Her first cookbook published in 1896 as The Boston Cooking-School Cook Book under the name Fannie Merritt Farmer, became the cookbook that taught generations of Americans how to cook.
The cookbook has been lovingly updated by Marion Cunningham under the name The Fannie Farmer Cookbook.
This classic recipe for Parker House Rolls comes from the original cookbook.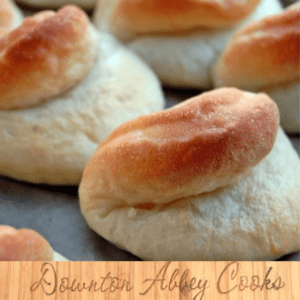 Classic Parker House Rolls
Fannie Farmer's classic recipe of the Parker House Roll.
Ingredients
2

cups

scalded milk

2

tsp.

salt

3

tbsp.

butter

2 1/2

tsp.

dry yeast

1/4

cup

warm water

2

tbsp.

sugar

5 1/2

cups

Unbleached all purpose flour

divided
Instructions
Pour the lukewarm water into a glass, then sprinkle on the dry yeast and let sit 10 minutes until foamy.

Add butter, sugar, and salt to the hot milk; when lukewarm, add the dissolved yeast and three cups of flour.

Beat thoroughly, cover, and let rise until light; cut down, and add enough flour to knead (it will take about two and one-half cups).

Let rise again, toss on lightly floured board, knead, pat, and roll out to one-third inch thickness.

Shape with biscuit-cutter, first dipped in flour. Dip the handle of a knife in flour, and with it make a crease through the middle of each piece; brush over one-half of each piece with melted butter, fold, and press edges together.

Place in greased pan, one inch apart, cover, let rise.

Bake in hot oven (400F) 12-15 minutes.
Notes
Parker House Rolls may also be shaped by cutting or tearing off small pieces of dough, and shaping round like a biscuit; place in rows on floured board, cover, and let rise fifteen minutes. With the handle of a large wooden spoon, or toy rolling pin, roll through the centre of each biscuit, brush the edge of lower halves with melted butter, fold, press lightly, place in a buttered pan one inch apart, cover, let rise, and bake.