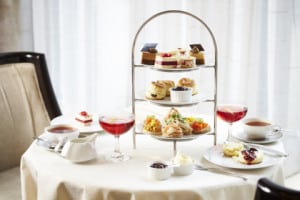 Spring is here, the snow around us has melted, and you can see tulips breaking through the soil. Even the golfers have come out of hibernation on the golf course where we live. Of course we all anxious to shed our winter clothes, but not quite yet. Our patience will be rewarded in the coming weeks. I have to keep reminding myself of that.
As you may know,  I hosting virtual tea parties, dishing about Downton Abbey, and featuring a new "Downton" era recipe. Check out my Online Guide to Afternoon Tea, helpful in understanding traditions and recipes to help you host your own tea party with family and friends.
Today's dish is Garden Cake, as we look forward to getting back into our yards, to grow, or just throw fabulous garden parties. Garden Parties, after all is just tea outside.
Downton Dish
It has been a relatively quiet week on the Downton Abbey news front:
Abbey Cooks Entertain: Downton Garden Party Planning
With 220 Downton era recipes, you will want to get this book for recipes for the famous Downton dishes.  I also presented a whole chapter on Garden Parties.  Experimenting with ices (ice creams and frozen yoghurts) was my favorite part.
Book sales help offset my costs in food, equipment and time to keep bringing you new dishes. You can only get a signed copy here on my site.
Gorgeous Garden Cake
Servings

Cook Time

8–10

people

50–60

minutes
Heat the oven to 350°F. Grease and line a 9 inch spring form pan.

Mix together the flour, baking powder and spices in a large bowl. Mix together the applesauce, sugar and beat in the eggs. Fold into the cake mixture along with the carrot, parsnip, potato and apple. Stir in the orange zest and juice.

Pour into the prepared cake tin and bake for 50–60 minutes, until a skewer comes out clean.

Remove from the pan and set on a wire rack to cool. Dust with icing sugar and decorate with carrot curls* and a light cream cheese icing if you prefer.
*you will just have to download my book to find out how to make carrot curls, or you can search on the web.