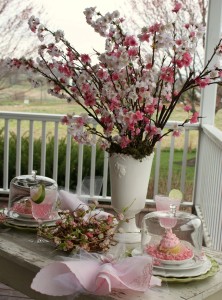 I am still patiently waiting for Spring to take a firm hold.  We did have a thunder storm last night, but apparently are expecting snow on the weekend. In some parts of the world it is the bloom of the cherry blossom which signals the arrival of Spring.  I have fond memories of the Cherry Blossom Festival in Vancouver, organized by Linda Poole, a dear friend of mine.  If you are blessed by cherry blossoms do take time to enjoy them; why not enjoy tea under a cherry tree, or set some blossoms on your table. Every moment is precious, particularly when you lose someone who has touched your life.  Our prayers are with April's  family and close friends. She was feisty spirit who lost her fight with pancreatic cancer this past week.
As we look forward to warmer days today's dish is Jiggly Strawberry Jelly, great for Garden Parties, also known as "tea outside."
Downton Dish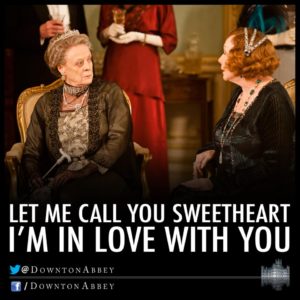 Some Downton news to help carry you through Downton Downtime until we meet again for Season 4:
Abbey Cooks Entertain: Downton Garden Party Planning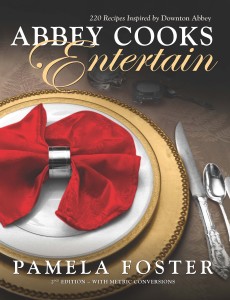 With 220 Downton era recipes, you will want to get this book for recipes for the famous Downton dishes from Season 1-5.  I also presented a whole chapter on Garden Parties. Experimenting with ices (ice creams and frozen yoghurts) was my favorite part.
Book sales help offset my costs in food, equipment and time to keep bringing you new dishes each week. You can only get a signed copy here on my site. If you don't have an eReader I would suggest the PDF version which can be printed, if you like.
Jiggly Strawberry Jelly
Be inspired by the lovely moulded desserts spotted in the Downton kitchen in the show's very first episode.  The Edwardians were gaga over gelatin and your grandmother likely had a favorite jelly salad to bring to family events. Flavored gelatins are so convenient, but try making jelly yourself to taste the difference using real fruit. It also helps use up all those berries you plan to bring home from the berry farm in the coming months.  If you need other inspirations for your strawberry bounty, you can also make great jams, like strawberry champagne, or strawberry rhubarb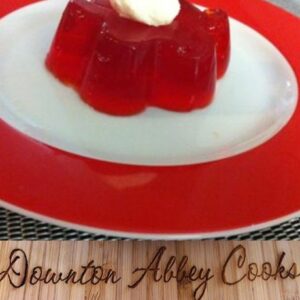 Jiggly Strawberry Jelly
Flavoured Jello is so convenient, but try making it old school. You will know exactly what is in your food and great way to use extra strawberries from the local market.
Ingredients
4 ½

lbs.

strawberries, hulled

½

cup

caster sugar

Keto version: use Swerve or your favorite sugar substitute

1

tsp.

lemon juice

1

tbsp

gelatin powder, unflavored
Instructions
Mash the strawberries with the caster sugar with a potato masher and let the mixture rest for an hour.

Transfer to a jelly bag (or multiple layers of cheesecloth set over a sieve) set over a large bowl. Resist the urge to press on the fruit. Cover with a clean cloth, and leave in a cool place overnight.

This should yield 2 cups of liquid*. If you don't have enough, add enough apple juice to make up the difference. If you have more than 2 cups you can add a little more gelatin .

Heat ¼ cup of the strawberry juice to boiling. Sprinkle the gelatin over ¼ cup of cold water in a bowl, let bloom, and then add the hot juice, mixing thoroughly until the gelatin has dissolved. Add the rest of the juice and lemon juice. Strain the mixture through a fine sieve into a large decorate mould, or individual moulds and chill overnight to set.

The trick to turning out the jelly mould is to quickly dip in a bowl of boiling water to loosen the edges.
Notes
If you need other inspirations for your strawberry bounty gathered from your local farm, you can also make