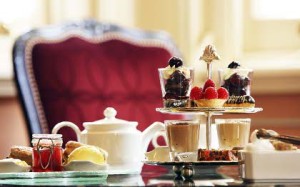 This past Sunday, clocks "sprang" forward one hour around the world in observance of Daylight Savings Time (DST), first implemented by the Germans in 1916 during World War I as an energy saving measure. The idea caught on.  Currently 70 countries utilize Daylight Saving Time in at least in part of their country. Japan, India, and China are the only major industrialized countries that do not observe some form of daylight saving.
It will likely take a week or so to adjust to losing one hour of sleep.  That still does not explain how I managed to lock breakfast in our locking (self-cleaning) oven on Saturday morning.  I am sure Daisy never had this issue.  By the time I figured out how to reset the oven, our breakfast was now brunch.
Today's treat is a savoury reat: Glamorgan Sausauges, a Welsh vegetarian dish. It is served hot at breakfast, brunch or high tea or cold at your garden party or even picnic.  It's my Dad's Birthday today, and we would love these even if there is no meat in them.
Downton Dish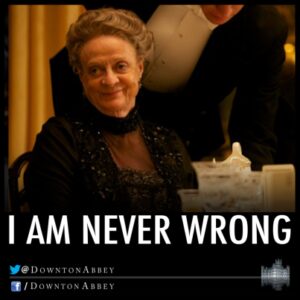 Cooking Downton Dinner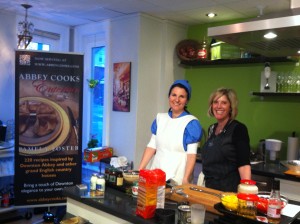 Last week I had a great time cooking Downton delights and sharing stories with Donna-Marie Pye for a class of Downton food enthusiasts at the Relish Cooking Studio in Waterloo, Ontario.  A best-selling cookbook author herself, Donna-Marie had a great time talking plotlines, back stories.
The beautiful cooking store and kitchen studio is in a converted house with lots of character.  The menu included beef consomme Bordeaux, truffled egg on toast, asparagus salad with saffron champagne vinaigrette, treacle tarts and charlotte russe.
Thank goodness there were little elves to do prep work and clean up.  Donna-Marie jumped in with much gusto.  The only thing better than having someone else cook a great meal for you, is having a great group of people to help you cook it.
Thanks again to the Relish cooking team, and to the ladies (and gent) who took the class.  It is so much fun sharing Downton food with those who love the show.
Welsh Glamorgan Sausages: A Veggie Delight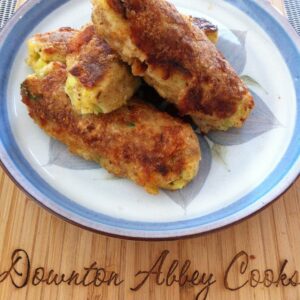 Glamorgan Sausages: A Veggie Delight
Glamorgan sausages are a traditional Welsh dish. Eaten hot or cold.
Ingredients
3/4

cup

fresh bread crumbs

1

cup

white cheddar cheese

grated

1

large

leek

washed and finely chopped

1

tbsp.

flat leaf parsley

chopped

1/4

tsp.

mustard powder

1

large

egg

1

large

egg

separated

1/4

cup

milk

1

pinch

salt and freshly ground pepper

to taste

1/2

cup

whole wheat flour

1

tbsp.

olive oil

1

tbsp.

butter
Instructions
Combine the bread crumbs, cheese, leek, parsley, mustard, salt and pepper in a large bowl. Add the one egg and the additional egg yolk and mix thoroughly.

Add enough milk to bind the ingredients.

Make 8 balls, about 1 1/2 tbsp. each and roll each ball between your hands to make a sausage/cigar shape, about 4 inches long.

Beat the remaining egg white until frothy. Place the egg in a shallow dish and flour in another. Dip each sausage in the egg white, then roll in the flour.

Heat the oil and butter in a non-stick skillet. Add the sausages, turning to get brown on all sides for about 8 minutes. Don't cook too long or the cheese will start to ooze through.

Serve hot or cold.
Notes
Yes, there were vegetarians in the Edwardian era, and like other vegetarian dishes which came out of the era, they are made to look the meat version.  While exact dating is a bit tricky we can point to Wild Wales, published in 1862 where the author,  George Borrow, wrote about the treat: " The breakfast was delicious, consisting of excellent tea, buttered toast, and Glamorgan sausages".