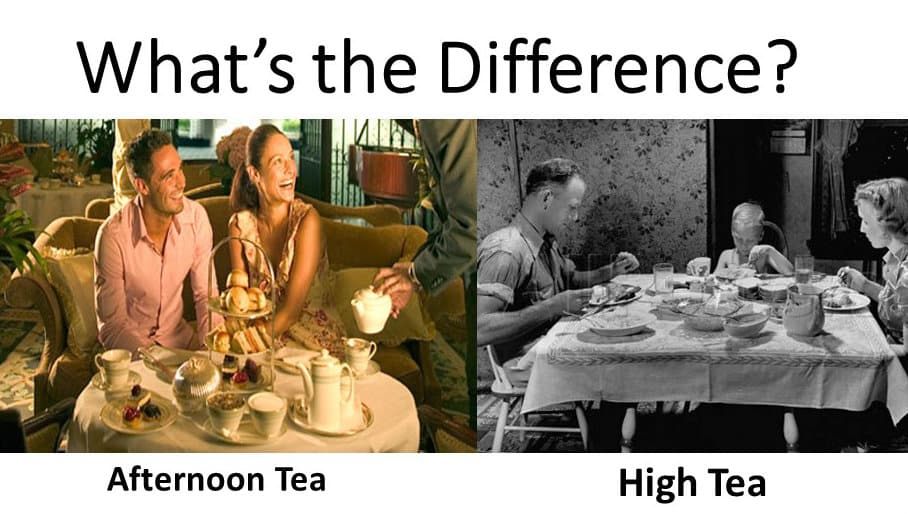 Only one more day before we can officially say goodbye to Winter and hello to Spring. Unfortunately, the seasons take their sweet time in making the shift change, but it won't be long until we can put our winter boots and sweaters away. It does help when Easter is on the horizon.
I like to host virtual tea parties dishing about Downton Abbey, featuring a new "Downton" era recipe.  There is much confusion between the terms "Afternoon Tea" and "High Tea." High Tea is not a lady's meal of scones and tea; rather it is what workers would eat as an early supper at the end of their day.
Today's dish is Hearty Irish Ham and Potato Soup, a great way to use the leftover ham bone from your upcoming Easter Dinner.

Chatting with Cooking's Most Famous Bow Tie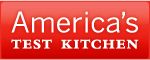 I am always amazed by the power of the internet and the far-reaching love of Downton food.  I recently interviewed with a magazine in Norway and today I chat with Christopher Kimball of America's Test Kitchen for an upcoming radio broadcast.  I will link to the broadcast once it is up and live.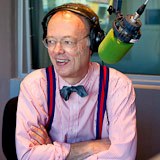 I have always admired the dedication of America's Test Kitchen team who tirelessly test and retest recipes to take away the trial and error for beginners.  The science behind food preparation also fascinates me.  Many experienced cooks often "discover" the science of food through trial and error, but knowing the scientific principle is a great shortcut for those just learning to cook.  I was most pleased that their basic approach to making scones is the same as mine, using grated frozen butter and folding.
Abbey Cooks Entertain: Downton Downtime Dining
Some Downton fans do needlepoint, others cook in the off-season.  Book sales help offset my costs in food, equipment and time to keep bringing you new dishes each week.  You can only get a signed copy here on my site. If you don't have an eReader I would suggest the PDF version which can be printed, if you like.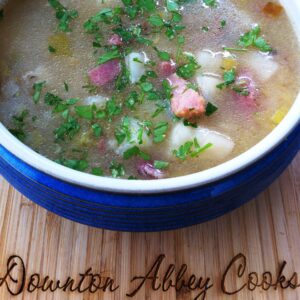 Hearty Irish Ham Soup
This is a great Irish inspired soup, a wonderful example of dishes which would start upstairs at a grand house, and finish downstairs. After a lovely upstairs dinner of roast ham, the bone could be made into a delicious soup for the servants.
Ingredients
1

cooked

ham bone

(meaty preferred)

1

cup

left over ham,

finely chopped if your bone has been picked pretty clean

4

cups

chicken broth

low sodium

4

cups

water

1

large

onion

diced

2

stalks

celery

chopped

2

large

parsnips and or carrots

chopped

4 – 6

large

potatoes

keto/gluten: use sweede or turnip

1/2

cup

Flour

keto/gluten: use 1-3 tsp. xantham gum

1

pinch

freshly ground salt and pepper to taste

1

tbsp.

parsley

chopped
Instructions
Combine the ham bone, ham, water, stock and vegetables in your soup pot and bring to a boil over medium heat, and then reduce to simmer for 40 minutes. If there is meat still on the bone, it should be easily removed by this point. Shred and put it in your soup.

Peel and cut potatoes (or sweede/turnip) into small cubes bring back to the boil, then reduce again to simmer for another 15 minutes or until tender.

In a medium saucepan, add the flour over medium heat and stir as it turns brown. Don't let the flour burn. Gluten free/keto can ignore this step.

Take some liquid from the pot and mix with the flour or xantham gum to thicken. You can adjust the thickness of the soup by the amount of the thickening mixture you add. If it gets too thick, simply add more liquid.

Season with salt, pepper and sprinkle the parsley on top when you serve.