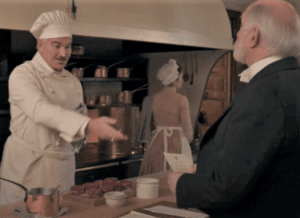 Welcome again to another episode of history through food!  In this episode of The Gilded Age on HBO, Julian Fellowes uses food as an example of showing the divide between the new and old worlds of New York.
The main characters in this exchange are Bannister,  an English immigrant who serves as the van Rhijn's Butler, Church, The Russell's Butler and Monsieur Baudin, Russell's French Chef.  Bannister finds an opportunity to visit the new Russell mansion across the street, volunteering to fetch Pumpkin, Ada's dog.  Church, offers to provide a quick tour of the grand home.  They start in the kitchen and Bannister is introduced to Monsieur Baudin who is preparing steaks for dinner, but who has the luncheon menus out.  Bannister comments that chicken at luncheon is quite unusual and trifle is considered a nursery food (reserved for children) in his experience.
Further, in the dining room, he diplomatically points out that the Russell table setting is different than the van Rhijn's, caulking it up to changing times.  Church is unsettled by the exchange which he discusses with the other staff members later. Are they doing things properly?  Monsieur Baudin points out that nothing can top having a French Chef, which is very true. While the van Rhijn's, (and Downton for that matter), had a female English Cook, French Chefs are at the top of the culinary food chain.
The Untold Story of the Black Elite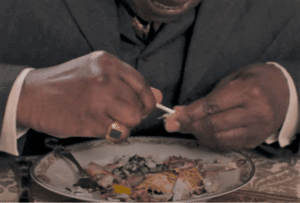 Equally educational is a trip across the River to Brooklyn where we see Peggy's family is quite well off with servants of their own. The Scott's were enjoying crab at luncheon when Marian plays a surprise visit. The scene illustrates the success of the black community post-Civil War.  Writer Fellowes has made black characters an important part of the story of The Gilded Age.
Also in this episode was a trip to Bloomingdale's and yet another reason why George Russell is a much better man than Lord Grantham on Downton. More on this plot line.
Today's dishes feature my granny's chicken soup recipe (below) and everybody's favourite dessert, trifle.
The Gilded Age Show News
History of the The Gilded Age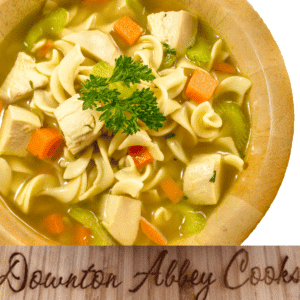 My Granny's Chicken Noodle Soup
Chicken noodle soup is food for the soul. My Granny's homemade soup from the farm still sits in my memory of the love that she shared with her family.
Ingredients
3

tbsp.

unsalted butter

3

medium

carrots

sliced crosswise 1/4 inch thick

3

medium

parsnips

cut to your preference: I like 1-inch matchsticks

3

medium

celery ribs

sliced crosswise 1 inch thick (you can also use broccoli stems which have more nutrition and still give a nice crunch)

2

medium

leeks

white and tender green, halved lengthwise and sliced crosswise into 1 inch thick slices

1

small

onion

finely chopped

2

cloves

garlic

minced

12

cups

chicken stock

make your own*

2

cups

chicken

cooked, shredded

2

cups

egg noodles

make your own*

2

tbsp.

dill or parsley

fresh, finely chopped

1

tsp.

Salt and freshly ground pepper

to taste
Instructions
Melt the butter your stockpot.

Add the carrots, parsnips, celery, leeks, onion and garlic, cover and cook over moderate heat, stirring occasionally, for 5 minutes to let the flavours out.

Raise the heat to moderately high and cook, uncovered, until the vegetables are lightly browned, about 5 minutes.

Add chicken stock to the pot and bring to a boil. Lower the heat, cover and simmer gently, skimming, until all the vegetables are tender, about 30 minutes. I let the pot simmer on the stove for an hour if I have the time.  Sample and adjust seasonings or add additional chicken stock/water.

Meanwhile, bring a medium saucepan of salted water to a boil. Add the egg noodles and cook, stirring, until just al dente. Drain, rinse with cold water and drain thoroughly.

Add the shredded chicken, egg noodles and serve, garnishing with your chopped dill or parsley.

This freezes well as you never know when you need a pick up during the winter.
Notes
It does take some work, but you make a lot of soup to serve on your first day and then freeze the rest in containers for the next onset of cold or just to surprise your loved one on these cold winter days.  
*Make Your Own
Rich Chicken Stock
Egg Noodles
Nutrition
Serving:
2
cup
Calories:
205
kcal
Carbohydrates:
24
g
Protein:
10
g
Fat:
8
g
Saturated Fat:
3
g
Polyunsaturated Fat:
1
g
Monounsaturated Fat:
3
g
Trans Fat:
1
g
Cholesterol:
27
mg
Sodium:
371
mg
Potassium:
538
mg
Fiber:
3
g
Sugar:
7
g
Vitamin A:
3106
IU
Vitamin C:
13
mg
Calcium:
47
mg
Iron:
1
mg