The traditional English trifle is easy to make, but loaded with calories; however there are ways to lighten the calorie and fat count, including replacing alcohol (which makes it kid friendly) with the juice from mashed or frozen berries.  By replacing sponge with angel food cake we can reduce the fat count and finally, a lower fat custard will provide contentment without guilt.
The joy of the recipe is that the kids can help assemble it and best made ahead of time. It is a great dessert for the summer.  The custard takes the longest time to prepare, but unlike pre-packaged foods, you know exactly what is in it.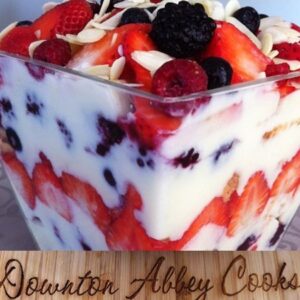 Heavenly Light Low Fat English Trifle
This is a low fat version of the traditional English Trifle. Great for summer entertaining as it is best prepared ahead of time. The custard takes the longest time to prepare but unlike pre-packaged foods you know exactly what is in it.
Ingredients
1

small

angel food cake

(buy or make your own)

4

cups

fresh seasonal and/or frozen fruit,

halfed strawberries or any other berries, sliced bananas, kiwi,

1/4

cup

sugar free berry preserves

(optional if you are using fresh fruit)

4

cups

Guilt Free Custard

(recipe follows)

Additional fresh fruit, and slivered almonds for garnish
Instructions
Cut cake into 2-inch-thick slices and cut slices into rectangles or strips.

If you are using fresh fruit, you can either mash up a cup to generate some juices and spread that or some jam on your cake strips. Frozen fruit will generate lots of juice as they melt.

Arrange half the cake, jam-side up, in the bottom of a 12-cup serving bowl. If you use a glass bowl or trifle bowl you get extra points for presentation. I have used square glass vases in the past.

Arrange half the fruit over the cake layer and spoon half the custard over the fruit.

Repeat with remaining cake, fruit and custard. Cover and refrigerate for at least 1 hour. You can make this ahead and let it sit in the fridge overnight or until you are ready to surprise mom.

Just before serving, arrange fresh fruit decoratively in the center and sprinkle with the almonds.
Notes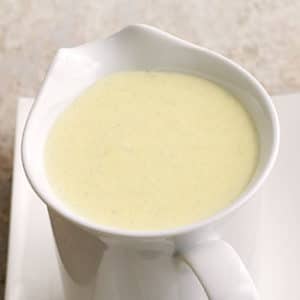 Luscious Low Fat Custard Sauce
Just because you are following a low fat, heart healthy lifestyle does not mean you have to give up dessert sauces. You will love this great sauce.
Ingredients
3

cups

skim milk

divided

2

large

eggs

separated

1/3

cup

cornstarch

1 1/2

tbsp.

vanilla extract

2/3

cup

sugar substitute

Stevia

1/4

tsp.

cream of tartar

or white vinegar

3

tbsp.

water
Instructions
Whisk together 1/4 cup milk, egg yolks and cornstarch in a large bowl. Heat remaining milk in a heavy saucepan until steaming.

Gradually whisk milk into the egg mixture. Return to the saucepan; cook over medium heat, whisking constantly, until the custard boils and thickens, 1 to 2 minutes. Remove from the heat, stir in vanilla.

Combine egg whites, sugar, cream of tartar and water in a heatproof mixing bowl large enough to fit over the saucepan of simmering hot water.

Set the bowl over the water and beat with an electric mixer at low speed, moving the beaters around the bowl constantly, until an instant-read thermometer registers 140°F (this will take 3 to 5 minutes).

Increase the mixer speed to high and continue beating over the heat for a full 3 1/2 minutes. Remove the bowl from the heat and beat the meringue until cool, about 4 minutes.

Fold the meringue into the egg yolk mixture.

Transfer to a clean bowl and place plastic wrap directly on the surface of the custard to prevent a skin from forming. Set aside to cool slightly.
Nutrition
Serving:
20
g
Calories:
209
kcal
Carbohydrates:
79
g
Protein:
5
g
Fat:
2
g
Saturated Fat:
1
g
Polyunsaturated Fat:
0.2
g
Monounsaturated Fat:
1
g
Cholesterol:
72
mg
Sodium:
69
mg
Potassium:
231
mg
Fiber:
0.2
g
Sugar:
4
g