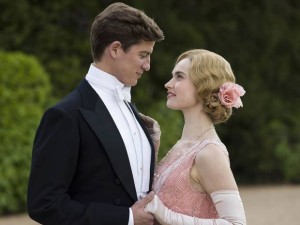 Emotions were heating up the small screen on Downton Abbey this past week. Good thing because it is frigidly cold in many parts of the country, and a cuppa Downton is just what we need. Secrets are revealed, servants are at odds, suitors are spurned,  engagements delayed, and a young romance blooming against the odds. We all look forward to celebrating another Downton Wedding.
While there was much drama bubbling this episode, there was not much food of note seen on camera. We do see Mrs. Patmore and Daisy discuss the Labour Government as they prepare a plate of appetizers for a big dinner, so this week we will be making Croque Monsieur, a french comfort food. It is a perfect hot sandwich for lunch or brunch, but this week we will be preparing it as an appetizer fit for the Queen.
Downton Dish
Season 5 of Downton Abbey can now be seen Sunday nights at 9 PM on PBS. We sadly only have two more episodes to watch this season. The finale is next week and then we will be treated to the Christmas episode. In the meantime, some appetizing articles to whet your appetite while we wait for the final course of Downton.
What happened in S5E7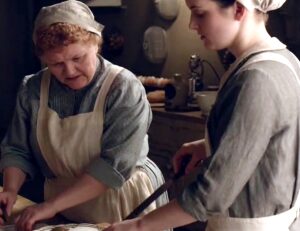 A quick recap of what went down and upstairs this past week.
Rosamund and Violet confess to Cora that they knew about Edith's child, right after Mrs. Drewe's visit.
After confronting Edith in London with her knowledge of what has been going on, Cora's solution is for Edith to adopt the child, since the Drewe's could no longer care for little Marigold.  Robert and Mary would not be told.
Robert is grief stricken after learning that Isis has cancer so goes along with the Marigold adoption plan.
Branson inches closer to a decision to leave Downton and move to America.
The dinner when Isobel announces her engagement to Dickie goes splendidly,  however his sons are not keen on the match. Larry, still ill mannered manages to slander Matthew's memory, his mother's poor breeding and Tom's position in one breath.  Tom curses him out, to the delight of the downstairs staff. Isobel is devastated.
Charles finally manages to orchestrate the perfect way to shake Tony into sense.  A simple kiss between Charles and Mary was all he needed to let her go and pave the way for happiness with Mabel.
Joy-Atticus proposes to Rose so we are guaranteed one wedding for sure this season.
Downstairs, Daisy needs convincing to keep up with her studies, and a trip to Mr. Mason's farm, accompanied by Molesley and Miss Baxter, is just the nudge she needs.
Spratt and new maid Denka are still fighting like cats and dogs but thankfully off stage since there is enough drama on set as it is.
Mary tells Mrs. Hughes that she had burned the ticket which would have proved Mr. Bates innocence.  Miss Baxter overhears the conversation and offers to tell the police she saw it had not been used, but Anna and Bates declined her offer of help.
The local real estate market is booming as Anna and Bates discuss selling his mother's house in London to buy a larger house in the area to plan for their retirement. Mrs. Hughes confides to Anna that they also have similar plans to buy property.
My favorite line this week: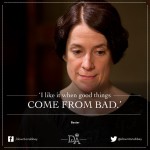 Miss Baxter commenting on how Mr. Mason took in Daisy as a daughter: "I like it when good things come from bad".
Abbey Cooks Entertain: 2nd Edition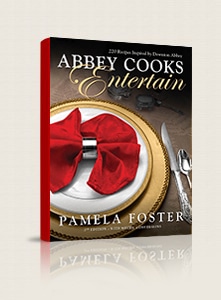 A new season means viewing parties. Whether you are hosting 2 or 20, this book has lots of ideas. Containing 220+ traditional Downton era recipes with a modern twist, this is a great book to create some simple or complex dishes for your Mary or Anna.
This 448 page ebook has been updated to include both metric and imperial measurements and now includes famous Downton dishes from Season 1-5.  Book sales help offset my costs in food, equipment and time to provide you new recipes on a regular basis.
You can download the signed ebook here. 
Print Version is here.  The print version of the 2nd Edition is available on Amazon. The full book is 450 pages and will contain famous Downton recipes from Seasons 1-5.
Croque Monsieur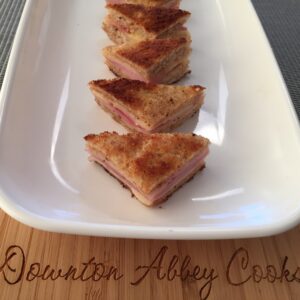 The Queen's Croque Monsieur
Ingredients
1

stick

salted butter softened

8

slices

slices pain de mie*

or firm white bread *Pain de Mei refers to sandwich bread, ideally as square as possible and little crust, but use what you have on hand.

8

ounces

Gruyère cheese 16 thin slices with rind remov

8

slices

smoked ham thin,

1-ounce slices
Instructions
Preheat the broiler. Butter the bread slices on both sides. Top 4 slices of bread with 8 thin slices of Gruyère, followed by all 8 slices of ham. Finish with the remaining Gruyère on top of the ham, and then lay the remaining 4 bread slices on top of the cheese.

Put the croques monsieur onto a baking sheet, and place the baking sheet under the broiler for 5 to 8 minutes, or until the bread turns golden brown and crispy. Flip the sandwiches over carefully, and brown the other side. Remove the four sandwiches from the broiler, trim off the crusts, and cut each sandwich into eight pieces. Serve immediately..

If you plan to make the croques monsieur ahead of time, they can be laid between layers of parchment paper and refrigerated
For Your Downton Abbey Collection
Marvelous additions to your Downton Collection.