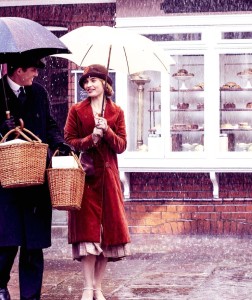 Love is in the air as we count down the days until Valentine's Day. This season of Downton Abbey is certainly filled with love connections, some in the most unexpected places. While we see sparks fly between Rose and Atticus, it is lovely to see Isobel and Lord Merton find new love in their golden years.  And who knew that the prim and proper Violet had a secret past with a dashing Russian Prince?  While she might be tempted to run off with Prince Kuragin, she does make a good point that there is no one run from. Mabel Lane Fox is certainly trying to rekindle her love with Tony with Charles' help. And Mary is just happy being Mary.
Sadly there is no dish which gets on-air mention in this week's episode (unless you count ice cream, but it is not really the season for it), but we do see Daisy putting the finishing touches on a Victoria Sandwich.  If you notice this season (see below) it is the favorite tea cake of choice at Downton, a regular cast member often sitting demurely on camera. So for the love of a good cake…
What happened in S5E6
A quick recap of what went down and upstairs this past week.
Edith gets the news that she dreads: Michael Gregson being killed in Munich at the hands of Hitler's thugs.
To try to lighten things up, Rose suggests that the family go down to Canningford and see the point-to-point (steeple chase) race together.
Charles and Tony are already racing, so Mary decides to seize the opportunity to show them all what they are missing.
Carson and Mrs. Hughes are in tow as Mrs. Patmore checks out a cottage property as an investment.  This prompts Carson to invite Mrs. Hughes to share in an income property.
Atticus Aldridge's parents, Lord and Lady Sinderby, are very well-off and a large part of the race, an opportunity for Rose to introduce the families.
Mary decides to try on a bob, the latest hairstyle. Yes, she can pull it off.
Mary rides side saddle in the point-to-point, ladies can ride in the event you know,  and gleefully finishes as first lady.
Isis isn't feeling well. Will there be a funeral this year after all?
Robert is forced out of pouting over Simon Bricker when Cora calls him on his own flirtations in the past.
Prince Kuragin professes his ongoing love for Violet…
Bates and Anna argue over the Married Love book stored at the cottage, and Bates reveals he knew it was Green who had raped Anna, and that his unused ticket was his proof of innocence. Little do he, she or Mrs. Hughes know that Mary burned it.
Edith, in her grief, decides to collect Marigold and leave Downton so they can be together, drinking champagne and eating ice cream in the sunset together.
My favourite quote (Mrs. Patmore to Daisy, referring to Molesley's offer to help her with her schooling).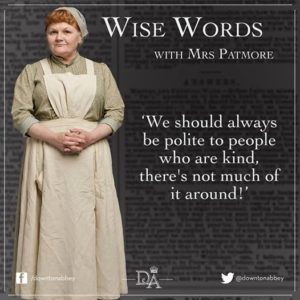 Birds do it..let's fall in love
The customs associated with Valentine's Day had their origin in the popular belief held by people in Great Britain and France during 14th and 15th century that birds begin to mate on February 14, halfway through the month of February.  Lovers, therefore found St. Valentine's Day an appropriate time to send love letters and gifts to beloved. The Romantic image of a day of celebration was further established by English and French poets and writers who drew a parallel between the mating of birds and St Valentine's Day.  Shortened to become Valentine's Day cards.
Downton Abbey couple food pairings
While there are many couples on Downton Abbey, I have dedicated posts to a few of our favorites in past seasons.  A recap:
Valentine's Day Ideas for All Ages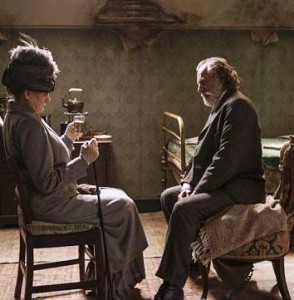 While Valentine's Day is celebrated in different ways around the world, most do involve a show of hearts, flowers and chocolate! Lord D and I treat every day as if it is Valentine's Day so it is just another day in paradise.   Creating a special romantic meal can be as simple as making everything heart-shaped, including sandwiches. Get ideas here for romantic meals and Valentine's Day.
…or how about a Valentine's Day-themed Afternoon Tea?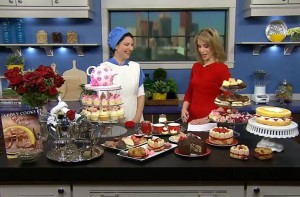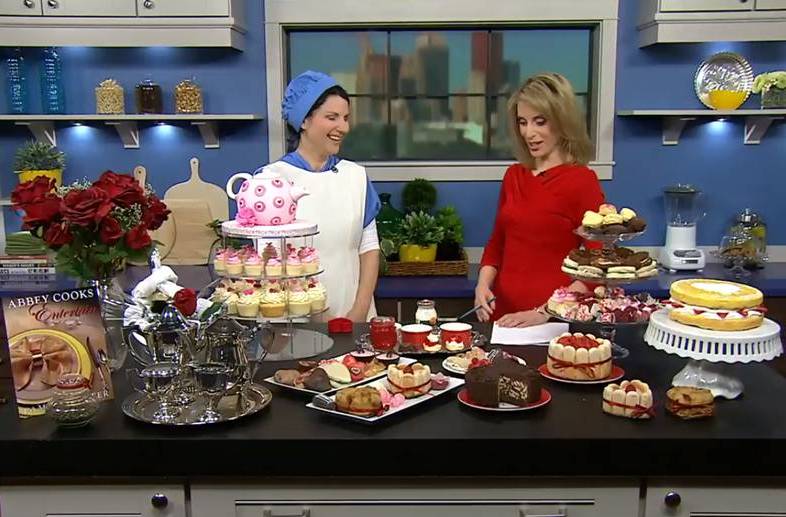 Abbey Cooks Entertain: 2nd Edition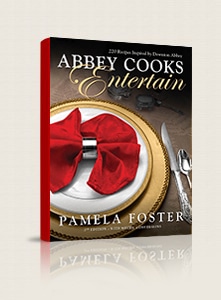 A new season means viewing parties. Whether you are hosting 2 or 20, this book has lots of ideas. Containing 220+ traditional Downton era recipes with a modern twist, this is a great book to create some simple or complex dishes for your Mary or Anna. My chapter on the Cocktail party includes drink recipes dating back to the Savoy. Cocktail Index.
This 448 page ebook has been updated to include both metric and imperial measurements and now includes famous Downton dishes from Season 1-5.  Book sales help offset my costs in food, equipment and time to provide you new recipes on a regular basis. This ebook is available here.
Print Version is here.  The good news is that the 2nd Edition is available on Amazon. The full book is 450 pages and will contain famous Downton recipes from Seasons 1-5.
The Victoria Sandwich: Beloved Downton Tea Cake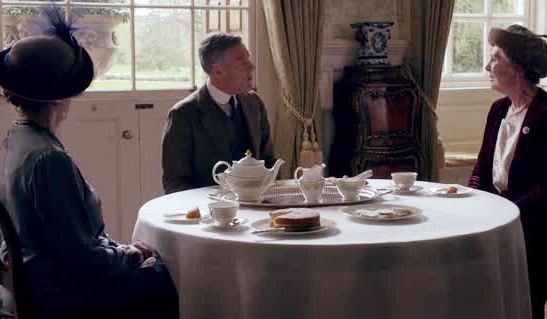 While Victoria Sandwich never seems to get an on-air mention, you can get a glimpse of it displayed as the cake of choice for tea on Downton.  Afternoon Tea is a lovely English tradition (not be be confused with "High Tea". If you recall from my Online Guide to Afternoon Tea,  it was one of Queen Victoria's Lady's in Waiting who came up with the great idea of having food with tea in her chambers to bridge the gap between lunch and late dinners.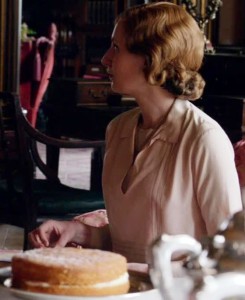 After the death of her beloved husband, Prince Albert in 1861, Queen Victoria withdrew from society but was eventually encouraged to resume her civil duties by hosting tea parties at which a sponge cake would be served. The cake was named after her and became fashionable throughout Victorian England, and has been passed down through generations.  Perhaps Queen Victoria's reintroduction to society through tea and cake was the secret to her longevity.
Our S5 Downton connection to Queen Victoria was when Violet attended Prince Alfred's wedding in 1874 to Grand Duchess Maria, the daughter of Tsar Alexander II of Russia. That is where sparks flew between her and the young Russian Prince.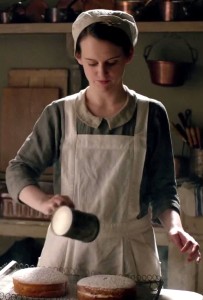 This is a great dish for beginners since you don't have to worry about icing.  A traditional Victorian sandwich consists of jam and/or whipped cream sandwiched between two layers of sponge cake.  The top of the cake is generally not iced or decorated, except for a sprinkling of confectioners' (icing) sugar, sometimes over a doily to create a lacy pattern.
Todays recipe comes from The Great British Bake Off: How to Bake: The Perfect Victoria Sponge and Other Baking Secrets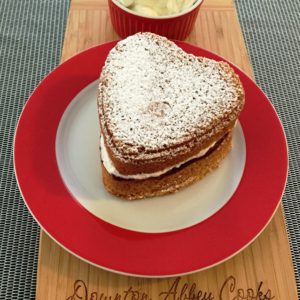 The Best Victoria Sandwich
Victoria Sandwich or sponge is a staple of English baking.  You will often see this cake sitting on a table nearby in period films during tea time. Use a heart shaped tins and you have made a lovely romantic dessert.
Ingredients
1/2

cup

unsalted butter

(225g) softened

1 1/4

cup

caster sugar

(225g)

4

large eggs

at room temperature

½

teaspoon

vanilla extract

1 3/4

cup

all purpose flour, sifted

(225g)

4

tsp

baking powder

1

tsp

milk

at room temperature

6

rounded tablespoons good raspberry jam

1

whipped cream

(optional)

icing sugar to dust
Instructions
Prepare two 8" cake tins by greasing the sides and cutting parchment paper circles to line the bottom of each tin. For mini heart shaped dessert, use four tins.

Preheat the oven to 350 ° F/180 ° C/gas 4. Put the soft butter into a mixing bowl and beat with a wooden spoon or electric mixer for a minute until very smooth and creamy.

Gradually beat in the sugar, then keep on beating for 3 to 4 minutes or until the mixture turns almost white and becomes very fluffy in texture; scrape down the bowl from time to time. Break the eggs into a small bowl, add the vanilla and beat lightly with a fork just to break them up. Slowly add to the creamed mixture, a tablespoonful at a time, giving the mixture a good beating after each addition and frequently scraping down the bowl. This will take about 5 minutes. If the mixture looks as if it is about to curdle, add a tablespoon of the sifted flour and then continue adding the last portions of egg.

Sift the flour again with the baking powder, this time onto the mixture, and add the milk. Gently but thoroughly fold the flour into the egg mixture using a large metal spoon. Do this as lightly as possible so you don't knock out any of the air you have beaten in.

Stop folding when there are no streaks of flour visible in the mixture. Check that there isn't a clump of flour at the very bottom.

Spoon the mixture into the tins so they are equally filled – you can do this by eye or by weighing the tins as you fill them.

Spread the mixture evenly in the tins, right to the edges. Bake for 20 to 25 minutes or until a good golden brown and the sponges are springy when gently pressed with your fingertip. They should almost double in size during baking. The mini tins will take around 15 minutes to bake.

Remove the tins from the oven and leave for a minute – the sponges will contract slightly. Run a round-bladed knife around the inside of each tin to loosen the sponge, then turn out onto a wire rack and leave to cool.

Set one sponge upside down on a serving platter and spread over the jam (and whipping cream). Gently set the other sponge, golden crust up, on top. Dust with icing sugar. Store in an airtight container and eat within 5 days.
Notes
Tips for creating the Best Victoria Sandwich
For a creamed sponge, the butter should be soft, rather than cold and hard, or warm and oily, so take it out of the fridge an hour or so in advance. If time is short, soften the butter by cutting it into cubes, putting the cubes into a bowl of lukewarm tap water (approximately 28 ° C), then leaving the cubes for 10 minutes or until a cube can be easily squeezed.
The best sugar to use for a sponge is caster. Granulated sugar is too coarse and results in a crust speckled with tiny particles after baking. Muscovado sugars are too strong in flavour and colour, and their moist texture would makes the crumb of the cake a bit sticky.
*My Tip:  save a special trip to the grocery store.  You can make caster sugar simply by pulsing granulated sugar in your food processor.
Make sure the eggs are at room temperature. If they are too cold it will be harder for air to be whisked in, which makes it more likely that the mixture might curdle or separate, giving a heavy sponge.
To avoid the wire cooling rack from marking the sponges, invert them, one at a time, onto a board covered with a sheet of baking paper, then remove the tin and lining paper. Set the upturned rack on the underside of the sponge, turn over together and remove the paper and board.