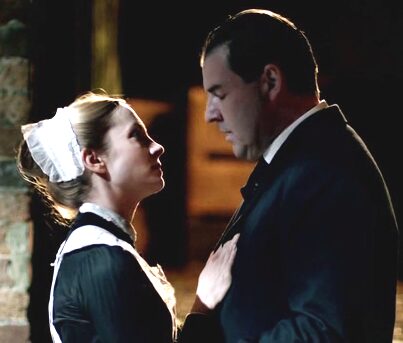 Valentine's Day is a few days away, and many busy couples will be celebrating this weekend. Lord D in fact took me shopping (for cooking gadgets) and brunch today as a warm-up to celebrate the big day. A sea of red in stores, retailers are tugging at our heartstrings with a variety of offerings to celebrate the day.
They certainly start us off young. I remember school days when we all fashioned mailboxes to collect simple Valentine's Day cards from our classmates. My mom, a former school teacher, would also prepare lovely heart-shaped sugar cookies for me to bring to school. In those days no one was excluded, everyone received a card from every classmate, everyone got a cookie. It would appear today that no one is excluded from Valentine's Day either. If you aren't in a relationship, gather with your friends and celebrate. Bitter? Gather in groups for Anti-Valentine's Day parties. Yes, retailers and party planners are getting more creative in generating new business.
Anna & Mr. Bates: the truffles they've seen
It is easy to become jaded with all pretty hearts, flowers and candy. Valentine's Day parades love like it is a pretty package tied with a perfect bow. But love comes in all shapes and sizes. The great writing of Downton Abbey provides us with complex love relationships which evolve and survive in the most dire conditions. While Mary and Matthew's "on again off again" relationship is compelling, it really is pretty standard fare. I suppose that the rich deserve some happiness, but I happen to be more intrigued with the story of a couple who will perservere in spite of the odds, who find happiness in dire circumstances, who draw strength from each other to beat the evil around them. John Bates has a troubled past, but Anna stands by her man, no matter what the circumstances, and viewers respond to that. The rankings on the Masterpiece Class "rate your favorites chart" has Anna and John consistently leading the pack as top beloved Downton Abbey characters right up there with the Dowager Countess. Quality televsion.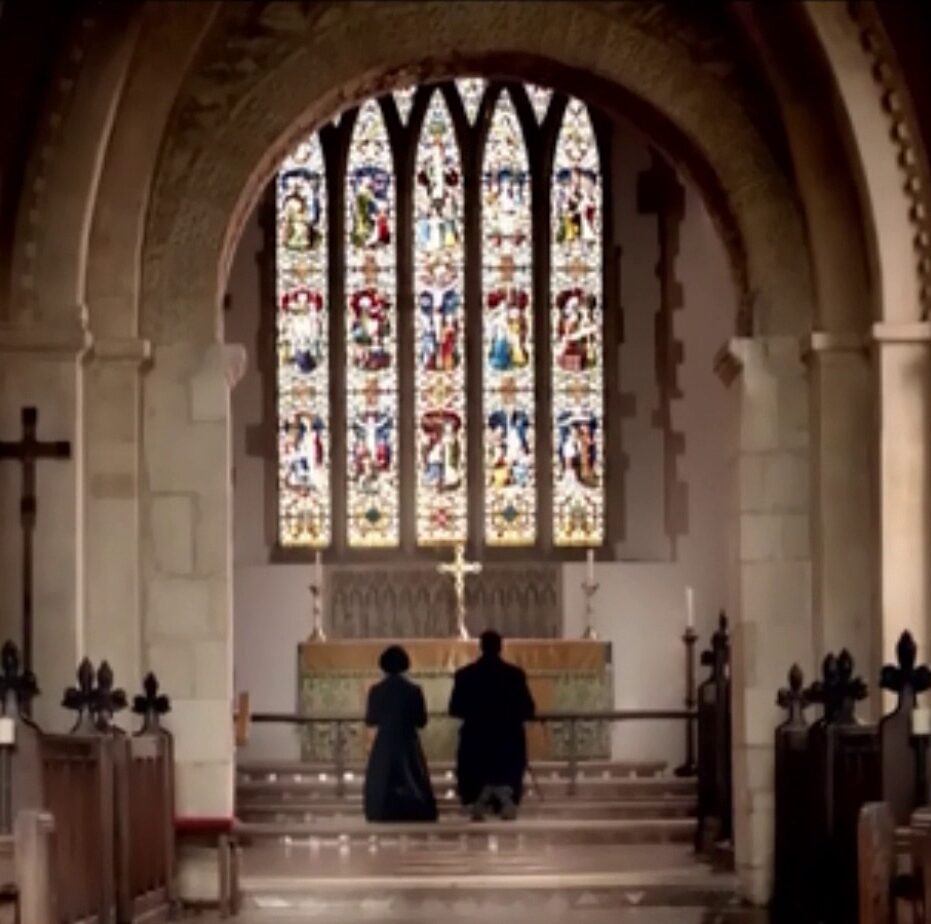 Season 2, episode 5 features a touching church scene (sorry, not their wedding) where Anna and John Bates come to pray for the healing for Matthew and William who were wounded in battle. Like other Christians my husband and I believe that "those who pray together, stay together," so we feel confident that these two will be able to weather the storm.
Love as pure as that which is shared between Anna and John deserves a sweet confection which is equally as simple and rich in character. Truffles are a perfect choice. Besides everyone loves chocolate at this time of year.
The Purity of the Chocolate Truffle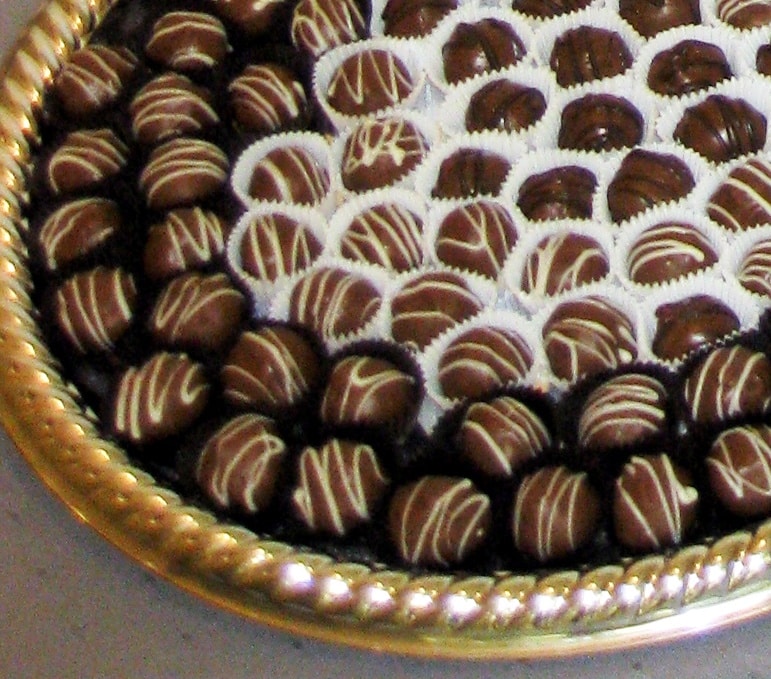 The chocolate truffle was first created by Antoine Dufour in Chambéry, France in December 1895. They reached a wider public with the establishment of the Prestat chocolate shop in London by Antoine Dufour in 1902, which still sells 'Napoleon III' truffles, a truffle dusted in cocoa.
Truffles are a simple mixture of cream and chocolate, called a ganache. If you can roll a meatball you can make a truffle. Like finding true love the key is to seek quality ingredients. Save the chocolate chips for cookies, you are looking for chocolate with the highest percentage of cocoa you can find. My preference has always been Swiss Lindt chocolate, and I am blessed to have a factory outlet close by where I can buy a huge bag at a great price. But many stores now sell high-end chocolate bars which you can use as a substitute. The higher the percentage of cocoa butter (solids), the better (35%+ for milk chocolate, 70%+ for dark).
I took a chocolate course years ago and began a yearly tradition of making truffles to give as holiday gifts for colleagues, friends and family. I even made the truffles for our wedding and more recently my parent's 50th wedding anniversary. When I make truffles it is like bundling a little package of joy and happiness to give to others. So spread a little love for this Valentine's Day or Downton Abbey viewing party.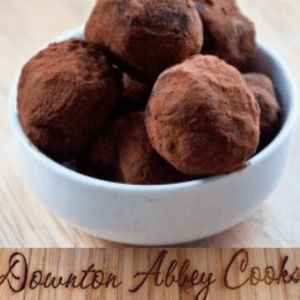 Easy Dusted Milk Chocolate Truffles
These are easy truffles to make. The key is to find the best chocolate you can afford.
Ingredients
4

ounces

heavy cream

10

ounces

pure milk chocolate

broken/chopped into small pieces.

2

tbsp.

kirsch or other liqueur

1

tbsp.

icing sugar

makes the chocolate easier to work with

3

tbsp

quality cocoa powder

i.e. Dutch
Instructions
Make the Ganache
Heat the cream in a double boiler (or metal bowl on top of a pot with water) to boiling, and remove from the stove

Add the chopped chocolate and liqueur and mix well.

Let set up over night in the fridge. I let the chocolate cool to room temperature and transfer into a thick "Ziploc" bag to take up less room and less waste when you work with it again
Roll out the Truffles
When the chocolate has set, dust a cool clean surface and your hands with icing sugar, and roll the chocolate into a long log, an inch thick.

Using a knife, cut the log into 1 -1.5 inch sections. This helps keep your truffles all the same size.

Pick up each little nugget and roll between your hands into a ball shape. Use icing sugar to keep your hands from melting the chocolate.

Place each ball on a lined baking sheet to prevent the chocolate from sticking, or go right to the next step.
Finish the Truffles
To finish these truffles, drop the balls into a shallow bowl of cocoa powder and roll to cover.

Use a fork to shake off the excess powder.

Plate and serve.
Nutrition
Serving:
20
g
Calories:
42
kcal
Carbohydrates:
4
g
Protein:
1
g
Fat:
3
g
Saturated Fat:
2
g
Polyunsaturated Fat:
1
g
Monounsaturated Fat:
1
g
Cholesterol:
7
mg
Sodium:
3
mg
Potassium:
10
mg
Fiber:
1
g
Sugar:
3
g
Vitamin A:
56
IU
Vitamin C:
1
mg
Calcium:
3
mg
Iron:
1
mg