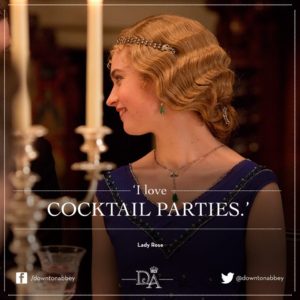 It is finally February and a busy TV Sunday in many households as Downton Abbey competed once again with Super Bowl. While we could never hope to outshine football, in 2014 PBS reported that for the third year in a row, Downton Abbey "was the #2 rated 9pm show to the Super Bowl with a 4.9 overnight rating (Nielsen Overnight Metered Markets)." Sounds like a scene from the movie Groundhog Day (which is also today), repeating itself.The social media buzz this week concerns Julian Fellows' new NBC project Guilded Age, taking place in New York in the 1880s. Julian can't write both shows equally well (his Titanic mini-series bombed), so the birth of Guilded Age means the death of Downton. Perhaps it is time as the Dowager can't live forever. I know in my heart that we will be able to love again.On the show this week Downton finally catches up with the times as the Crawley family hosted a cocktail party. To help you host your own party I provide some period food and drink suggestions, and this week's recipe is Parmesan Straws, a wonderful recipe from Jessica Fellowe's new book  A Year in the Life of Downton Abbey: Seasonal Celebrations, Traditions, and Recipes.
Downton Dish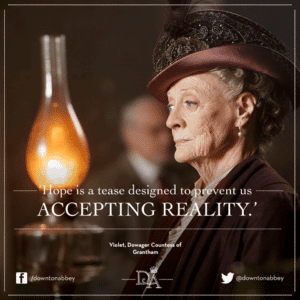 Season 5 of Downton Abbey can now be seen Sunday nights at 9 PM on PBS. We are now half way through the season. Some appetizing articles to whet your appetite while we wait for the next course of Downton. Topping the list this week is the suggestion that Downton will end with Season 6.
What happened in S5E5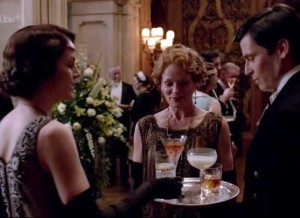 A quick recap of what went down and upstairs this past week.
Roll up the carpets, Downton hosts a cocktail party. Mrs. Patmore wonders why they aren't serving a proper dinner, but Mr. Carson can only reply that we must try to keep up with the times.
Simon Bricker is back and has the nerve to enter Cora's bedroom. Discovered by Robert, fists fly.
Violet is forced to concede that Isobel and Lord Merton are well matched.
Rose meets the charming Atticus Aldridge (played by Matt Barber), whose family is Russian Jewish which could pose problems.
Charles Blake helps Mary rid herself of Tony by encouraging the jilted Mable Lane-Fox to make another play for Tony's heart.
Edith scrambles for a solution to how she can make Marigold her own.
Tom parts with Miss Bunting who leaves for a job in Lancashire, but Daisy is determined to keep up with her studies.
Downstairs Mrs. Patmore comes into some money and asks Carson's advice on how to invest her win fall.
The Scotland Yard inspector is still sniffing around Downton about Mr. Green's death.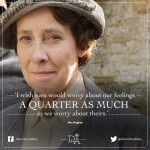 My favorite quote:
(Mrs. Hughes to Mrs. Patmore about Mr. Carson):  "I wish men worried about their feelings a quarter as much as we worry about theirs".
If Downton Ends, This May Be The Year to Tour Downton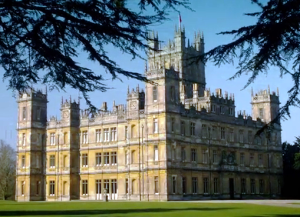 My New Year's resolution was to think seriously about planning a "Downton" trip to London in 2015. I have been to London many times, but have yet to see Highclere Castle. I have been approached by many tour companies in the past, but this year may be the year when I can customize the tour that I would like to take.  And if Season 6 will be the last for Downton, this may be our last chance.  I am working with Friendly Planet Tours which ran a lovely (and sold out) up scale Christmas tour to Downton and already selling a four day visit this summer. They have the connections to help plan a customized package with better back stage access to Highclere than other tour companies.
Care to join me?  You can help me customize that package.  I would love to hear from those who are serious about Doing Downton this year. Close to 700 people responded, and here is a sample of what you said.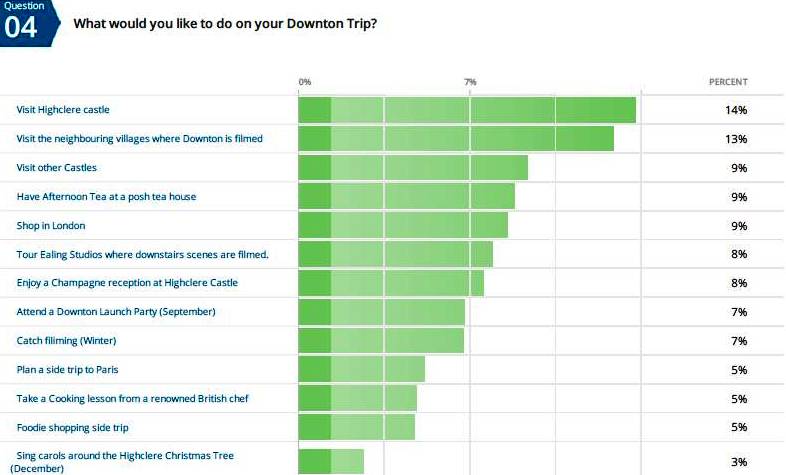 Have your say and Take the survey.  Perhaps you will be able to come along.
Abbey Cooks Entertain: 2nd Edition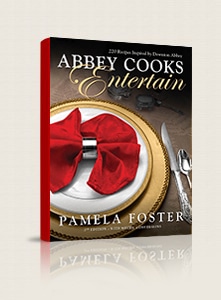 A new season means viewing parties. Whether you are hosting 2 or 20, this book has lots of ideas. Containing 220+ traditional Downton era recipes with a modern twist, this is a great book to create some simple or complex dishes for your Mary or Anna. My chapter on the Cocktail party includes drink recipes dating back to the Savoy. Cocktail Index.
This 448 page ebook has been updated to include both metric and imperial measurements and now includes famous Downton dishes from Season 1-5.  Book sales help offset my costs in food, equipment and time to provide you new recipes on a regular basis.
This ebook is now available exclusively on Amazon:  Abbey Cooks Entertain: 220 recipes inspired by Downton Abbey, Seasons 1 – 5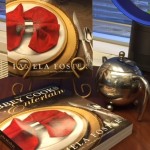 Print Version is here.  The good news is that the 2nd Edition is available on Amazon. The full book is 450 pages and will contain famous Downton recipes from Seasons 1-5.  The not so great news is that with the size of the book, Amazon needs to charge Lady Mary price to recoup their printing costs.
Stay tuned.
Cocktails at downton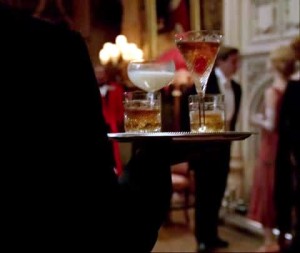 The cocktail party finally comes to Downton late in Season 5.
In addition to the recipes below, many savoury dishes which are served at Afternoon Tea (check out my Online Guide) are perfect for upscale entertaining.
Downton Beverages
Non Alcoholic: fans of John Bates know that he has given up alcohol so you may make a conscious decision to serve non alcoholic drinks in his honor. Some Edwardian standards include:
Alcoholic:  You may recall that Mary once warned Sir Richard: "I could ask Carson to make one for you, but I can't guarantee the result." But now that Lady Rose is spicing things up at the Abbey feel free to raise a toast to Season 5 and cheer on your favourite characters with a delicious cocktail.  My book contains historically accurate drinks, but try these fun drinks provided by my friends at the thebar.com

Lady Mary– The crisp bite of Tanqueray London Dry Gin makes Sassy Lady a great match for Mary's occasionally acerbic personality. The lemon juice, sugar syrup and champagne make it a cocktail that's simultaneously tart, complex, and refreshing, but most of all classy and sassy, just like Lady Mary.
Lady Edith – Divine Unconvention is a mix of delicious bittersweet marmalade with pure, clear Smirnoff No. 21 Vodka and a lively dash of citrus. Serve in a marmalade jar much like Edith the rebel, fighting convention and pomposity.
Lord Grantham – With its combination of subtle botanics and spitzy tonic, Front a Frontis, a classic mixed drink has Lord Grantham written all over it. Simple, yet elegant, this cocktail makes a great serve for gentlemen's poker and cigar party.
The Dowager Countess– Nothing is as memorable as her quips and sharp irony pointed at all those who disregard etiquette. The epitome of tradition and guardian of all aristocratic values, the Countess is all about keeping the status quo at Downton, so let's toast an Ettican'tin in her honour! With a tasty sour edge and subtle sweetness, this is an upscale cocktail for the discerning drinker.
Tom Branson – proud of his origins even when he becomes part of the aristocrat family, Tom Branson would enjoy the Good Craic, this Irish whiskey blended with ginger ale, that has a fruity though spicy aftertaste.
The busy life at Downton is even busier downstairs, where all the glamorous dinners and parties are prepared. But what drink would have suited an outing at the fair or a beach picnic for the lovely bunch downstairs?
The Servants– When it comes to their own entertainment, the servants enjoy easy-to-make and easy-to-share refreshments. Make Do and Blendis  a Smirnoff Punch with simple yet tasty ingredients that is best shared!
If you don't trust Carson to mix drinks, consider wines, spirits and liqueurs for your guests.
Champagne or sparkling wines would be a great celebratory drink to toast each of the 16 categories.
Madeira: Edwardians loved madeira, for any fortified wine (sherry, brandy) would be fitting tribute to the Dowager countess.
Wine: a great choice.
Scotch: a favorite of the Crawley men, single malt for an upstairs crowd
Pimm's: a popular drink in the UK (derived from gin), but might more suitable for the summer. If you do live in the lower states it might be suitable as thirst quencher. Check out my Pimm's Punch recipe, my favorite.
Parmesan Straws
From A Year in the Life of Downton Abbey: Seasonal Celebrations, Traditions, and Recipes.
A simple recipe to add an authentic touch to your Downton cocktail party.
"These irresistible biscuits were a popular savoury (the final course after pudding, which has sadly fallen out of fashion).  They can also be presented as canapes with drinks in the more contemporary style."
Makes about 15 – 25
1 cup parmesan
3/4 cup all-purpose flour
a pinch of salt
a pinch of cayenne pepper
3 1/4 tbsp. unsalted butter
1 egg yolk
Method
Preheat the oven to 400F.  Lightly grease a large baking sheet.
Grate 3/4 cup of the cheese into a mixing bowl.  Sift in the flour and add the salt and cayenne pepper.
Crumble in the butter and rub with your fingertips until you have a breadcrumb texture.  Stir in the egg yolk and form the dough into a ball with your hands.
Dust the worktop and a rolling pin with a little flour. Roll the dough inot a rough square, to a thickness of about 1/4 inch.  Cut into strips about 1/2″ wide and about 4 inches long.  I made mine longer so I could stand time up in a glass container.
Gently transfer to the baking sheet and finely grate the remaining parmesan on top of the straws.
Bake in the oven for 10-15 minutes, until golden.  Transfer to a wire rack to cool.
Serve with a dip of your own creation if you wish, or on their own.