It is finally February and a busy TV Sunday in many households as Downton Abbey competed once again with Super Bowl. While we could never hope to outshine football, in 2014 PBS reported that for the third year in a row, Downton Abbey "was the #2 rated 9pm show to the Super Bowl with a 4.9 overnight rating (Nielsen Overnight Metered Markets)." Sounds like a scene from the movie Groundhog Day (which is also today), repeating itself.The social media buzz this week concerns Julian Fellows' new NBC project Guilded Age, taking place in New York in the 1880s. Julian can't write both shows equally well (his Titanic mini-series bombed), so the birth of Guilded Age means the death of Downton. Perhaps it is time as the Dowager can't live forever. I know in my heart that we will be able to love again.On the show this week Downton finally catches up with the times as the Crawley family hosted a cocktail party. To help you host your own party I provide some period food and drink suggestions, and this week's recipe is Parmesan Straws, a wonderful recipe from Jessica Fellowe's new book  A Year in the Life of Downton Abbey: Seasonal Celebrations, Traditions, and Recipes.
Downton Dish
Season 5 of Downton Abbey can now be seen Sunday nights at 9 PM on PBS. We are now half way through the season. Some appetizing articles to whet your appetite while we wait for the next course of Downton. Topping the list this week is the suggestion that Downton will end with Season 6.
What happened in S5E5
A quick recap of what went down and upstairs this past week.
Roll up the carpets, Downton hosts a cocktail party. Mrs. Patmore wonders why they aren't serving a proper dinner, but Mr. Carson can only reply that we must try to keep up with the times.
Simon Bricker is back and has the nerve to enter Cora's bedroom. Discovered by Robert, fists fly.
Violet is forced to concede that Isobel and Lord Merton are well matched.
Rose meets the char

min

g Atticus Aldridge (played by Matt Barber), whose family is Russian Jewish which could pose problems.
Charles Blake helps Mary rid herself of Tony by encouraging the jilted Mable Lane-Fox to make another play for Tony's heart.
Edith scrambles for a solution to how she can make Marigold her own.
Tom parts with Miss Bunting who leaves for a job in Lancashire, but Daisy is deter

min

ed to keep up with her studies.
Downstairs Mrs. Patmore comes into some money and asks Carson's advice on how to invest her win fall.
The Scotland Yard inspector is still sniffing around Downton about Mr. Green's death.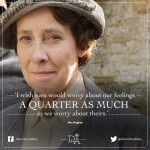 My favorite quote:
(Mrs. Hughes to Mrs. Patmore about Mr. Carson):  "I wish men worried about their feelings a quarter as much as we worry about theirs".
Abbey Cooks Entertain: 2nd Edition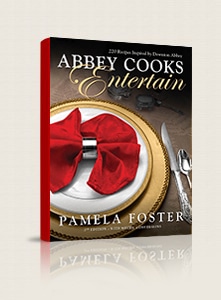 A new season means viewing parties. Whether you are hosting 2 or 20, this book has lots of ideas. Containing 220+ traditional Downton era recipes with a modern twist, this is a great book to create some simple or complex dishes for your Mary or Anna. My chapter on the Cocktail party includes drink recipes dating back to the Savoy. Cocktail Index.
This 448 page ebook has been updated to include both metric and imperial measurements and now includes famous Downton dishes from Season 1-6.  Book sales help offset my costs in food, equipment and time to provide you new recipes on a regular basis.
Cocktails at Downton
The cocktail party finally comes to Downton late in Season 5.
In addition to the recipes below, many savoury dishes which are served at Afternoon Tea (check out my Online Guide) are perfect for upscale entertaining.
Downton Beverages
Non Alcoholic: fans of John Bates know that he has given up alcohol so you may make a conscious decision to serve non alcoholic drinks in his honor. Some

Edwardian

standards include:
Simple Parmesan Straws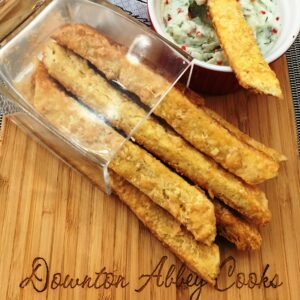 Parmesan Straws
A simple recipe to add an authentic touch to your Downton cocktail party. "These irresistible biscuits were a popular savoury (the final course after pudding, which has sadly fallen out of fashion).  They can also be presented as canapes with drinks in the more contemporary style.
Ingredients
1

cup

Fresh parmesan

grated

3/4

cup

all-purpose flour

1

pinch

kosher salt

1

pinch

cayenne pepper,

3 1/4

tbsp.

unsalted butter

1

large

egg yolk
Instructions
Preheat the oven to 400F.  Lightly grease a large baking sheet.

Grate 3/4 cup of the cheese into a mixing bowl.  Sift in the flour and add the salt and cayenne pepper.

Crumble in the butter and rub with your fingertips until you have a breadcrumb texture.  Stir in the egg yolk and form the dough into a ball with your hands.

Dust the worktop and a rolling pin with a little flour. Roll the dough inot a rough square, to a thickness of about 1/4 inch.  Cut into strips about 1/2″ wide and about 4 inches long.  I made mine longer so I could stand time up in a glass container.

Gently transfer to the baking sheet and finely grate the remaining parmesan on top of the straws.

Bake in the oven for 10-15 minutes, until golden.  Transfer to a wire rack to cool.

Serve with a dip if you wish, or on their own.