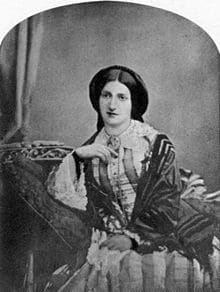 Isabella Beeton, best known as Mrs. Beeton, the Victorian Domestic Goddess. Her cookbook Mrs. Beeton's Book of Household Management was published in 1861 when she was only 23. It was an instant success, selling  2 million copies in 1868.
Her lemonade recipe is a classic.

Servings

Prep Time

Passive Time

1

quart

10

minutes

2

days
Servings

Prep Time

1

quart

10

minutes
Place all the ingredients in a large jug and top up with 1 quart of water. Cover with cling film and leave to steep in a cool place or in the fridge for 2 days, stirring occasionally.

After 2 days strain the lemonade into a clean jug and store, covered with cling film in the fridge.

Use within 7 days of making.
*caster sugar is essentially super find sugar. You can make your own by quickly pulsing regular sugar in your food processor.
Own your Own Copy