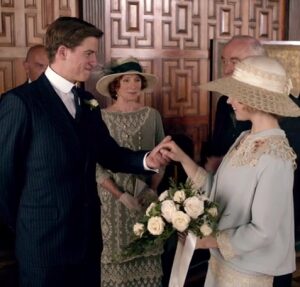 It was a challenging two screen night again this week as Downton and The Academy Awards competed for our attention. No Downton cast members up for awards this week, but perhaps one day there will be a Downton movie of the like of Gosford Park. On a side note I was gratified that the only premier screening Lord D and I caught Toronto Film Festival this year was Still Alice. Julianne Moore was as striking as she was passionate about Alzheimer's in her opening remarks at the Gala.
In this week's episode the Crawleys spent most of their time in London. Not much "food name" dropping, although we do see Daisy finishing the wedding cake. A whirlwind of events (the parents of the Groom entertaining, how odd) during the week, Mrs. Patmore suggests she could whip up some soup for a buffet for guests staying at Downton House. So this week's dish is Cauliflower Soup with Truffle Oil. A simple, yet elegant soup to serve to the most discerning guest on a moment's notice.
Downton Dish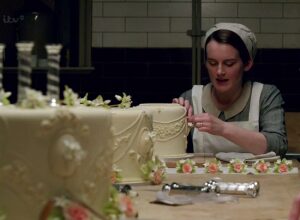 When is a finale not really a finale? The Downton Abbey Season 5 Finale aired last night and yet that is not the end of the Season. The two hour Christmas episode is yet to come. In the UK fans had to wait until Christmas Day to see that final episode. In North America we only have to wait until this Sunday. As we wait for the final course, here are some appetizing articles to aid digestion.
What happened in S5E8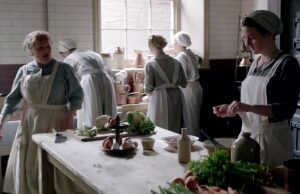 A quick recap of what went on down and upstairs this past week.
Time has passed a few months until Rose's wedding.
Rose's parents are delayed due to the delay of the hand over of India back to the Indian government.
Susan and Shrimpie are to be divorced on top of losing their fortune and status so Susan should be in good spirits after a long journey.
When Susan and Shrimpie arrive they are without servants which is good news for O'Brien haters since she had left Cora to work for Susan.
Tom threatens yet again to leave Downton for Boston to work with his cousin in cars and farm machinery, but promises to stay until Christmas.
Violet gets propositioned by Prince Kuragin, who did not see the need to seek a divorce. Perhaps all he is looking for is a home.
Andy, the footman for hire, is tricked by Denker into taking her to a gambling club. Luckily "Uncle Thomas" rescues the poor lad and teaches Denker a lesson.
Daisy grows up a little more yet again (what a wonderful character), inspired by the art and culture of London and threatens to quit her job and move to London to continue her studies.  In the end she is touched by Mrs. Patmore's tears and her connection to Downton and choses to stay until she finishes her studies.
Rose and Atticus each have one parent against their marriage.  His father and her mother. Susan goes to the pains of paying for bachelor party photos to be taken of the groom. Fortunately no harm no foul and the wedding played on.
Robert finally figures out that Marigold is Edith's child and thrilled that he has finally been privy to a secret.
Sadly, the short lived bliss Anna and Bates enjoyed is over.  Anna was asked to join a police line up, and is later arrested for the murder of Mr. Green.
The war memorial story line plays out with a touching dedication ceremony and surprise for Mrs. Patmore – a special tribute to her nephew Archie.
My favorite line this week: Shrimpie to Susan:  "Get down you cat"
Curse of the Downton Wedding
There is never a shortage of love and drama on Downton. Over the past five seasons there have been 6 weddings planned, and some actually executed.  But will they live happily ever after?  A recap:
Upstairs Weddings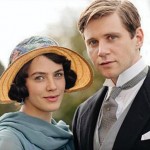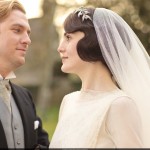 Downstairs Weddings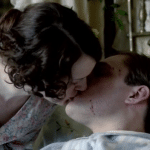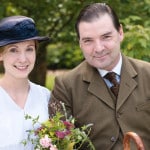 3 weddings witnessed on screen: William & Daisy, John & Anna, Matthew & Mary
1 couple was married off camera: Tom & Sybil
2 couples never made it: Anthony & Edith, Matthew & Lavinia
This week we saw Atticus & Rose marry, but will they escape the Downton Wedding Curse? The odds are stacked against the characters when it comes to how the show has been written and produced (you can't hold actors to long contracts in the UK):
William died shortly after his wedding
Lavina died before reaching the altar
Edith was jilted right at the altar
Sybil died shortly after giving birth
Matthew died shortly after Mary gave birth
The only couple still standing is John & Anna. They continue to fight for their happiness in spite of all their legal challenges.
Who else will make it to the altar?  While Isobel is having serious second thoughts after Dickie's sons showed their disapproval, she may still fight for her last chance at happiness.  As for Violet and her Prince? We will learn more about that how that storyline plays out in the Christmas Special.
This May Be The Year to Tour Downton: Fall 2015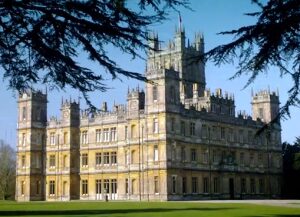 My New Year's resolution was to think seriously about planning a "Downton" trip to London in 2015. I have been to London many times, but have yet to see Highclere Castle. I have been approached by many tour companies in the past, but this year may be the year when I can customize the tour that I would like to take.  And if Season 6 will be the last for Downton, this may be our last chance.
I am working with Friendly Planet Tours and we are working towards a late fall tour featuring a champagne reception at Highclere Castle and fitting in a delightful Afternoon Tea outing. Stay tuned as plans unfold.
If you would like to get more information about the tour, send me an email: info@abbeycooks.com
Abbey Cooks Entertain: 2nd Edition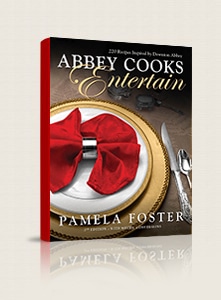 A new season means viewing parties. Whether you are hosting 2 or 20, this book has lots of ideas. Containing 220+ traditional Downton era recipes with a modern twist, this is a great book to create some simple or complex dishes for your Mary or Anna.
This 448 page ebook has been updated to include both metric and imperial measurements and now includes famous Downton dishes from Season 1-5.  Book sales help offset my costs in food, equipment and time to provide you new recipes on a regular basis.
This ebook is now available exclusively on Amazon:  Abbey Cooks Entertain: 220 recipes inspired by Downton Abbey, Seasons 1 – 5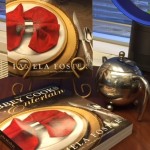 Print Version is here.  The good news is that the 2nd Edition is available on Amazon. The full book is 450 pages and will contain famous Downton recipes from Seasons 1-5.  The not so great news is that with the size of the book, Amazon needs to charge Lady Mary price to recoup their printing costs. Stay tuned for an alternative.
Cauliflower Soup with Truffle Oil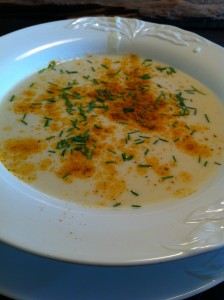 This is a simple yet elegant soup fit for any fussy house guest.  There is no cream so healthy, too.
Serves 4 to 6
Ingredients
1 tbsp. unsalted butter
1 onion, finely chopped
5 cups cauliflower florets
6 cups Chicken Stock
1 tsp. truffle oil or EVOO
(extra virgin olive oil)
1 tsp. medium heat curry (optional)
Chives, finely chopped
Method
Melt butter over medium heat in a large heavy pot. Add
the onion and sauté until tender, but not brown, which
should take 6

min

utes. Add the cauliflower and sauté for
2

min

utes or lightly brown. Add the chicken stock and
simmer until the cauliflower is tender, about 25

min

utes.
Purée the soup until smooth. Season to taste with salt
and pepper then ladle into bowls. Drizzle with truffle oil,
sprinkle with medium curry, chives and serve.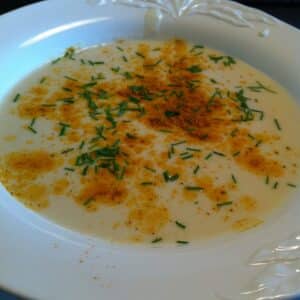 Cauliflower Soup with Truffle Oil
Ingredients
1

tbsp.

unsalted butter

1

onion

finely chopped

5

cups

cauliflower florets

6

cups

chicken stock

1

tsp.

truffle oil or EVOO

(extra virgin olive oil)

1

tsp.

medium heat curry 

(optional)

chives

finely chopped
Instructions
Melt butter over medium heat in a large heavy pot. Add the onion and sauté until tender, but not brown, which should take 6 minutes. Add the cauliflower and sauté for 2 minutes or lightly brown. Add the chicken stock and simmer until the cauliflower is tender, about 25 minutes.

Purée the soup until smooth. Season to taste with salt and pepper then ladle into bowls. Drizzle with truffle oil, sprinkle with medium curry, chives and serve.
For Your Downton Abbey Collection
Marvelous additions to your Downton Collection.