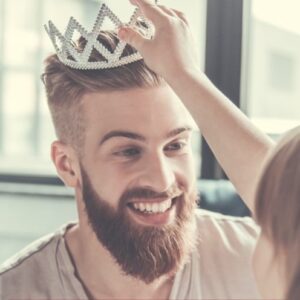 This weekend marks a special occasion of celebration as we honour two important figures in our lives. On Sunday, we come together to honour and appreciate the incredible contributions of fathers around the world on Father's Day. It's a time to express gratitude for the love, guidance, and support that fathers selflessly provide. Simultaneously, we commemorate the birthday of King Charles III, a significant event for those who hold dear the traditions and history of the monarchy. As we gather with our families and loved ones, let us embrace the spirit of appreciation and royal fervour, making this weekend a remarkable and memorable one for all.
The History of Father's Day
As you may recall from the story of Mother's Day, florists were quite enthusiastic and supportive of a day which could be commercialized.  As the History Channel website explains "The campaign to celebrate the nation's fathers did not meet with the same enthusiasm–perhaps because, as one florist explained, 'fathers haven't the same sentimental appeal that mothers have.'"
Also similar to the Mother's Day movement in the US, it started at church.  On July 5, 1908, a West Virginia church sponsored the nation's first event explicitly in honour of fathers, a Sunday sermon in memory of the 362 men who had died in the previous December's explosions at the Fairmont Coal Company mines in Monongah, but it was a one-time commemoration and not an annual holiday. The next year, Sonora Smart Dodd, one of six children raised by a widower, tried to establish an official equivalent to Mother's Day for male parents. She went to local churches, the YMCA, shopkeepers and government officials to drum up support for her idea, and she was successful: Washington State celebrated the nation's first statewide Father's Day on July 19, 1910.
Slowly, the holiday spread. In 1916, President Wilson honoured the day by using telegraph signals to unfurl a flag in Spokane when he pressed a button in Washington, D.C. In 1924, President Calvin Coolidge urged state governments to observe Father's Day. However, many men continued to disdain the day. As one historian writes, they "scoffed at the holiday's sentimental attempts to domesticate manliness with flowers and gift-giving, or they derided the proliferation of such holidays as a commercial gimmick to sell more products–often paid for by the father himself."
Royal Dishes for Dad
King Charles is not a huge fan of chocolate as his mother was and was served this chocolate genoise cake every year,  so it will be interesting to learn if he will be enjoying a special dessert.
Here is a smash up of dishes the royals enjoy with other dishes Dad might like on his special day.