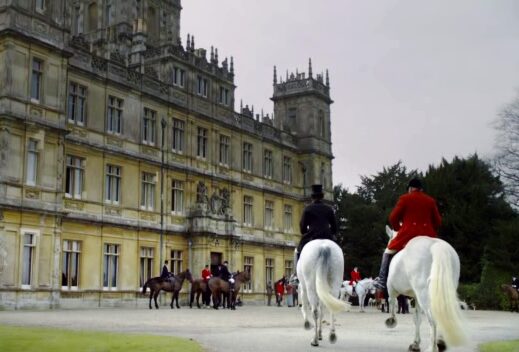 I grew up with horses and, while fortunate to have lived close to the now internationally famous Spruce Meadows, did not have the same passion as some of my girl friends who pursued jumping more seriously. For most of them the love of horses faded when they discovered boys.
I did do some jumping and was terribly excited when news of the gathering of the local horsey set for a fox hunt reached our home. It was actually more of a faux hunt, with a pre-set course through an open area leading into woods and jumps of various heights fashioned out of fallen trees along the walking trails. The leader of the hunt more a hat with a fox tail on it, so that is about all we saw of an actual fox. Still it was fun to get out of the riding arena, enjoy fresh air and good times with new and old friends and family alike.
The famous episode (S1E3) in which Lady Mary meets Kemal Pamuk, the handsome Turkish diplomat, was very well conceived and written in my mind. It is hard to imagine such sparks flying from a casual walk around the gardens or a late afternoon tea. So the thrill of a fox hunt, an actiivity which artisocracy often participated in–and which women were often a part of–provides the perfect ignition for the dangerous liaison.
History of Fox Hunting
Vic, who blogs at Jane Austens World provides excellent research about the hunt which you might find interesting. The Fox Hunt: From Downton Abbey back to its Origins. Taking both an historical view of the hunt and reporter's curiousity about what the readers of Horse & Hound (brings back memories of Notting Hill) had to say about how the hunt was protrayed on film, Downton fans will love the section about the filming of the hunting scenes at Highclere Castle. Apparently, as told by Lady Carnarvon (the actual owner) that during the filming an actual fox popped out of the nearby hedges and set the hounds off running across part of the estate which was being reserved for a wedding.
So what about the food?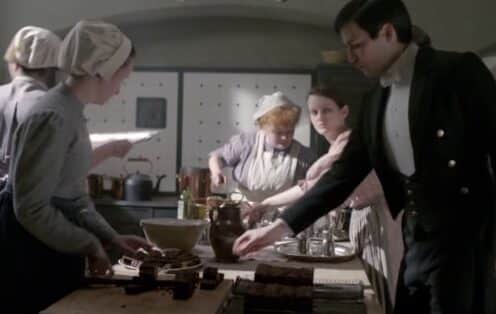 As a cook, my first thought would be "what I would serve the riders before they leave for the hunt?".  In Edwardian times, port and fruit cake was traditionally served.  At Downton, Mrs. Patmore and the staff were busily preparing a snack of punch (likely Pimm's Cup which had less alcohol as you do need to avoid drinking and riding), and likely fruit or '"hand cake",  which could be eaten by the hand.  While there aren't many fans left of fruitcake, here are recipes for some breads which would be great to serve:
Today, we will make my favorite, carrot cake, although for the hunt you may wish to omit the icing, messy on the gloves and all.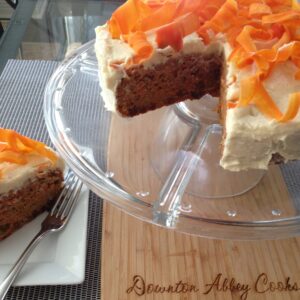 Amazing Healthy Carrot Cake
Traditional carrot cake recipes have a lot of fat in them due to the oil. I substitute with applesauce, and use whole wheat flour which makes a dense cake which is still moist.
Ingredients
2

tbsp.

apple butter

concentrated applesauce

1

cup

unsweetened applesauce

4

large

eggs

1/2

cup

sugar

or substitute

1/2

cup

brown sugar

or substitute

2

tsp.

vanilla

2

cups

whole wheat flour

1

tsp.

baking soda

1

tsp.

baking powder

3

tsp.

cinnamon

3

cups

grated carrots

1

cup

raisins

optional

1

cup

walnuts, or pecans

optional (chopped)
Instructions
Preheat oven to 350 F, 180 C or Gas 4.

Grease a 9″ x 13″ sheet pan or two round baking pans with oil. An 8-inch pan will yield a thicker cake, a 9" thinner and larger cake.

In a mixing bowl, combine the apple butter, applesauce, eggs, sugar and vanilla until smooth.

Next, slowly add flour, baking soda, baking powder and cinnamon to the mixture. Blend until all of the ingredients are moistened.

Lightly mix in the grated carrots and then add nuts/raisins (optional). Slap the pans on the counter to help remove large air bubbles.

Bake in oven for 35-40 minutes. Test with a tooth pick to ensure the stick comes out clean.

You have a few options for serving. You can serve as single layer cakes or make a layer cake of the 2 round tins if company is coming.

Frosting: the cake is just as delicious without any topping at all, but traditionally calls for a cream cheese frosting, then garnished with chopped nuts or candied carrots.
Notes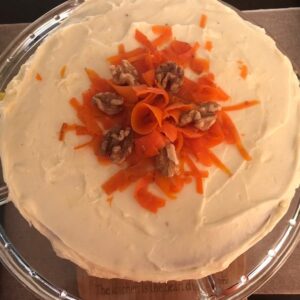 Simple Cream Cheese Icing
It is easy to make your own cream cheese frosting, which tastes incredible on carrot and spice cakes.
Ingredients
1

package

full-fat cream cheese

room temperature

1/2

cup

unsalted butter

room temperature

1-3

cups

icing sugar*

1

tsp.

pure vanilla extract
Instructions
In a large bowl beat the cream cheese and butter together until smooth and creamy. Slowly add the 3 cups icing sugar, vanilla, Beat on low speed for 30 seconds, then switch to high speed and beat for 2 minutes.
Notes
*This recipe makes 3 cups of frosting, enough to ice a double layer cake. If you don't need as much icing, simply reduce the amount of icing sugar, which will also increase the cream cheese flavour.  Need more? Just add more icing sugar.