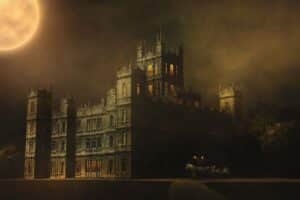 Downton Abbey is the kind of show that has more or less become a lifestyle for fans. Having garnered a monumental following, the show has produced Downton cosplay outfits, party concepts, countless recipes, whole cookbooks, and of course now what looks to be an ongoing film franchise. With all of these fun ways to enjoy the show, though, one might wonder –– why haven't there been more games? Other major TV and film franchises have historically produced all sorts of fun games for fans, but where Downton is concerned all we have are an official board game and an (albeit very enjoyable) edition of Clue.
Granted, this is in part due to the relative lack of action in the show. Downton Abbey is not as well suited to as many types of games as, say, Harry Potter films or HBO's Game Of Thrones. Just for fun though, we've compiled a few ideas for Downton Abbey games that we'd like to see.
Lifestyle Mobile Game
There are many versions of lifestyle mobile games which transport you into different landscapes and buildings They're nicely slow-paced games that require you to immerse yourself into creating specific environments or forming your own storylines, and you can typically pick up and drop them as you like. A Downton Abbey version could involve making various decisions to keep things running smoothly –– renovating rooms, adjusting the grounds, making personnel decisions and handling major evens just as we've all watched our beloved characters do for years.
Reigns
Reigns is a mobile card-swiping game in which each card asks you (the ruler) a question about running your kingdom. You swipe left or right to make your decision, and various aspects of your kingdom (treasury, army, church, etc.) suffer or thrive accordingly. Your job is to keep them all balanced as long as you can until your reign inevitably comes to an end. It's a brilliant little game that has already produced one show-based spinoff in the form of a Game Of Thrones edition. Business Insider noted that said edition gave fans a number of ways to "decide how the story goes" even as the actual TV series was ending –– and we Downton fans would love the same opportunity! Of course, the scenarios and outcome in a Downton-oriented Reigns would be somewhat tamer, but it would be a lot of fun to take over management of the estate through a Reigns format.
Online Bingo Game
While this may seem at first like an out-of-the-blue idea, the truth is that it's actually becoming somewhat trendy for online bingo providers to use different themes from entertainment and pop culture to attract players to rooms. Case in point, the Cheeky Bingo platform has made a particular point of showcasing bingo rooms based on popular TV shows, and currently hosts games revolving around Friends, Deal Or No Deal, and even Coronation Street. A bingo room based on Downton Abbey would fit right in, and would be good casual fun for fans of the series (not to mention it could also be translated into a physical board game format).
Touch-Based Mobile Mystery Game
Mobile mystery games present you with environments that you can poke around in and explore –– opening cabinets and treasure chests to find clues, solving little puzzles and piecing together trinkets, and the like. Fireproof Games' The Room series has set the standard for these kinds of point-and-click mystery games, and a write-up on MacWorld points to several more (The House of Da Vinci, Tiny Bang Story, and Big Fish) that convey the general idea. We've also seen some similar styles of games based on popular film and television content, such as Harry Potter: Hogwarts Mystery or one based on the American crime show Criminal Minds. Granted, Downton Abbey isn't exactly a mystery. But a playful game of this ilk revolving around one element of household intrigue or another would work quite well.
Online Hangman
For a simpler idea, there are many online hangman games available to play where every answer is connected to the film series, television show or whichever particular theme it is based around. A Downton Abbey version would work perfectly with the many characters, places and storylines serving as potential solutions. In most instances of themed hangman, there are brilliant graphics, recognizable references and messages pertaining to the theme. Downton has an abundance of material that could serve all of these purposes in a charming way.
There's certainly plenty to imagine, so let's hope there's more in the way of Downton Abbey games available soon!