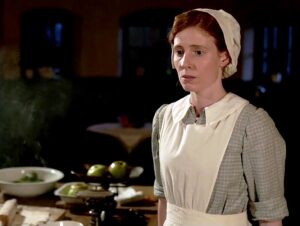 It has been a hard day for me, the day after the PBS Masterpiece broadcast of S3E5 (or E4 if you go by PBS calculations: they showed ITV E1 & 2 together as one for the premier).  As millions of Americans watched this episode, there were gasps of disbelief as events unfolded. The amount of chaos and mayhem was far too much for one to bear and many fans are consoling each other today as they struggle to digest what had happened. I myself wanted to jump through my TV set to comfort the characters.  But of course, this is just a TV drama and it was all make-believe.
I am of course referring to the horrible kitchen mishaps. There is nothing worse to a cook than when things go wrong, and this was excruciating to watch.  What beginner and non-cooks don't realize is that not all dishes turn out perfectly and some make it to the dining room undetected, like the salted raspberry meringue.  Others are ruined.  Tragedy can strike the experienced cook, just as easily as the novice.  You never know.  I know, it can be heartbreaking. This week we witnessed two disasters, one dish thankfully was brought back to life, the other unfortunately did not make it.
Kitchen Disaster 1: Curdled Hollandaise (ITV)

The Hollandaise Sauce Curdled: Can you imagine cooking an important dinner and when you are ready to serve the hollandaise it has separated?  I would have been mortified, as was Daisy and Ivy.  Thankfully young Alfred knew some "tricks of the trade". If a finished sauce starts to separate, a tablespoon of cold water beaten into it will often bring it back. If that fails, whisk another egg in a separate heated bowl, and then slowly whisk in the curdled sauce.  Here is a recipe for Hollandaise Sauce and other sauce pointers.

dropped kidney soufflé (ITV)

Soufflé is Burnt AND Lands on the Floor:  It wasn't bad enough that Mrs. Bird was forced to hand in her notice when Isobel hired Ethel, former Downton maid and more recently a prostitute.  Mrs. Bird's soup kitchen alone spoke to her good character. I suppose tragedy was bound to happen. Ethel attempted a soufflé which was not only burnt, she dropped in on the floor. Not since the chicken in S1 have I seen such horror.  Personally, I am not a fan of offals, but still, it was a tragic waste of food.  A recipe for unburned kidney soufflé.  The poor girl was trying so hard.
I was so traumatized by what happened in the kitchens that I blanked out the rest of the show. Or was it the other way around?  There were some other major plot twists, but I wouldn't want to spoil things for those fans who have yet to see it. Perhaps I can talk about it another day, but today I will just console myself with rice pudding.
Rice Pudding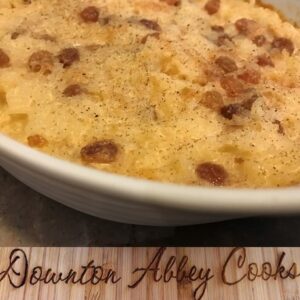 Easy Baked Rice Pudding
This is a Victorian era recipe based on Mrs. Beeton's recipe, which could be tossed in the oven and left while attending to other kitchen duties in the Abbey. Really easy without a great deal of fuss.
Ingredients
4

cups

skim milk

6

tbsp.

caster sugar

make your own by pulsing regular sugar in your blender

2

tbsp

unsalted butter

1/2

cup

short grain rice

basmasti works well and will cook faster

1

fresh or dried

bay leaf

1

pinch

nutmeg

freshly grated

1 1/2

cups

raisins or currants

optional
Instructions
Preheat oven to 275°F. Lightly grease an 8 x 10 square dish or medium shallow casserole dish.

Place the milk and sugar in a saucepan over heat. Melt butter in the milk mixture. Place the rice in the baking dish. Pour milk over the rice, mix in the raisins if using, and add the bay leaf.

Bake for 1½ to 2½ hours (depending on the type of rice you use), stirring every 30 minutes or so.

Remove from the oven, grate nutmeg over the surface.

Increase the oven temperature to 325°F and return to the oven for an additional 15 minutes.

Remove the bay leaf and let rest before serving warm. I like to add some nonfat strained yoghurt, a few sliced almonds and berries.
For the Downton Abbey Collector