One of my favorite flavor combinations is chocolate and peanut butter; add it to ice cream and I am in heaven.  When I went keto a few years ago I was delighted that not only was ice cream allowed, it could be one of my go to foods to help keep cool in the summer.  This ice cream is full fat and sugar free, just the way keto lovers like it.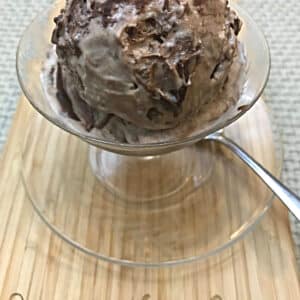 Heavenly Chocolate Peanut Butter Ice Cream
If you love the combination of chocolate and peanut butter you will love this super rich ice cream. You don't have to be keto to enjoy it, and I find Popsicle molds is the best way to enforce portion control.
Ingredients
2

cups

heavy cream

1

cup

unsweetened almond milk

1/2

cup

Sugar free Sweetener

Swerve or any Stevia sugarfree sweetener

4

large

egg yolks

1

cup

peanut butter

creamy or crunchy depending on your taste

4

tbsp

vodka

helps reduce iciness

1/2

tsp.

vanilla extract

1/4

tsp.

xanthan gum
Instructions
Create an ice bath by filling a large metal bowl with ice and water, then place another metal bowl in the bath and set aside.

In a medium saucepan mix together cream, almond milk and sweetener and put on medium heat. Stir until sweetener dissolves and mixture reaches 175F on an instant read thermometer.

Whisk egg yolks in a medium bowl. Temper the eggs by slowly adding 1 cup of the hot cream mixture into the whisking continuously, to temper the yolks. Then slowly whisk egg yolk mixture back into cream, whisking continuously.

Cook until mixture reaches 180F on an instant read thermometer. Remove from heat and whisk in peanut butter until well combined.

Pour mixture into bowl set over ice bath and allow to cool 10 minutes. Then wrap tightly in plastic wrap and chill at least 3 hours.

Stir in the vodka and vanilla extract. Sprinkle with xanthan gum and whisk vigorously to combine. Pour custard into the canister of an ice cream maker and churn according to manufacturer's directions which generally takes 20-25 minutes.

Finish by gently adding chocolate sauce by the spoonful to mix in and create a marbled effect. You can serve right away as soft serve, or spoon into containers and freeze. Will fill six 1/2 cup popiscle molds with enough left over for a two cup container.
Notes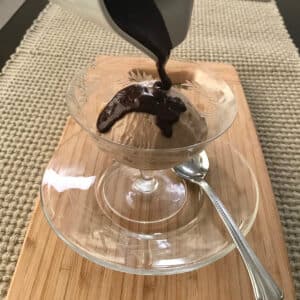 Quick and Rich Chocolate Sauce
Chocolate sauce is so easy to make. Just heat cream, add chocolate chips, whisk and you are done.
Ingredients
1/2

cup

heavy cream

3

tbsp.

sugar free icing sugar

Serve confectioners sugar

1/4

cup

unsweetened chocolate finely chopped or chips
Instructions
Heat cream and sweetener In a small saucepan over medium heat until almost scalding and then remove from the heat.

Add chopped chocolate and let sit 5 minutes, until chocolate is completely melted and then whisk until smooth.

The sauce will be more liquid when hot, and thickens as it cools.
Nutrition
Serving:
75
g
Calories:
393
kcal
Carbohydrates:
5
g
Protein:
3
g
Fat:
38
g
Saturated Fat:
23
g
Polyunsaturated Fat:
2
g
Monounsaturated Fat:
11
g
Cholesterol:
172
mg
Sodium:
89
mg
Potassium:
130
mg
Fiber:
1
g
Sugar:
0.4
g