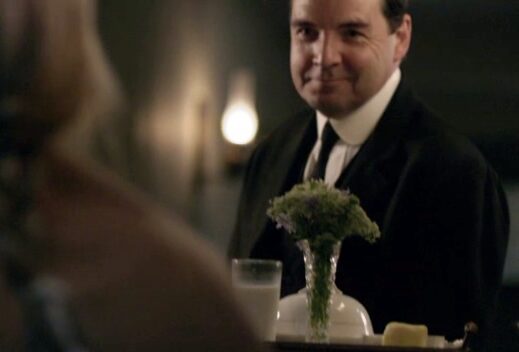 I firmly believe that those who love to cook are more interested in the pleasure it gives others than in themselves.  I love chocolate, but I wouldn't dare have more than one of my swiss chocolate truffles: I live to see the expressions on the faces of those lucky chocoholics who consume them in front of me.
Food as a Gift of Love
Cooks love to cook for others, but you don't have to cook to show your love with the gift of food.  From the moment John Bates arrives at Downton, head housemaid Anna Smith appears to have been smitten.  He gave no real indication of a return on her affections at first.  He had enough on his plate keeping Thomas and O'Brien at bay.  She tried to befriend and support him in his battles, but it wasn't until Anna takes ill for the day in Episode 4, that he surprises her with a tray from the kitchen.  The writers created a wonderful scene where they share a brief tender moment.
I am very blessed to have a husband who makes these same types of sweet gestures all the time, and we love to cook for each other.
We have no idea of what exactly Mr. Bates fixed on the tray, but if it were me and I had a cold, I would love to have received the remedy which I often make for my husband and friends:  Chicken Noodle Soup.
I love soup and will likely share a number of recipes that would have been a mainstay in a country kitchen, such as Downton like served downstairs to servants.  My own recipe evolved from the noodle soup my paternal grandmother made for us growing up.  We knew soup was when we saw the kitchen table covered in noodle dough. She didn't speak much English and never taught me how to make her soup, so I had to start and adapt over the years.
All thrifty cooks like Mrs. Patmore keep vegetable trimmings (celery leaves, broccoli stems) around in order to make vegetable or chicken stock, so feel free to toss in what you have on hand, and use the recipe as a guideline. The same goes for chicken. If you have a whole chicken, good for you.  I will buy bone-in chicken breasts, remove the breasts for another dish and save the bones to add to the stockpot in addition to meatier pieces.  Make it your own.
Strapped for Time?   This recipe takes time and is a bit of a labour of love, but not complicated if you break it down. I often will start on one day and finish on the next.  You see, the more love into it, the more you get out.  But if no one is looking or you are trying to take care of your cold on your own, you can always skip the first two steps and go straight to chopping and browning vegetables, adding a good quality boxed chicken stock, some white wine and leftover cooked chicken (or a rotisserie chicken) and use store-bought egg noodles.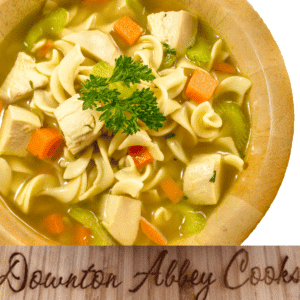 My Granny's Chicken Noodle Soup
Chicken noodle soup is food for the soul. My Granny's homemade soup from the farm still sits in my memory of the love that she shared with her family.
Ingredients
3

tbsp.

unsalted butter

3

medium

carrots

sliced crosswise 1/4 inch thick

3

medium

parsnips

cut to your preference: I like 1-inch matchsticks

3

medium

celery ribs

sliced crosswise 1 inch thick (you can also use broccoli stems which have more nutrition and still give a nice crunch)

2

medium

leeks

white and tender green, halved lengthwise and sliced crosswise into 1 inch thick slices

1

small

onion

finely chopped

2

cloves

garlic

minced

12

cups

chicken stock

make your own*

2

cups

chicken

cooked, shredded

2

cups

egg noodles

make your own*

2

tbsp.

dill or parsley

fresh, finely chopped

1

tsp.

Salt and freshly ground pepper

to taste
Instructions
Melt the butter your stockpot.

Add the carrots, parsnips, celery, leeks, onion and garlic, cover and cook over moderate heat, stirring occasionally, for 5 minutes to let the flavours out.

Raise the heat to moderately high and cook, uncovered, until the vegetables are lightly browned, about 5 minutes.

Add chicken stock to the pot and bring to a boil. Lower the heat, cover and simmer gently, skimming, until all the vegetables are tender, about 30 minutes. I let the pot simmer on the stove for an hour if I have the time.  Sample and adjust seasonings or add additional chicken stock/water.

Meanwhile, bring a medium saucepan of salted water to a boil. Add the egg noodles and cook, stirring, until just al dente. Drain, rinse with cold water and drain thoroughly.

Add the shredded chicken, egg noodles and serve, garnishing with your chopped dill or parsley.

This freezes well as you never know when you need a pick up during the winter.
Notes
It does take some work, but you make a lot of soup to serve on your first day and then freeze the rest in containers for the next onset of cold or just to surprise your loved one on these cold winter days.  
*Make Your Own
Rich Chicken Stock
Egg Noodles
Nutrition
Serving:
2
cup
Calories:
205
kcal
Carbohydrates:
24
g
Protein:
10
g
Fat:
8
g
Saturated Fat:
3
g
Polyunsaturated Fat:
1
g
Monounsaturated Fat:
3
g
Trans Fat:
1
g
Cholesterol:
27
mg
Sodium:
371
mg
Potassium:
538
mg
Fiber:
3
g
Sugar:
7
g
Vitamin A:
3106
IU
Vitamin C:
13
mg
Calcium:
47
mg
Iron:
1
mg