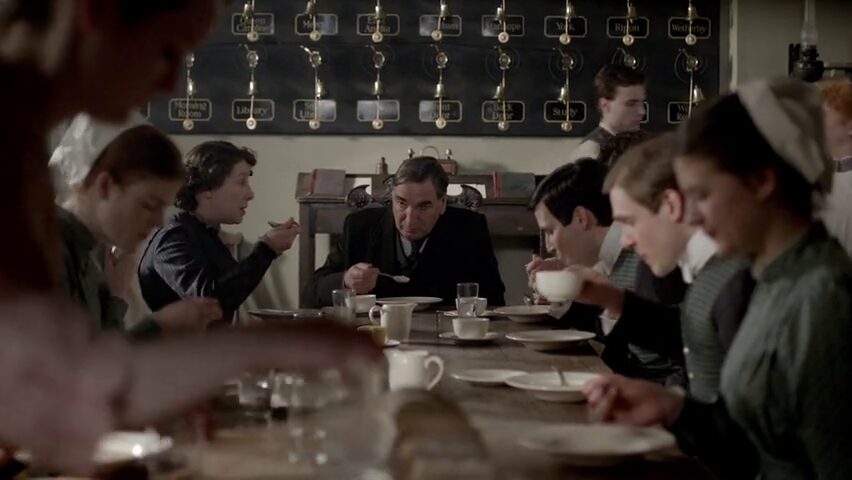 Our introduction to Downton Abbey is informal, and comes early in the episode of Season 1, Episode 1.  While upstairs the Crawleys are still nestled in their beds, there is a flurry of activity down below. In our introduction to the grand home, we see the engine that drives it all.  The maids rise at 6:00 am to open the drapes, dust furniture, tend to flower vases.  The footmen iron the newspapers for the Lord of the house.  Daisy, the scullery maid, lights fires in the various fireplaces around the house, as well as the kitchen stove (horrors).  The scene reminds me of the attention to detail you might expect to see at the grandest hotels. Gosh, I miss my stay at the Ritz Carlton.
The first round of duties appear to be done.  The servants scurry back downstairs and out of sight, gathering for breakfast, a rack of servant bells behind them. Some breakfast trays are sent up, others will congregate for dining.
Breakfast for The Upper Class
Breakfast served upstairs in a manor of this size could be informal or more formal depending on their preference, or if the overnight company was being entertained.  Smoked haddock (finnan haddie) was the favourite breakfast fish, steamed on its own, or in kedgeree.  Egg dishes were also served, accompanied with mushrooms, small French peas or potatoes. There could be a few more courses in a formal breakfast with chicken and rice served as a second course, followed by a dessert course with coffee, fruits, jams, biscuits, toast.  Or you could always have a tray brought to your room, delightful.
Breakfast for the Lower Classes
The servants in large manors were still more privileged than others of the lower class who lived in the countryside or in the larger industrial cities.  In the country, you would likely eat what you were able to grow, potatoes a staple, and eggs if you could keep chickens.  The servants of Downton would have a simple satisfying meal:  hot, most likely consisting of simple porridge, perhaps some bread, and coffee, which we see in our first glimpse of the servant's dining hall (photo above).
We commonly think of oatmeal when we think porridge, but in addition to oats, cereal meals used for porridge include rice, wheat, barley, and corn. Legumes such as peasemeal can also be used to make porridge. Gruel is similar to porridge but is much more like a drink; it has a very thin consistency and is made with water. You were likely living in an institution if you had gruel for breakfast.  As an aside, apparently good things came out of institutions other than Oliver Twist.  A few of the dry cereals we eat today originated in the kitchens of the sanitariums: granola and Grape Nuts.
Bringing back healthy oatmeal for breakfast
Many of us enjoy hot cereals for breakfast and many more should, particularly in the cold winter months.  Our busy schedules have resulted in our reliance in fast and convenient foods.  Food producers are more than willing to give us what we want, but is that what we need?  Whole grains are far healthier for you than instant varieties and cheaper.  There must be a compromise.
When I think porridge, my thoughts go to the favourites my mom used to make for me, large flake oatmeal and my favourite, steel-cut oats. McCann's is the king of the steel cut oat, also called Irish Oatmeal.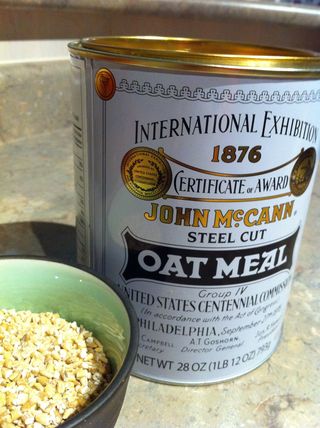 The story of McCann's dates back to 1800 when John McCann built a mill at Beamond, four miles from Drogheda on the east coast of Ireland.  John McCann's Irish Oatmeal secured many prizes for its excellent quality over the years. Double success in the London Exhibition and the Dublin Exhibition in 1851, was followed by first prize at the Philadelphia Exhibition in 1876 and an award for "Uniformity of Granulation" in 1893 at the Chicago Exhibition.
"Instant" Steel Cut Oats
Now the compromise.  McCann's does make instant oats, but that has been processed and the Downton way is to keep natural.  With some forethought, you can start the oatmeal the night before.  Boil 4 cups of water, add 1 cup of steel-cut oats.  Simmer for a minute then refrigerate overnight in the pot if you like.  That's it.  Heat and cook down some of the liquid for a few minutes the next day to and voila, a nutritious breakfast to fuel for the day. We often make far too much, keep the leftovers refrigerated and reheat the next morning.
Servants Hall Oatmeal
This is our go-to recipe at our house to get the morning started.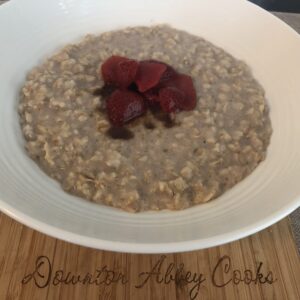 Servants Hall Oatmeal
The servants of grand houses needed a hearty breakfast for the long hours ahead of them. There are many health benefits as well, so you should eat our oatmeal as well.
Ingredients
2

cups

water

2

cups

milk

2

cups

rolled oats

1

tsp,

cinnamon

1

pinch

salt

2

tsp

honey

optional
Instructions
Combine oats, milk, water, salt, and cinnamon in a medium saucepan. Bring to a boil, then reduce heat to low.

Simmer uncovered for 3 to 5 minutes until thickened, stirring occasionally. Remove from heat and let cool slightly.

Divide into bowls, add honey if desired. Add your favorite toppings, a splash of milk.