If you need to find a use for egg yolks, portuguese custard tarts are a one dessert to try.  If you have purchased them in a bakery you will be pleasantly surprised how little it costs to make. Essentially you prepare a custard, pour into puff pastry shells, bake and finish under the broiler. Easy peasy.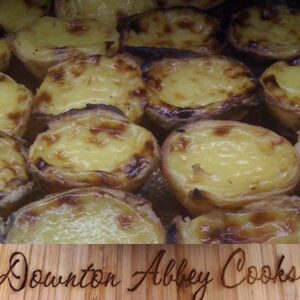 Super Easy Portuguese Custard Tarts (Pastel De Nata)
Ingredients
2

large

egg yolks

1

large

whole egg

½

cup

caster sugar

(or sugar substitute like Stevia)

2

tbsp.

cornstarch

1 ¾

cup

skim milk

2

tsp.

vanilla extract

1

sheet

puff pastry*
Instructions
Make the custard
Put the egg yolks, sugar and cornstarch in a pan and whisk together. Gradually whisk in the milk until smooth.

Place the pan over a medium heat and cook, stirring, until the mixture thickens and comes to the boil. Remove from the heat and stir in the vanilla extract. Transfer the custard to a bowl, cover the surface with cling film to prevent a skin forming and leave to cool.
Make the tarts
Lightly grease a 12 tray muffin pan.

Preheat the oven to 400 F degrees 200 C.

Use pre-rolled pastry, or roll out puff pastry to thin rectangle. Roll up the pastry tightly from the short end and cut the pastry log into 12 rounds, about 1/2 inch thick. Lay each pastry round on a lightly floured surface and use a rolling pin to roll out or press with the palm of your hand to create a really thin circle which will fit into the muffin tray.

Press the pastry rounds into the muffin tin.
Assemble and bake the tarts
Spoon the cooled custard into the pastry cases and bake for 20-25 minutes, or until the pastry and custard are golden. I will sometimes turn on the broiler for a few minutes to get a few extra burn marks which is a distinct feature of this tart.

Leave the tarts in the tin for 5 minutes, then transfer to a wire rack to cool completely.