October 29th has been put aside to honour oatmeal, the little engine that keeps us fueled throughout the day with its many health benefits.  Britain and Scotland have centuries of history with oats and oatmeal, and those traditions and growing methods were brought to America with the first settlers.
Commercially produced rolled oats, or oatflakes were first developed by the Quaker Oat Company in 1877 and is still one of America's favourite breakfast meals.
Bringing Back Healthy Oatmeal for Breakfast
Many of us enjoy hot cereals for breakfast and many more should, particularly in the cold winter months.  Our busy schedules have resulted in our reliance in fast and convenient foods.  Food producers are more than willing to give us what we want, but is that what we need?  Whole grains are far healthier for you than instant varieties and cheaper.  There must be a compromise.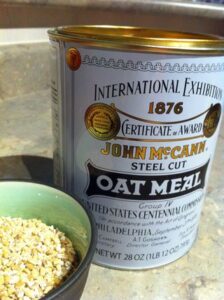 When I think oatmeal, my thoughts go to the favourites my mom used to make for me, large flake oatmeal and my favourite, steel-cut oats. McCann's is the king of the steel cut oat, also called Irish Oatmeal.
The story of McCann's dates back to 1800 when John McCann built a mill at Beamond, four miles from Drogheda on the east coast of Ireland.  John McCann's Irish Oatmeal secured many prizes for its excellent quality over the years. Double success in the London Exhibition and the Dublin Exhibition in 1851, was followed by first prize at the Philadelphia Exhibition in 1876 and an award for "Uniformity of Granulation" in 1893 at the Chicago Exhibition.
"Instant" Steel Cut Oats
Now the compromise.  McCann's does make instant oats, but that has been processed and the Downton way is to keep natural.  With some forethought, you can start the oatmeal the night before.  Boil 4 cups of water, add 1 cup of steel-cut oats.  Simmer for a minute then refrigerate overnight in the pot if you like.  That's it.  Heat and cook down some of the liquid for a few minutes the next day to and voila, a nutritious breakfast to fuel for the day. We often make far too much, keep the leftovers refrigerated and reheat the next morning.
Servants Hall Oatmeal
Downton Abbey fans often see scenes of the servants gathering in the Servants Hall. Their morning meal would have been oatmeal to help fuel them for the long day ahead.
This is our go-to recipe at our house to get the morning started.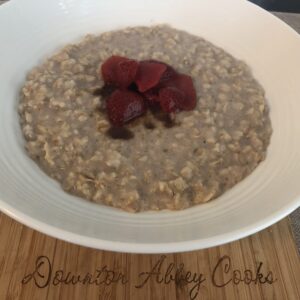 Servants Hall Oatmeal
The servants of grand houses needed a hearty breakfast for the long hours ahead of them. There are many health benefits as well, so you should eat our oatmeal as well.
Ingredients
2

cups

water

2

cups

milk

2

cups

rolled oats

1

tsp,

cinnamon

1

pinch

salt

2

tsp

honey

optional
Instructions
Combine oats, milk, water, salt, and cinnamon in a medium saucepan. Bring to a boil, then reduce heat to low.

Simmer uncovered for 3 to 5 minutes until thickened, stirring occasionally. Remove from heat and let cool slightly.

Divide into bowls, add honey if desired. Add your favorite toppings, a splash of milk.