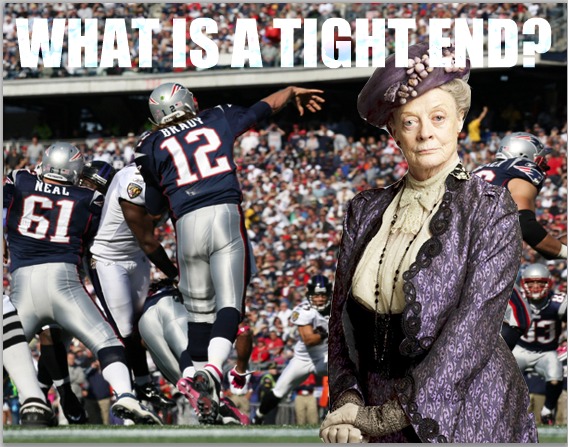 It was a busy weekend.  While much of Europe was focusing on digging out from the latest winter storm–and the UK also bracing for the launch of Diamond Jubilee celebrations–North Americans were preparing for the Big American Game: Super Bowl Sunday.  A time to gather for greasy food, clever commercials, the Half Time show, and football.  Adding to the excitement, Downton Abbey fans were stressing over what to watch Sunday night: Super Bowl or the latest installment of Downton on PBS.  Hundreds of tweets were shared with fellow fretting fans, tough choices were made, DVR manuals dug out of storage, and streaming sites googled.  Some offered amusing mashups.
There actually was a Canadian connection to both events.  Madonna's Half Time show utilized the talents of Montreal-based Cirque du Soleil and Moment Factory, which provided the amazing technical bling.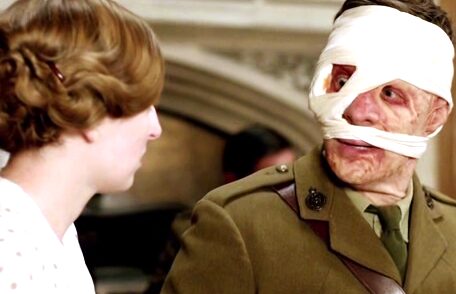 Meanwhile, over on PBS, this week's episode brought a Canadian to the Crawley household.  Was he really Patrick Crawley, the heir assumed drowned on the Titanic (Edith's love interest, but engaged to Mary) but who suffered amnesia until now? Or was he actually Peter Gordon, an opportunistic Canadian who had spent time with Patrick, and was looking to take his place?  At the end of the episode we really aren't quite sure.  Will we see him again?  Only the writers, Trevor White (the Vancouver actor who plays Patrick), and his agent know the answer to the burning question.
Canadians in World War I
Generally a self-deprecating lot,  Canadians are honored just to be acknowledged, so thank you, Downton Abbey writers, for including us in your WWI story line. (We are also polite).  When Britain declared war on Germany on August 4, 1914, we were automatically involved without consultation, but on the next day, we did formally declare a war between Canada and Germany, which was a big step.  We served under our own command, and Canada's sacrifices and contributions to the war changed our history and enabled us to become more independent from Britain.  Battles such as Vimy Ridge, Second Battle of Passchendaele and the Battle of the Somme are still remembered as part of our proud heritage and identity. Canada's total casualties stood at the end of the war at 67,000 killed and 173,000 wounded.  We annually remember all Canadians who proudly served our country on Remembrance Day: 11th day of the 11th month at the 11th hour.
Flipping back to the game:  Canadian content
A great deal of time is spent rating Super Bowl commercials.  You can find them on You Tube.  We know this in Canada, because we don't get the American feed.  Then again, Americans weren't able to see our commercials.  This is a good one, produced by Budweiser Canada which tapped into the hearts of beer buying recreation hockey league players across Canada.
[youtube http://www.youtube.com/watch?v=y0qZYqdsYAg?rel=0″]
Sauté Chicken Lyonnaise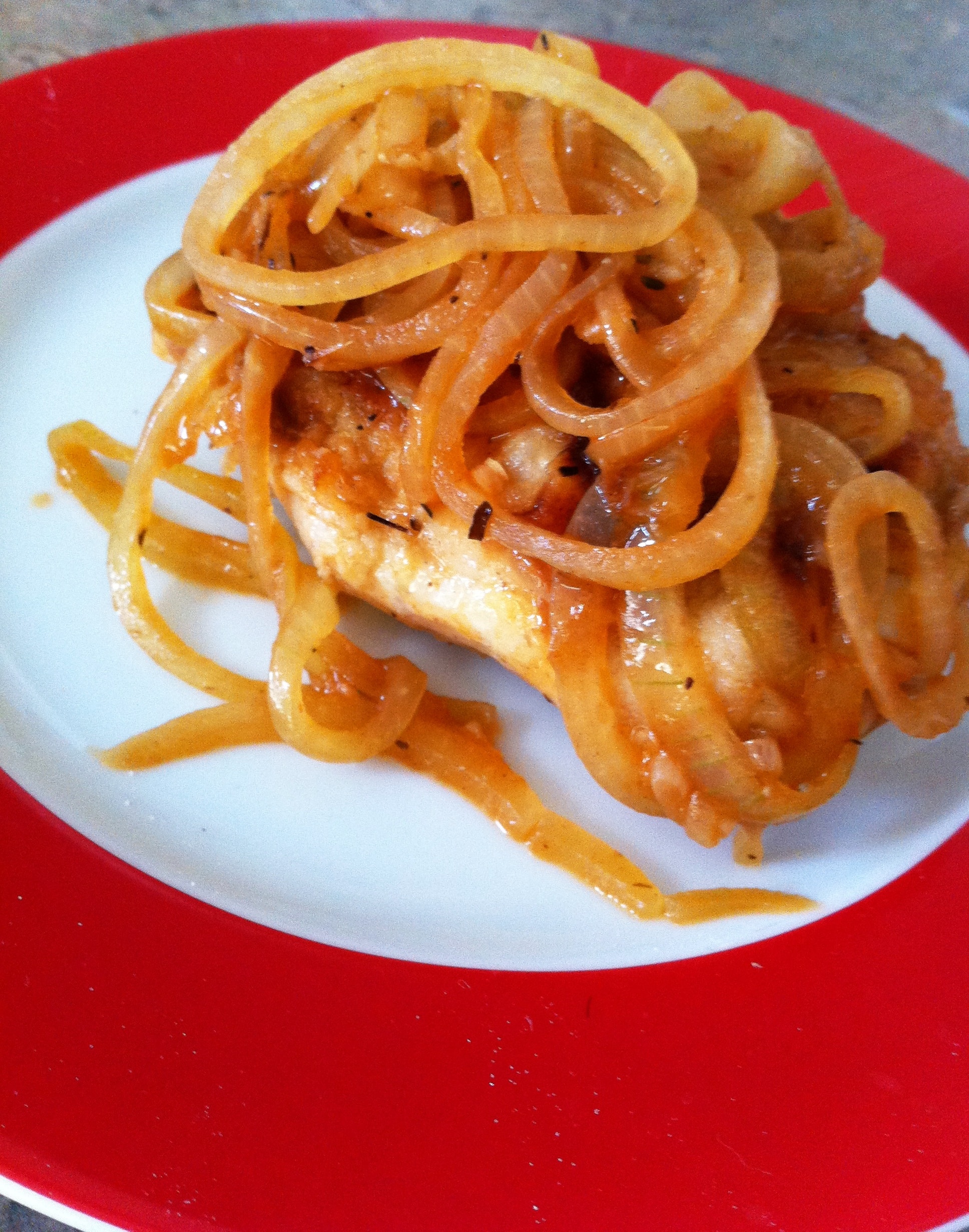 My fellow North Americans:  after a marathon weekend of cooking and eating, you are likely going to want to ease back into lighter meals.  This is a classic easy French dish, and coincidentally was served in 1st Class on the Titanic. French Edwardian legend Escoffier did not coat the chicken, and used a veal sauce instead of chicken, but the dish is essentially sauteed chicken with onions and sauce. Use your creative juices to create your own version.
1/3 cup all-purpose flour
2 tbsp chopped fresh thyme (or 1 tbsp dried)

1/2 tsp each salt and pepper

6 boneless chicken breasts, patted dry

1 egg, beaten

3 tbsp vegetable oil

2 onions, thinly sliced

1 clove garlic, minced

1/3 cup white wine

1 cup chicken stock

2 tsp tomato paste

Pinch granulated sugar
Method
In sturdy plastic bag, shake together flour, 1 tbsp of the thyme (or 1 1/2
tsp if using dried), salt, and pepper. One at a time, dip chicken breasts
into egg, and then shake in flour mixture.

In large deep skillet, heat 2 tbsp of olive oil over medium-high
heat. Place chicken in pan, smooth side down. Cook, turning once, for 10
minutes or until golden brown.

Remove from skillet and place in 225-degree F oven to keep warm*.

Reduce heat to medium; add remaining oil to skillet.

Stir in onions, garlic, and remaining thyme; cook, stirring often, for 5 minutes or until onions are translucent.

Increase heat to medium-high and continue to cook onions, stirring often, for 5 minutes or until golden brown.

Add wine to pan; cook, stirring to scrape up any brown bits, for about 1 minute of until reduced by half.

Stir in stock, tomato paste, and sugar.

Boil for 2 minutes or until beginning to thicken. Return chicken to pan,
turning to coat, and cook for 5 minutes or until juices from chicken run
clear.
Makes 6 servings.
*check the conversion chart in the top menu for your oven temperature.