Sausage and Peppers is a simple Italian-American comfort food, often served at street festivals, as early as 1927.
In its purest form, it contains Italian sausage and bell peppers. You will see it served in long rolls as a sandwich.  You can also add onions and tomato sauce to serve with pasta, but on its own is a filling keto dish.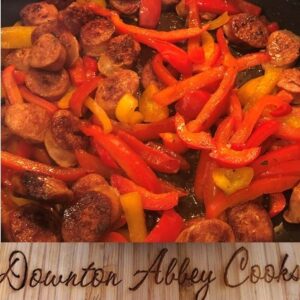 Easy Italian Sausages and Peppers
Sausage and Peppers is a simple Italian-American dish. All you need is sausages and bell peppers.
Ingredients
2

lbs.

Italian sausages

uncooked sweet or hot

extra virgin olive oil

3

medium

bell peppers

a mix of red and yellow, sliced into 1/4-inch strips

2

medium

garlic cloves

minced

1

tbsp.

red wine vinegar

1

pinch

crushed red pepper

1

pinch

dried oregano

2

cups

pasta sauce

optional
Instructions
Steam the sausages: prick the sausages in a number of places to prevent bursting. Place the sausages in a single layer in a large skillet. Add water to just cover the sausages turn up the heat and bring to a boil. Once boiled reduce the heat and let simmer for 5 minutes. Turn off the heat, cover and let the sausages simmer.

Heat a large deep skillet to high and add 2 tablespoons of vegetable oil Add the sliced peppers once the oil is hot. Stir frequently for about 10 minutes, or until the peppers have softened and have started to brown.

Add the garlic and cook another minute. Stir in the vinegar then take off the heat. Remove the peppers from the skillet, placing them on a plate and set aside.

Remove the sausages from the other skillet and cut into 1/2 inch pieces on the diagonal. Return the skillet you just used for the peppers and set on medium heat.

Add a small amount of oil into the pan and carefully place the sausages so that a cut side is facing down. Using cooking tongs, flip the sausage slices over to ensure both sides are lightly browned.

Return the peppers to the pan, and sprinkle with the crushed red pepper and oregano and you are ready to serve.

If you wish to serve with pasta, add the pasta sauce now and heat.

We often serve with the pasta.