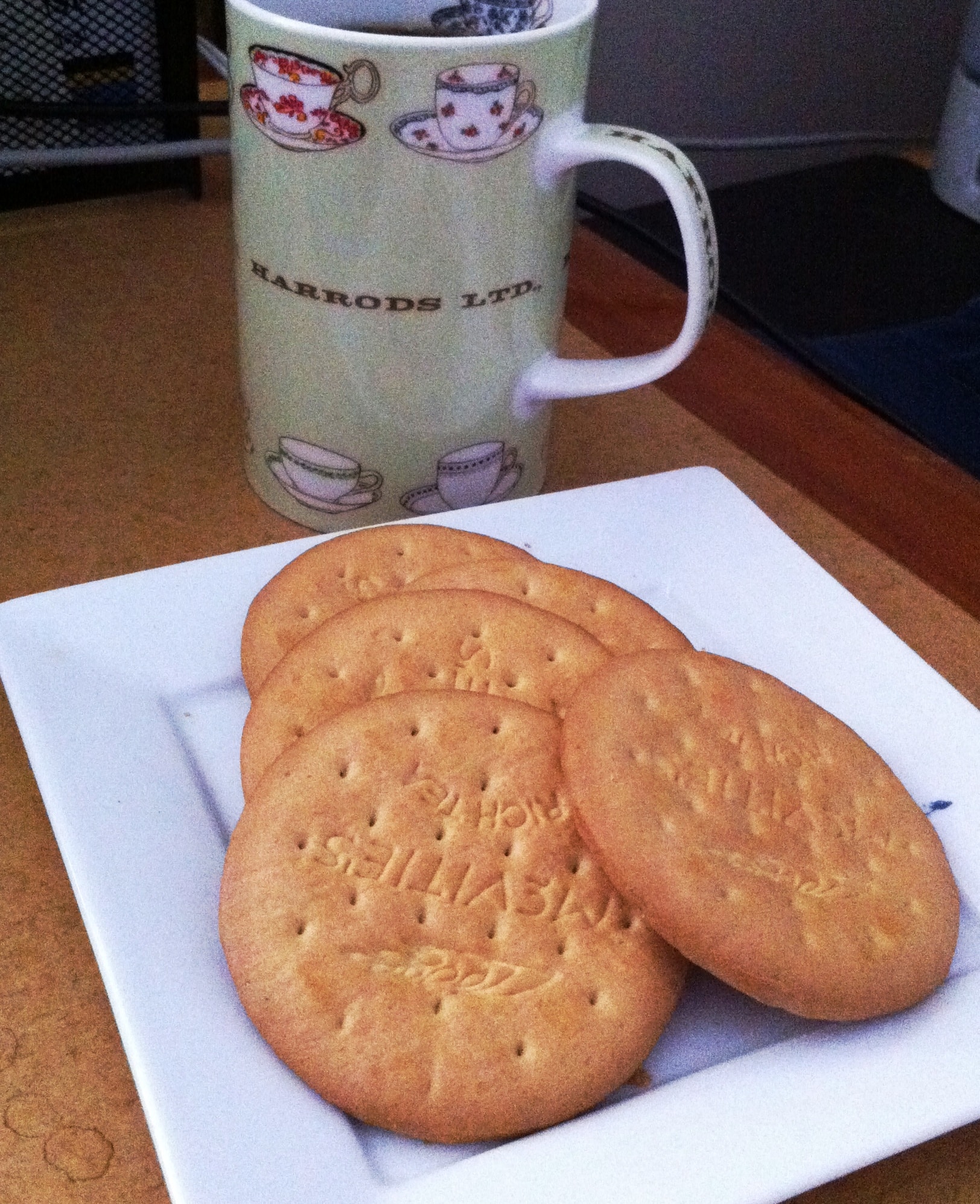 Always time for tea, biscuits and offering thanks, particularly to those who have had an influence on this blog, and to those who have taken the time to share a comment or their favorite time in history which Downton Abbey shares (1912-1920s).
Thank you for keeping me company as I blog my way through the food of Downton Abbey. I have been thrilled by the follows, subscriptions, comments, and tweets (@downtoncooks) from all over the world. I have just also set up a Facebook page and Pinterest boards.
My first word of thanks is to Lord D, my husband, whose proud "upstairs" English heritage drew us to Downton Abbey in the first place. He is a true gentleman, tall dark and handsome, loves my cooking, a true romantic, and who is always supportive of everything I do. I hope that I will be able to learn more about British cuisine to further honor the rich traditions of his family.
From my own Backyard: Thanks to Eva and Barb
In my career as a professional marketer I have been blessed to work with some remarkable people. I met both Eva and Barb around the same time at KPMG, and while our career paths have gone in different directions, we still share our passion for food. When researching Titanic recipes, I had recalled the "wine jello" that Eva had served at an engagement dinner she and her husband hosted for us. Barb has recently started to blog and I was surprised at her range of knowledge, not just a pretty face. I look forward to sharing one of her recipes with you soon. In the meantime you can explore their blogs yourself.
From France: Christine, who Inspired Tea Tuesdays
I received this lovely note from Christine who is living in France, how marvelous. Tea time in the UK is such a time honored tradition with so many wonderful recipes, she inspired me to dedicate one day a week to sharing a new recipe.
Hello,
It is not an habit for me to write to a blogger. But I had to write you because I came across your blog yesterday and I think it is just splendid. I am a French girl who is passionate about cooking, and specially baking. I discovered downton Abbey around Christmas time, and I just fell in love with it. I can re-watch the episodes without getting tired of it. I love everything, the dresses, the interior decoration, the food, and of course the storyline. I started a blog about the fashion (and the hairdos) during edwardian era. I like doing researches myself about one or another subject, and so this is one of the reasons why I like very much the way you're writing your articles, because one can sense the historic background behind a recipe or a fact. I lived one year in the US when I was younger, so I still got a very special connection to english/american recipes. I am looking forward to reading your upcoming recipes. It would be great if you would do an article about the tradition of tea (and tea time-s-) and the little snacks that go with it (for example I was surprised to learn than salty snacks were served with tea like cucumber sandwiches, I didn't know that!). Tea time seems very sacred to the Dowager Countess in Downton Abbey

Kind regards from France,
Christine
Thank you, Christine for your inspiration. Please do let us know the name of your blog so we can follow along.
From the Mother Ship: thanks to @DowntonAbbey
The highlight of my first month was when @downtonabbey, the official tweet page for Downton Abbey retweeted my post on Daisy to a gazillion followers. I wonder who on #teamservants ended up having to make the crumble? If you need an extra hand, I would fly out to Highclere Castle any time!
From the US: The Food TimeLine
Thank you Lynne Olver, a food historian (what a great job) for your efforts in collecting all things food related on your wonderful site Foodtimeline. It has been an invaluable tool for me to use in order to delve more deeply into the world of Downton: what foods would have been available, preparation and storage methods, and food fashion in Britain.
From the UK: Measurement Conversions from Cookipedia
I would be lost without Cookipedia, based in the UK. I have often found an international recipe but was baffled by the measurements. I know that I have followers from around the world and often don't take the time to do the translation, so have added a link at the top of this page so you can look them up yourself. Cookipedia also offers very handy meat cooking calculator to let you know when you have to put in your roast in to have it on the table at a certain hour. Brilliant. The site collects recipes from around the world so check them out or add your own.
From Spain: Biscayenne, Another Mrs. Beeton Fan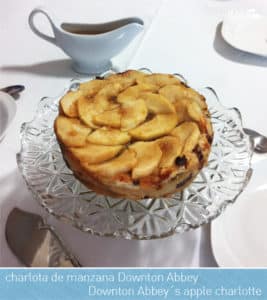 I have gushed a bit about Mrs. Beeton this past month. For such a young woman who at age 28, she produced an enormous volume of cooking and household advice which quickly became a "go to" cookery guide for women around Europe. I was thrilled to receive a note from a Spanish blogger who also adores Mrs. Beeton. She also was kind enough to share Mrs. Beeton's unmolded version of the Apple Charlotte. While I have posted Mrs. Beeton's recipe, here is Biscaynne's version .
Individual Apple Charlottes
I love making individual desserts to save time slicing and plating.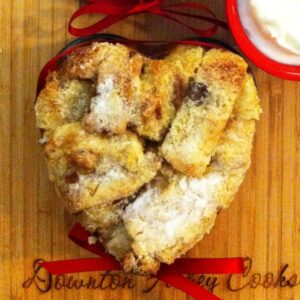 Individual Apple Charlottes
Apple Charlotte is a very simple dish, made famous on Downton Abbey.  Make individual servings for special guests.
Ingredients
10

slices

raisin bread or other sweet loaf,

crusts removed

2

medium

cooking apples

peeled, cored and diced

2

tbsp.

butter, unsalted

1

tsp.

pure vanilla extract

2

tsp.

lemon juice fresh

3

tbsp.

light brown sugar

1/4

tsp.

ground cinnamon

3

large

eggs

2/3

cup

milk

1

tbsp.

caster sugar

make your own by pulsing sugar in a blender

1

tbsp.

icing sugar for garnish
Instructions
Carmelize the apples by melting the butter in a medium saucepan. Add the apples, vanilla, lemon juice, brown sugar and cinnamon. Mix well and cook on low heat anywhere from 15 to 25 minutes until apples are just tender and liquid has evaporated. It should have a nice medium caramel colour.

While the apples are cooking, combine the eggs, milk and sugar in a shallow dish. Stir with a fork until fully combined. Set aside.

Preheat the oven to 375 degrees F and generously butter 4 small ramekins. For a romantic meal or Valentine's Day I use heart shaped springform pans. (see below)

Using a round 2.5 inch cookie cutter, cut out four circles from the bread. These will be the bases of the charlottes. Cut the other slices of bread into rectangles about 1" in width. Cube and store your bread scraps in an airtight container to be used for croutons or stuffing.

Start with the circle cut outs, and lightly coat with the egg mixture, and place in the bottom of each ramekin. Lightly dip the other rectangles of bread in batter as well, then use them to line the walls of each ramekin - standing them upright around the perimeter leaving an overhang that you will later use to fold over and seal the charlotte. It should take about 6-8 strips per ramekin.

Fill each bread mold with the apple mixture. Add a piece or two of bread to the top and fold over the edges to seal it up completely. Sprinkle the tops with a little sugar.

Bake in the center of the oven for 20 to 25 minutes, or until golden brown and puffed up. Allow to cool slightly, then run a knife around the edges and invert onto individual plates.
Notes
For a special, yet easy Valentine's Day dessert, use heart shaped molds to achieve two perfect hearts!
Where to Buy