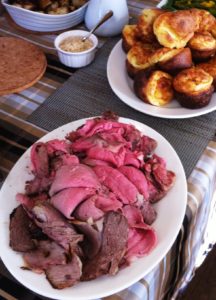 Roast beef dinner is a traditional British Sunday meal. The day is made even more special now as we can enjoy it before settling in to watch Downton Abbey. As a side note it was served on Titanic in 3rd class.
Handy Roasting Schedule
More of a Daisy than Mrs. Patmore?   Cookipedia is an amazing website out of the UK which has provided a wonderful chart which takes all the guess work out of roasting meat.  It will tell you when to start your roast (beef, chicken, pork, turkey, grouse, pheasant, lamb) based on weight, how you like your meat (rare to medium) and when you want to eat.  What a life saver!
If you don't have time to try the recipe below this link which give you a quick and easy steps to make a great roast. Link to the lifesaving  Meat Roasting Schedule
It really is a simple "one pan" meal, and yorkshire are not hard to make, honest.   If you are planning a Titantic tribute party, this was served in first class.
Roast Beef Dinner
Inspiration for my version came from the great Jamie Oliver, who favors using high heat, and the wonderful use of ginger. Serve up with rich beef gravy and yorkshire puddings…and don't forget the horseradish.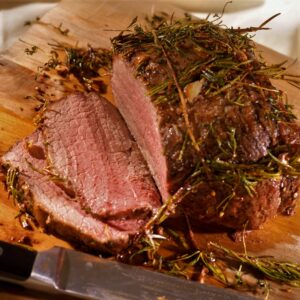 Roast Beef Dinner
Ingredients
1

3-5 pound

good quality roast

(top sirloin roast, prime rib) 3 – 5 pounds*

kosher salt & freshly ground black pepper

EVOO

(extra virgin olive oil)

3

red onions

halved

2

heads garlic

plus

4

garlic cloves

peeled

3

lbs

roasting potatoes

quartered

3

fresh rosemary sprigs

2 inches

piece gingerroot
Instructions
Preheat oven to 450 degrees F (230 degrees C, Gas Mark 8), and heat a large thick-bottomed roasting pan on the stovetop.

Rub the roast generously with salt, then add a little olive oil to the tray and lightly color the meat for a couple of minutes on all sides.

Lay the onions and bulbs of garlic in the tray with the beef on top of them, then cook in the pre-heated oven (about 1 1/2 hours depending on the size of the roast.

After 30 minutes, take the tray out and toss in the vegetables and rosemary. Sprinkle olive oil over the top.

Pick out the garlic bulbs, and carefully squeeze out the garlic, spreading all over the roast.

Grate the ginger over everything in the tray.

Put the roast back in the oven and roast to your taste. I use a digital thermometer, inserting a probe in the centre of the roast and set to my desired setting (135 for medium rare)I just wait for the alarm to sound. Rare: 120 – 125 degrees F Medium Rare: 130 – 135 degrees F Medium: 140 – 145 degrees F Medium Well: 150 – 155 degrees F Well Done: 160 degrees F and above

Remove the vegetables to a serving dish to keep warm

Place the beef on a plate, covered with foil, to rest, for half an hour. This lets the juices settle in.
Notes
To complete your dinner you will also need:
Rich Beef Gravy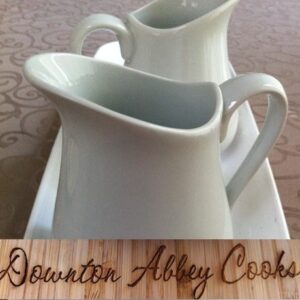 The Best Rich Beef Gravy
You can't have roast beef without gravy. It really is so simple to make, right in the roasting pan. The secret to my gravy is using red wine to create a rich taste. You can substitute beef stock for the wine or use a combination of both.
Ingredients
2

tbsp.

fat drippings from roast

2 tbsp butter can be substituted

2

tsp.

unbleached white flour

2

cups

red wine

substitute beef stock
Instructions
Remove your roast from your roasting pan and cover with tin foil to rest. Remove most of the fat from your roasting pan. If you have a lean roast you won't have much.

Add 2 tsp of flour and mix to create a roux.

Heat your roasting on your stove top and when hot, slowly whisk in the 2 cups of wine or beef stock.

Add any juice from the resting beef and feel free to add some water or stock to thin the gravy if you like or more flour if you need to thicken (to avoid lumpy gravy mix a little of the gravy with flour in a separate cup and then add back to the pan).
Notes
Don't panic if your gravy turns a bit lumpy.  Before it thickens, pour through a sieve and then you can thicken again.
Yorkshire Pudding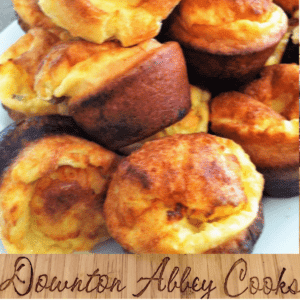 Amazingly Simple Yorkshire Pudding
No roast beef dinner should be served with this traditional treat.
Ingredients
6

tbsp.

vegetable oil or fat drippings from the roast.

1

cup

unbleached white flour

1/4

tsp.

salt

1

cup

milk

2

large

eggs

beaten

1

tbsp.

butter

melted
Instructions
Ideally make the batter ahead of time and let rest at room temperature.

Blend the flour and salt. Add the milk gradually and mix to avoid lumps.

Add the eggs and melted butter. Beat the entire mixture for 2 minutes so it is light and fluffy.

Preheat the oven at 450°F/230°C/Gas 8 and prepare your pans.

Traditional method: Pour a light layer of vegetable oil in the bottom of a 9 inch (23 cm) square metal pan.

Individual servings: 1 tbsp. vegetable oil in the bottom of each cup of a 6-cup metal muffin tin.

Put the pan into the oven to heat the oil.

Carefully take the heated pan from the oven and pour the batter over the oil.

Bake for 20 minutes or until golden brown. Don't open the oven door to check on them under any circumstances!

The pudding should easily pop out on the pans or if you used one pan, quickly cut into squares. Serve with love.

You can successfully refrigerate leftovers and reheat in a hot oven to crisp up.