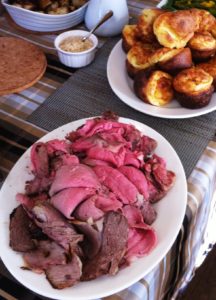 Roast beef dinner is a traditional British Sunday meal. The day is made even more special now as we can enjoy it before settling in to watch Downton Abbey. As a side note it was served on Titanic in 3rd class.
Handy Roasting Schedule
More of a Daisy than Mrs. Patmore?   Cookipedia is an amazing website out of the UK which has provided a wonderful chart which takes all the guess work out of roasting meat.  It will tell you when to start your roast (beef, chicken, pork, turkey, grouse, pheasant, lamb) based on weight, how you like your meat (rare to medium) and when you want to eat.  What a life saver!
If you don't have time to try the recipe below this link which give you a quick and easy steps to make a great roast. Link to the lifesaving  Meat Roasting Schedule
It really is a simple "one pan" meal, and yorkshire are not hard to make, honest.   If you are planning a Titantic tribute party, this was served in first class.
Roast Beef Dinner
Inspiration for my version came from the great Jamie Oliver, who favors using high heat, and the wonderful use of ginger. Serve up with rich beef gravy and yorkshire puddings…and don't forget the horseradish.
Rich Beef Gravy
Yorkshire Pudding
Handy Conversion Table
If these measurements don't make sense to you, refer to the Connections link in the top menu.