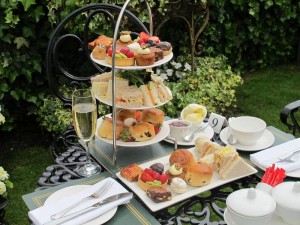 Downton Downtime allows us all plenty of time to catch up on summer fun as we patiently wait for Season 4. You may even discover that some activities were also enjoyed by the Crawley family not so long ago. I have written about Crawley-worthy leisurely activities, many of which have been incorporated into the Downton scripts. Since I have a fondness for fishing I was quite excited that the S3 holiday episode featured Matthew and Michael Gregson trying their hand at fly fishing. My father, brothers and I just made our annual pilgrimage to the hallowed fishing grounds of Dundas Island, north of Prince Rupert in British Columbia, just south of Alaska. There is a Downton connection to Prince Rupert. Charles Hays, the founder of Prince Rupert, lost his life on Titanic, and was the brains behind the Grand Trunk Railway, the stock that Lord Grantham invested all of the estate's money in.
Today's savoury dishes are two of my favorite fast and fancy ways to serve halibut: walnut crusted and parmesan crusted halibut. Fish is much less work to cook than it is to catch, but there really isn't anything more satisfying than serving up a meal that what you caught yourself.
Downton Dish
Now that summer has arrived there is much to do to keep you distracted to keep your Downton cravings at bay. If you haven't seen all seasons (1-3) beware of spoilers below.
Fishing Like A Crawley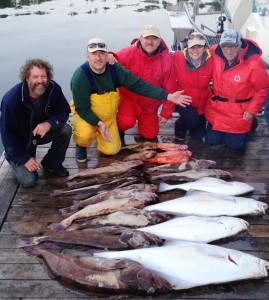 My father loves to fish; my brothers and I inherited the fishing gene from him. He can fish for trout a few hours from where he lives, and I fish for small mouth bass where I live, but we all love to fish in the ocean for big chinook salmon. For over 10 years we have migrated to Dundas Island along with the salmon for a test of skill and wills to catch the elusive Tyee (30+ lb. chinook salmon). If you catch one you get a pin which comes with a salty speech.  I have caught only one, my Dad quite a few.
You feel like you are in the middle of an Discovery Channel show, and in fact wildlife filmmaker Andrew Manske has shot film on the Island. I marvel that eagles are as common as seagulls, seals are casually hanging out on the rocks. We often encountered porpoises, killer and humpback whales in our travels. Whale watching is included in the trip. You feel like an aristocrat when you have a guide, much like the Crawleys on their Scottish holiday.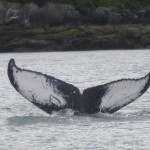 Picking a great charter operator is the difference between an OK trip and a trip of a lifetime. We are roughing it out on a fishing boat for three days, but the charter captain knows all the hot spots, teaches you the basics, baits your hooks, cleans your fish, and tells tall fish tales in colourful language make the trip interesting. The best part is when you catch fish in front of the other charter boats…that is when you know you have a great guide. I particulary enjoy the midnight crab feast upon arrival at the fish camp. Crabbing isn't quite like what you see on the Deadliest Catch, the crab pots tiny in comparison, the water calm and you steam and eat the crab right on the spot.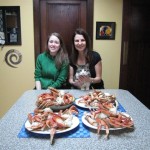 Like the blurring of lines between upstairs and downstairs at Downton, we have become friends with the Hot Spot Charter family. I was given the name "Princess" which I suppose had something to do with my pink gear.
I even brought home their daughter Katie as my "house maid", giving her room and board for a year when she was studying at UBC and I lived in Vancouver. My house never looked so clean, my cat never so loved, and the occasional care package of crab from Katie's family quite the bonus for keeping an eye out for the young lass, who is as sweet as Downton's Anna, in the big city. I have just this week replaced the comfy moccasins her mom gave me years ago.
Abbey Cooks Entertain: Inspiration for Your Fundraiser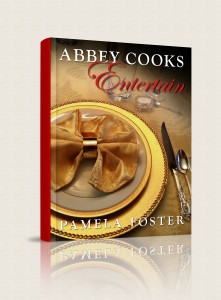 With 220 Downton era recipes, you will want to get this book for recipes for the famous Downton dishes from Season 1-3. I also presented whole chapters on Garden Parties and Afternoon Tea.
Book sales from this 432 page ebook help offset my costs in food, equipment. You can only get a signed copy here on my site. If you don't have an eReader I would suggest the PDF version which allows you to print recipes as you go, if you wish. Look for the updated version with all seasons included.
Looking for an Idea for a Fundraiser Event? many local museums and churches are drawing upon the popularity of Downton Abbey by hosting an afternoon tea or garden party as a successful fundraisers. While I am in my home town I am actually helping my home church organize an afternoon tea to celebrate their 100th anniversary.
Ask me for a complimentary copy of my book to for great recipe ideas to help ensure your event is a success. I only ask that you provide me with pictures and a description to share here to inspire others.
Today's menu includes two ways to easily prepare Halibut. If you want to spend a little more time, you can also prepare halibut with blackberry sauce.
Baked Halibut
Halibut is a bottom feeding fish and if you wondered why it is a pricey fish, you should try fishing for them since you are reeling them up from a minimum depth of 250 feet. Most fisherman would agree that salmon is much more fun to catch, but halibut is certainly more tasty.
Halibut is certainly a popular choice for fish and chips, but baking the fish in a nice crust is much healthier, and I think more tasty. We catch a lot of halibut most years so I tend to just coat it with whatever ingredients I have on hand, with a formula of nuts, breading ingredients and herbs that I snip from my herb garden.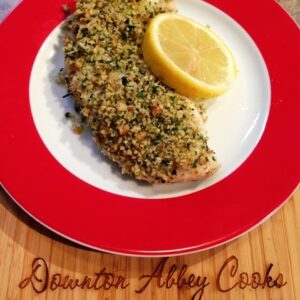 Walnut Crusted Baked Halibut
Halibut is a wonderfully versatile white fish that is quick to prepare and can take a variety of flavours.  This just one of my favorite crusts which always pleases family and friends. 
Ingredients
vegetable oil or cooking spray

1/2

cup

walnuts

toasted and finely chopped

1/4

cup

panko crumbs*

keto substitute: crushed pork rinds

4

tbsp.

fresh Italian parsley,

finely chopped

1 1/2

tbsp.

Fresh basil

finely chopped

1 1/2

tbsp,

fresh chives

finely chopped

4

8 ounce

halibut fillets

about 1 inch thick

4

tbsp.

butter

melted

1

pinch

kosher salt

1

pinch

freshly ground Black Pepper

1

large

lemon

cut into wedges
Instructions
Preheat oven to 450°F.

Prepare a rectangle baking dish or sheet by oiling with a paper towel or using cooking spray.

Mix walnuts, crumbs, and all herbs in a shallow dish. Add a pinch of salt and pepper to the mixture.

Brush each fish fillet with 1 tablespoon melted butter; sprinkle with salt and pepper.

Lay each fillet into the coating mixture and press down gently. Gently spread the coating on the top of the fish and pressing so it adheres to the fish. Carefully transfer to the baking sheet.

Fish cooks quickly and will take about 8 minutes to bake. The fish is done when you can flake it with a fork. Some people like a crispier crust and you can put under your broiler another minute.

To keep this dish simple and lean, simply serve with lemon wedges. If you like a sauce, try myblackberryorraspberrysauces.
*Make your own panko
Cut the crusts off day old white (french bread)

Use a coarse grater to make small coarse crumbs. Mrs. Patmore didn't have a food processor, but that works too. If you have time, just let the crumbs air dry and then store, otherwise dry them in your oven.

Preheat your oven to 300F.

Spread the crumbs evenly on a baking sheet. The goal is to dry, not toast the crumbs.

Bake for 4 minutes, shake and then bake for another 4 minutes. Let the crumbs cool completely and then store in an air tight container.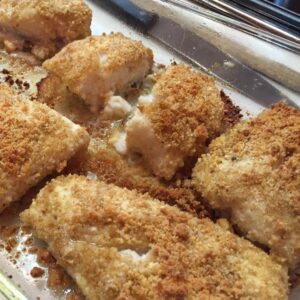 Breaded Parmesan Crusted Halibut
I am fortunate to be able to fish for wild halibut on an annual basis so always have a supply in the freezer, for elegant dining for guests or weekday meal. This recipe satisfies both. Simple, yet elegant.
Ingredients
1

pound

halibut fillet cut into individual serving pieces

1/4

cup

EVOO

(extra virgin olive oil)

1

cup

breadcrumbs*,

For Keto use crushed pork rinds

1/2

cup

grated Parmesan cheese

(or mix half fresh and half powdered)

1

piinch

fresh or dry herbs

Freshly ground salt and pepper
Instructions
Heat oven to 425 degrees F. Prepare a glass pan or baking sheet with tin foil.

Use a paper towel to blot dry the halibut

Mix the breadcrumbs, herbs and cheese in a shallow container.

Pour the olive oil in a second shallow container.

Season the fish with salt and pepper on both sides.

Dip the fish in the olive oil, ensuring you cover both sides.

Dredge the fish in the crumb mixture.

Place the fish skin side down your prepared pan.

Cook at least 10 minutes (depending on the thickness of your fish) or until the fish flakes which you test with a fork in the middle

Serve with fresh lemon.
Notes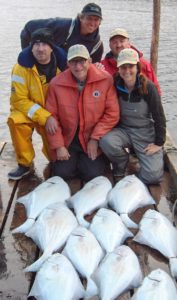 Halibut is a flat fish which lives and feeds on the ocean floor.  A pic of our family's catch to fill our freezers for the year.