Our favourite go-to meal during the cooler months is Chicken Parmigiana, particularly since it makes more than we need and really good the next day heated up. Once you get yourself organized in an assembly line it comes together quite quickly.  The chicken does not end up tough because it is not fully cooked before it goes into the oven.
A number of years ago Lord D gifted us with a cooking class where we learned how to prepare this dish at Natalina's Kitchen. She went on to publish her own cookbook and now offers online classes. We have gone on to be great friends.
This is an American dish that was brought to the new world by Italian immigrants, introducing chicken into the traditional recipe which used eggplant.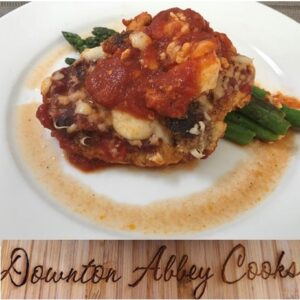 The Juiciest Chicken Parmigiana
Our favourite go-to meal during the cooler months is Chicken Parmigiana. Once you get yourself organized in an assembly line it comes together quite quickly and this technique gives you juicy chicken every time!
Ingredients
4

large

chicken breasts

boneless

1

tsp.

dried oregano

2

cups

dried breadcrumbs

(Keto: use crushed pork rinds)

2

tbsp.

Parmesan cheese

grated

2

large

eggs

2

tbsp.

milk

1

cup

Flour

1

pinch

Salt/pepper

for each breast half

2-3

cups

pasta sauce

1/4

cup

Parmesan cheese

grated

1

cup

Mozzarella cheese

grated
Instructions
Butterfly each chicken breast and then cut into 2 pieces. Pound each piece between 2 pieces of plastic wrap until an even consistency of about 1/2 inch is reached.

Set up your assembly line. left to right. Place your chicken on the left, next, a shallow dish containing the flour, next the egg and milk mixed together, and the final dish of breadcrumbs mixed with the 2 tablespoons of parmesan cheese. Your skillet will be at the end of the assembly line.

Heat your large skillet on high with enough vegetable oil to come up 1/2 inch up the side of the pan. Season chicken with salt and pepper. Dredge in flour, then egg and milk mixture, and finally the crumb mixture, then into the skillet.

Pan-fry the chicken until the coating is slightly golden on both sides about 5 minutes on each side. The point is not to cook the chicken completely, just crisp the outside.

Place the fried chicken cutlets on a cookie sheet with paper towel to absorb the oil.

Heat your oven to 350F. Layer a little sauce in a casserole dish. Layer chicken on top, more sauce and top with cheeses.

Bake at 350 degrees for about 20-25 min. until hot and bubbly the cheeses melted.

These freeze really well. Individually wrap each in saran wrap and place in a Ziploc bag so you can take out as many as you need.
Notes
I typically make this dish once a month.  I fry a couple of flats of chicken breasts, fry all the chicken, make enough parmigiana for the evening meal and then individually wrap and freeze the extras. 
We use the chicken in this dish and in other meals, just remember that they are not fully cooked.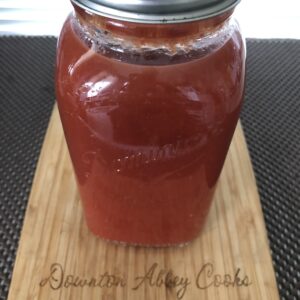 Quick Italian Tomato Sauce
This simple recipe skips the fresh tomatoes and uses canned. This comes from the southern parts of Italy where they never mix onions and garlic.
Ingredients
1/4

cup

extra virgin olive oil

28

ounce

whole peeled tomatoes

canned, roughly crushed with potato masher

1

medium

onion

chopped

2

large

shallots,

chopped

1

pinch

Salt to taste

1

bunch

fresh basit

shredded by hand
Instructions
Heat a medium-sized pot with the oil on medium heat. When the oil is not, but not smoking, add the onions/shallots.

Sweat until fragrant and translucent, stirring occasionally Add crushed tomatoes and stir and bring to a boil. Once it comes to a boil, reduce the temperature to a simmer. Place the lid on the pot leaving a little gap.

Reduce the sauce until it has thickened to a sauce consistency, stirring occasionally. Add salt to taste and the basil torn into shreds.

You can make this is in large batches and preserve for future use.