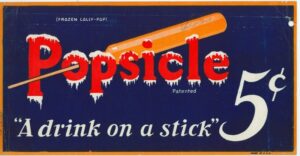 While the English have enjoyed ices since the Victoria era, it was the Americans who put ice on a stick.
In 1905, Frank Epperson, an 11-year-old boy living in the San Francisco Bay area, "mixed some sugary soda powder with water and left it out overnight. It was a cold night, and the mixture froze. In the morning, Epperson devoured the icy concoction, licking it off the wooden stirrer." He named his invention the "Epsicle" and began selling the treat around his neighbourhood. Several years later Epperson applied for a patent and changed the name, at the urging of his kids, to what they were calling the treat – Popsicle (Pops' sicle).
While the story of the Popsicle's creation is charming, it doesn't have a very happy ending. A broke Epperson sold the rights to his creation to the Joe Lowe Co. in the late 1920s: "I was flat and had to liquidate all my assets," he later said. "I haven't been the same since." Popsicle remained independent until 1989, when food giant Unilever scooped up the rights to the frozen treat.
While the term Popsicle is trademarked, there are dozens of similar products now available, improving on the flavours of old by incorporating fruit juices, whole fruits, and (of course) alcohol.
Popsicle Recipes