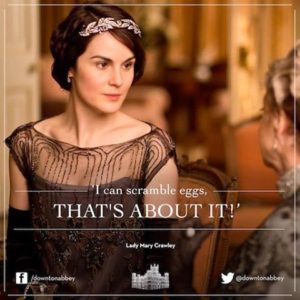 Love is in the air this week as the clock counts down to Valentine's Day.  This is the day when many men make an Olympic sport of timing a visit to floral shops just before closing.  Thankfully, like John Bates, my Lord D showers me with romantic gestures throughout the year so the roses have already been hand selected and delivered with a cake from the baker who prepared our wedding cake.
This week on Downton Abbey (S4E6 or E7 by ITV count) a few of Cupid's arrows fly.  Ivy now sees Alfred in a new light, and Lady Mary attracts the attention of Charles Blake as she rolls up her sleeves to help water the dehydrated pigs.  As a horse woman, she would know her way around livestock, but cooking, that is a skill we haven't seen before.  However does she make it look so glamourous?
Since we have already made creamy scrambled eggs, this week's dish is eggs en cocotte,  in honor of Mary and Charles' late night with the pigs and early morning in the kitchen.  This is a simple baked egg dish; this version is made with every man's favorite food, bacon.
Downton Dish
The S4 Bachelors of Downton
Sadly, there are only two more episodes left in Season 4 of Downton Abbey.  I blame PBS for doubling up on the launch as one reason the season seems so short.  It could be worse, we could all be Sherlock fans getting by with only 3 episodes.
Here are a few additional spices to heighten the experience of this season:
What will you you Make for Your Love on Valentines Day? Abbey Cooks Entertain: Only $7.95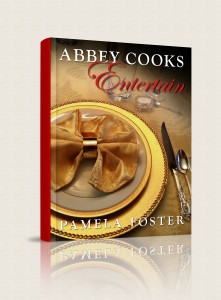 With 220 traditional Downton era recipes with a modern twist, this is a great book to create some simple or complex romantic French dishes for your Matthew or Mary.   This 432 page ebook sells for $7.95. Book sales help offset my costs in food, equipment and time to keep bringing you new dishes each week. While the book is available on Amazon, you can only get a signed copy here on my site.
If you don't have an eReader I would suggest the PDF version which allows you to print recipes as you go, if you wish. Buy one for yourself, gift to another.  All you have to do is email the download link to your loved ones.
What to Make for Valentine's Day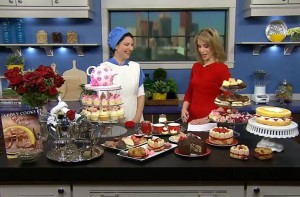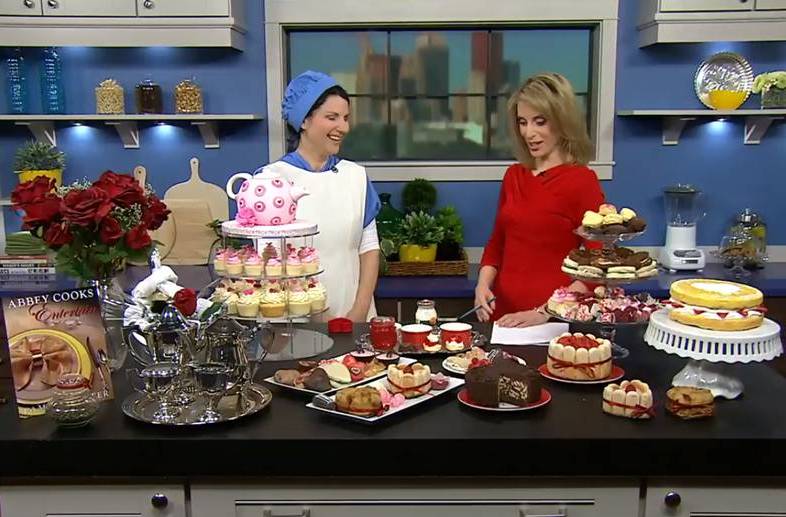 Another Valentine's Day is upon us with building pressure to find the perfect way to show your loved ones you care.  Flowers are great, but food never fails to please and you both get the reward.  A dinner in a crowded restaurant can be overpriced and not particularly intimate when 60 other couples are sharing the same space.  So regardless of your cooking abilities there are a number of dishes you can make yourself or with the help of others.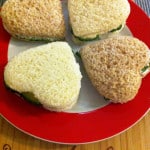 I gave my passion for afternoon tea a Valentine's day twist, an idea I shared on National TV:  a Valentine-themed afternoon tea party.  Prince William's favorite Chocolate Biscuit Cake was a big hit on the show. When in doubt, take a heart shaped cookie cutter and go to town.  A simple sandwich takes on a new life.
In past seasons  I paired a Valentine treat to match some of our favorite Downton couples:
In S3 we prepared the Valentine's Day Man's Meal: Lobster Tails Steamed in Beer
Here are some new ideas, but check my recipe index for a full list of possibilities for your upstairs or downstairs dinner.
Appetizers  
Main Courses:  keep it light
Sweets for the Sweet
Eggs en Cocotte
Eggs en Cocotte is a French breakfast dish which is named for the dish that the egg is cooked in, the little cocotte pot. A very easy dish to prepare it essentially is baking eggs in a bain marie (water bath).  The base ingredients are eggs and a splash of cream.  You can mix and match the ingredients.  Lord D (and Lady Mary eats bacon) so in this dish I have paired bacon with shallots, mushrooms and cheese.  You could also make it vegetarian with tomatoes, asparagus or spinach.
Serves 2
Ingredients
4 slices of bacon, finely chopped
1 shallot, minced
2 mushrooms, diced
2 tsp. whipping cream
1 Tbsp. fresh herbs (rosemary leaves, basil, parsley, minced)
2 tbsp. grated melting cheese (i.e. cheddar, gruyere)
4 eggs
salt and freshly ground pepper
toast to soak up the eggy goodness.
Method
Preheat your oven to 375F.  Have a square oven proof dish or pan handy.
Add diced bacon, shallot and mushrooms to a small skillet and cook over medium-high heat for 8 minutes until all bacon is cooked, Set aside.
Grease the insides of 2 cocottes or oven-proof ramekins with cooking spray or a small amount of butter.
Divide the cooked items and a bit of your herbs between the two ramekins, and then add 1 tsp. of cream in each container.
Add a sprinkle of cheese and then crack 2 eggs into each dish.  Top with a little more cheese and herbs.
Place the ramekins in your baking pan and fill the pan halfway up the sides with boiling water.
Bake for 15-20 minutes, until the whites of the eggs are set and the yolk is still runny.
Finish with one last sprinkle of herbs, and salt and freshly ground pepper.
Plate and serve with toast to dunk and a spoon to dig out the sunken treasure.
Your Downton S4 Survival Guide
You bought these for fellow Downton fans for the holidays, now stock up on the staples for yourself.   Click on the icons to take you to Amazon to order.
Tools you can use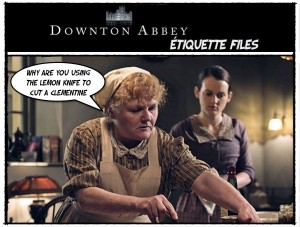 Cooks, like other professionals, have their tools and as Mrs. Patmore says "it is a poor workman who blames his tools".  You can  make do with the basics, but as you gain confidence and love for cooking, you should start to recognize items to help you cook.  Mrs. Patmore didn't like electronic gadgets to cook with so be assured you can make do without the expensive gizmos.  This section helps you identify some equipment that I use.  If you wish you can order directly from Cooking.com or Amazon.com, both reputable stores I have used in the past.
Cocottes: in case you didn't know what they look like
Ramekins