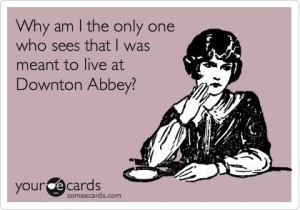 You know Fall is here when pumpkins line the outside of your grocer, huge displays of canned pumpkins appear out of nowhere, and you find yourself craving pumpkin-spiced treats.
Pumpkin appears on every coffee shop menu: from pumpkin lattes at Starbucks, to pumpkin muffins and donuts at every donut shop.
In Canada, it is our Thanksgiving holiday in October which is the unofficial launch of pumpkin season.
Thanksgiving Launches Pumpkin Season in Canada
The Dowager might quip "What is Thanksgiving?" since the UK doesn't celebrate a one-day feast; instead, there is a month of Harvest Festival events.
The Canadian Thanksgiving holiday was officially proclaimed by  Parliament in 1879 and draws upon three traditions: European harvest celebrations; the first North American Thanksgiving (1578) observed by Martin Frobisher in the Arctic Circle; and the Pilgrims' 1621 first celebration in Massachusetts.  In 1957, the date was set for Second Monday in October, and of course Americans know that US Thanksgiving is held the 4th Thursday in November.
Bring Wonderful Pumpkin Smells into your Kitchen
Part of the allure is the smell of pumpkin spices (cinnamon, nutmeg, cloves, ginger), so fill up your kitchen with these wonderful smells by trying a few of these delights: