The most famous recipe from Downton Season 5 is Spotted Dick, a lovely custard dessert with an unfortunate name.  It first appeared in the 1849 cookbook The Modern Housewife written by Alexis Soyer, but meat based versions date back to the medieval era.
What's in a Name? "Spotted" refers to the currants or raisins in the pudding.  "Dick" is a little more difficult to explain, but essentially refers to pudding, or a reference to the German word dick, meaning thick or viscous.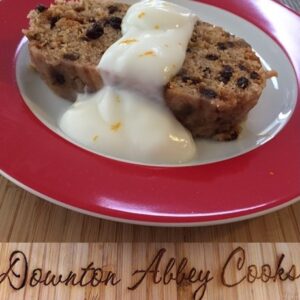 Sumptuous Spotted Dick
Ingredients
2

cups (250 g)

all-purpose flour

4

tsp. (20 ml)

baking powder

Pinch salt

¼

tsp. (1 ml)

each clove powder,

allspice and mace powder

4½

oz. (125g)

shredded suet* 

(make sure it is cold)

1½

cups

(180 g currants) (include a little chopped candied orange or lemon peel if you prefer)

1?3

cup (80 g)

caster sugar

1

Fine zest of lemon

1

small

Fine zest of orange

2 ?3

cup (150 ml)

whole milk, plus 2–3 tbsp. (30–45 ml)

Custard or non fat greek yoghurt to serve
Instructions
Put the flour, baking powder and salt in a bowl. Add the suet, currants, sugar, lemon and orange zest and spices. Mix well.

Add the milk (except the 2–3 tbsp.) and mix to a firm but moist dough, adding the extra milk if necessary.

Shape into a fat roll about 8 inches (20 cm) long. Place on a large rectangle of baking parchment. Wrap loosely to allow for the pudding to rise and tie the ends with string like a Christmas cracker. Alternatively, you can wrap the log in muslin as it will let in the steam. Tie it loosely so it can expand as it cooks.

Stove method: Place a steamer over a large pan of boiling water, add the pudding to the steamer, cover and steam for 1½ hours. Top up the pan with water from time to time.

Oven method: Use a large fish poacher or similar large pan with a lid, placing the pudding on a rack in the pan with enough space for water underneath. Pour in boiling water just short of the rack, cover with the lid and put in oven for about 1 hour. Check until pudding is done, making sure the pan is never dry.

Remove from the steamer and allow to cool slightly before unwrapping and slicing.

Serve with Light Custard Sauce, Sweet Sauce or non fat greek yoghurt.

You can also flambé the pudding with brandy like you would with a plum pudding.