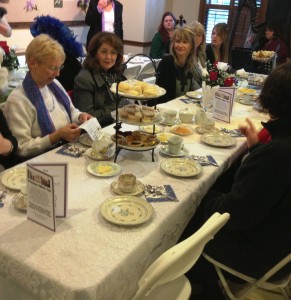 It was a busy weekend as Toronto celebrated Mother's Day, Downton style.  On Saturday I spoke to a room full of enthusiastic Downton fans at William Ashley, my favourite china store in the heart of the city.  On Sunday I shared Afternoon tea with Downton fans at the historic Ireland House in Burlington.  Mothers flocked to both events, happy to have time to relax.  All likely can identify with Anna whose first words on the series  were "Just once in my life, I'd like to sleep until I woke up natural."
I love hosting virtual tea parties, dishing about Downton Abbey, featuring a new "Downton" era recipe. Refer to my Online Guide to Afternoon Tea or you can purchase my book Relaxing over Afternoon Tea, both of which are helpful in understanding traditions and recipes to help you host your own tea party with family and friends.
Today our treat is bonbons, one of the lovely desserts served at the historic Ireland House in Burlington, ON. 
Downton Day At William Ashley in Toronto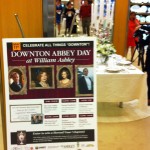 Months in planning, I was thrilled to have been invited to join Downton era experts to provide a demonstration to a room full of Downton Abbey fans.  As you may know, I have been writing a weekly column for Vision TV's Downton Abbey page, one of the sponsors of the event.
When I first moved to Toronto 20 years ago I lived just a few blocks away from William Ashley, an amazing china store.  They put together an extraordinary display of china for afternoon tea, as well as formal dining.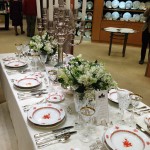 Demonstrations included how to set a Downton table, period fashions, secrets of servant life, tips from an actual butler, and etiquette.  I was impressed with how quick and eager fans were to respond to trivia questions posed by Leanne Wright from Zoomer Media.  Check out my sound bite on the radio coverage of the event.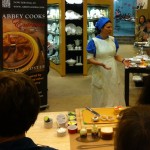 My contribution to the day was a discussion about my passion for the history of the food from the era, and the gift of afternoon tea.  I spoke about how simple it is to prepare, and what a great way to bring Downton fans together.   I prepared cucumber,  as well as watercress sandwiches.  Add scones, a few sweets, a pot of tea, and you are done.  How easy is that?
Mother's Afternoon Tea at the Ireland House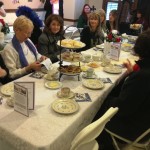 Lord D and I live in a beautiful community in the Greater Toronto Area.  Burlington is home to Ireland House, a preserved historical home, now a museum. It was the perfect backdrop for a Downton-themed Mother's Day tea, particularly since it was terribly cold and stormy outside.  While harp and cello musicians played gently in the background, I shared the history of the afternoon tea party, how to eat from the tea tray (sandwiches, then scones, then sweets), as well as identification of sweet items which would have been enjoyed by the Crawley women in the Downton era.  The lovely tea service included hand-made treacle tarts, madeira cake, mince tarts and delicate bonbons, which is our recipe today.
BonBons
Amongst the lovely sweets served for the Mother's Day Downton Abbey afternoon tea at the Ireland House were these delightful bonbons, which are essentially little balls of fondant rolled in cocoa.  Thank you for sharing this recipe with us.  Lovely little soft puffs that melt in your mouth.  If you are new to working with fondant–around since the Renaissance– this is much less intimidating than trying to cover a cake.  Baby steps.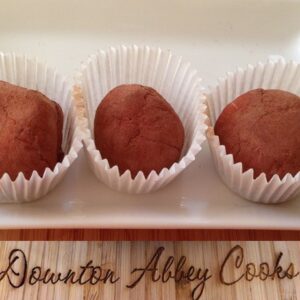 BONBONS
Ingredients
Basic Fondant
2

cups

sugar

1/8

tsp

cream of tartar

1

cup

water
1/3

cup

cocoa powder (for rolling)
Instructions
Wipe large heavy cookie sheet clean with damp cloth. Have a heavy metal spatula ready.

Put the sugar, cream of tartar and water into a heavy pot, stirring to blend thoroughly. Place over medium heat and let come to a boil, stirring until the sugar is completely dissolved.

Cover the pot and boil for 2-3 minutes. Uncover, dip pastry brush in cold water and wash down sides of the pot. Boil without stirring until the syrup reaches a soft-ball stage (238F).

Remove from the heat and without scraping the pot, pour out the syrup onto the cookie sheet.

Let it cool for about 10 minutes, until it is just lukewarm. Start to work it with the spatula, spreading it out and turning it over and over on itself. As it starts to thicken and whiten, it is easier to knead with your hands.

Continue to knead until it is white, creamy and too stiff to knead anymore. If it crumbles too much, sprinkle a little water and continue to knead; fondant cannot be overkneaded.

Cover with a damp cloth and let stand for 30 minutes. Knead again for a minute, then wrap in damp cheesecloth and store in an airtight container in the refrigerator.

Let it mellow for 3-4 days before using.

Let the fondant come to room temperature, kneading in flavour if desired.

Roll into 1/2 to 1-inch balls and set them on a cake rack to dry, then roll in cocoa. Alternatively, you can roll in chopped nuts, candies or other coatings.

Let dry again before serving or storing. These store beautifully in your freezer.